Monday, January 13, 2014
NCAA Hockey a Hit at MSG
Big crowd, big names welcome Harvard and Yale to New York City.
---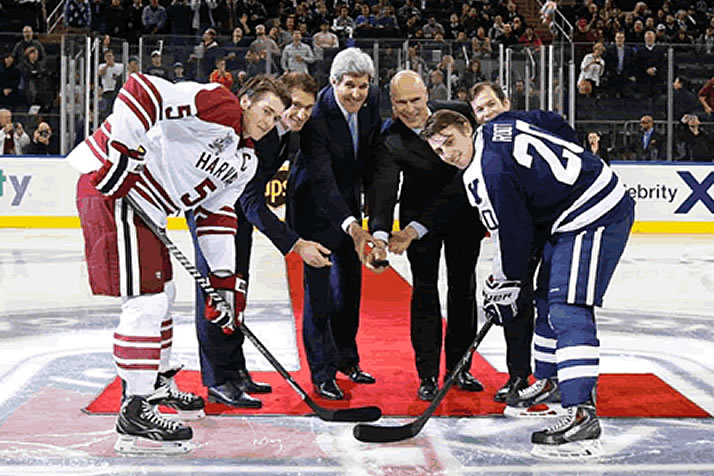 For the second time this year, college hockey took the ice at the world's most famous arena and entertained thousands of fans at New York's Madison Square Garden.
Among them for Saturday's "Rivalry On Ice" between Harvard and Yale were Secretary of State John Kerry and NHL legend Mark Messier, who dropped the ceremonial first puck along with former college stars Mike Richter and Dominic Moore.
"I have always kind of liked college hockey and what it stood for," said Messier, whose brother played at Denver and at one point planned to become a Pioneer himself. "I just think that watching college hockey, with the intensity and passion that they play with, it's a great product."
Big audience
Yale posted a 5-1 win in front of more than 15,000 fans and a national television audience on NBC Sports Network. That thrilled Kerry, a Yale graduate who admitted to following last spring's NCAA championship run closely, despite taking part in some stressful negotiations concerning North Korea.
"For the championship game, we were shuttling between Beijing and Tokyo," he told the New York Times. "There were heady issues in the front of my mind with North Korea, but I admit I was thinking about the action back in Pittsburgh. To this day, one of my proudest possessions is a signed jersey from the 2013 team. Talk about a talismanic object.
"I'm not going to fool around here: I love the rivalry, and I love the tradition, and I can watch any kind of college hockey for hours, but it was always a little ironic being the senator from Harvard hockey when my heart was at Yale."
Return to MSG
It was the second NCAA game at MSG in six weeks, following up on the Nov. 30 "Red Hot Hockey" game between Boston University and Cornell. A sellout crowd of 18,006 watched BU's 3-2 win in that game.
Madison Square Garden is one of seven NHL arenas that will host college hockey games this season. Those events create a unique experience for the student-athletes.
"We got treated like pros all weekend," Harvard sophomore Jimmy Vesey said after the Rivalry on Ice game. "I don't know if any of us will ever play at MSG again, so it was truly a once in a lifetime experience."
According to Yale head coach Keith Allain, that's the goal in scheduling these types of events.
"The greatest benefit to me is to provide our guys with different experiences," Allain said. "The fact we can play in these types of venues and do well … all of our guys are NHL focused and to play in NHL buildings is special."