Wednesday, January 8, 2014
Notes: Agostino Leads Yale to MSG
Harvard and Yale face off in NYC, emerging stars at WMU and Northeastern, plus more.
---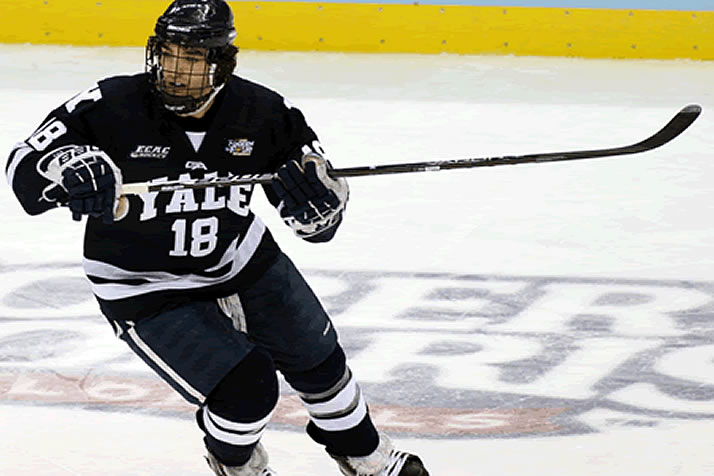 Kenny Agostino ranks sixth nationally among seniors with 0.98 points per game in his career (113 in 115 GP; Photo by Larry Radloff).
By Nate Ewell
Agostino at MSG – Yale senior Kenny Agostino (Flanders, N.J./U.S. NTDP/CGY) had the opportunity to sign an NHL contract last spring after the Bulldogs won the national championship, but he returned to school to defend that title and complete his degree. Saturday he gets a third chance already this season to play in an NHL arena within minutes of his hometown as Yale faces Harvard at Madison Square Garden. If Agostino, Yale's leading scorer, can lead his team back to the Frozen Four, it would be at a third NHL arena less than two hours from his hometown at Philadelphia's Wells Fargo Center.
Saturday's game will air on NBCSN
Must Read/See/Hear Material
Buffalo News: From campus to NHL
College Hockey News: Team of the Week: Colgate
Eye on the Tigers: From hockey to finance
SB Nation: NCHC Hockey: Not Your Typical Midseason Report
USCHO: After fits and starts with league schedule, Big Ten teams will see plenty of each other
MSUSpartans.com: All-Access: Back to the Pond
Five More Notes No One Should Be Without
Emerging star for WMU – The reigning NCHC Player of the Month, Justin Kovacs (Grosse Point Woods, Mich./Cedar Rapids-USHL), leads his Western Michigan teammates back into conference play with hopes of turning around their 3-5-0 first half in NCHC play. Kovacs gave them some momentum headed into the weekend series with Miami with his overtime goal to win the Great Lakes Invitational two weeks ago at Comerica Park. It's been a breakthrough season for the junior forward, who has 20 points in 20 games – more than his first two years on campus combined.
Pimm rises for NU – Northeastern senior Braden Pimm (Fort St. John, B.C./Vernon-BCHL), already enjoying his best college season, elevated his game again Tuesday night with dramatic game-tying and overtime goals separated by just 46 seconds and the end of regulation at Providence. The Huskies have had a flair for the dramatic, scoring five times with an extra attacker, the most in the nation. That's helped them to a 12-6-3 record and a 6-1-3 mark in the last 10 games entering Saturday's Frozen Fenway showdown with UMass Lowell.
Saturday's game will air on NESN
Boyd leading Gophers into Penn State – The youngest player taken in the 2011 NHL Draft, Travis Boyd (Hopkins, Minn./U.S. NTDP/WSH) is no longer the new kid on the block. The 20-year-old is part of an impressive junior class at Minnesota that leads the Gophers into Penn State for games Sunday and Monday. Boyd centers an energy line for Minnesota and chips in offensively as well, such as his two-goal, two-assist effort in last weekend's Mariucci Classic that earned him the Big Ten's First Star of the Week.
Monday's game is on BTN; BTN broadcasts its first of eight Friday doubleheaders this week
Air Force's new netminders – One of the sport's best rivalries takes the ice this weekend as Air Force visits Army for two, and the Falcons come in with a new faces between the pipes. Typically led by senior Jason Torf (Hermosa Beach, Calif./Motor City-NAHL), an injury has forced head coach Frank Serratore to turn to freshman Chris Truehl (Stoughton, Wis./Johnstown-NAHL) and junior Paul Moberg (Forest Lake, Minn./Coulee Region-NAHL). Truehl's first career start, Saturday night at AIC, was a 2-0 Air Force shutout.
Friday's game is on CBSSN
Freibergs on the big stage – In just over a month, on Feb. 12, Bowling Green's Ralfs Freibergs (Riga,Latvia/Lincoln-USHL) will find himself a long way from the BGSU Ice Arena. The sophomore defenseman will face off against NHLers Mark Streit, Jonas Hiller and more as his Latvian Olympic team plays Switzerland to open the 2014 Games in Sochi. Freibergs is the first current NCAA player to appear in the men's Olympic tournament since 2002, when four Hockey East players took part. One of those, Massachusetts graduate Thomas Pock of Austria, will be back in Sochi for his second Olympics.
NHL Note of the Week
The NHL's Second and Third Stars of the Week – Brian Elliott and Ryan Suter, respectively – both played at Wisconsin, two of 17 Badgers to play in the NHL this season.
Fries at the Bottom of the Bag
Exactly half of the games played in the last week (21 of 42) finished tied or decided by one goal. Eight of those games saw a team score with an extra attacker … Union (9-0-1) boasts the nation's longest active unbeaten streak … Vermont wraps up a stretch of four straight games against former ECAC Hockey rivals with a visit to Colgate Saturday. The Catamounts are 8-1-2 in their last 11 and head coach Kevin Sneddon will be on NHL Network Radio Thursday at 8:45 a.m. ET.