Wednesday, January 15, 2014
Notes: All-Goalie Edition
Goalies from Georgia and Florida begin our look at the sport's most important position.
---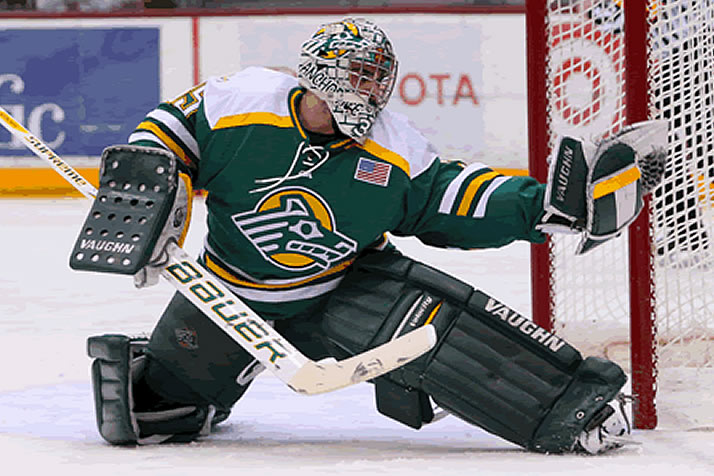 Chris Kamal is one of three goaltenders to play at least three games for the Seawolves.
By Nate Ewell
Atlantan jump-starts Anchorage – First-year head coach Matt Thomas has Alaska Anchorage nearing three times as many wins as a year ago, thanks in part to a 4-1-0 run behind senior goaltender Chris Kamal (Alpharetta, Ga./Alexandria-NAHL). Kamal only had one appearance in the first 17 games of the season but turned in a 1-0 win in his first start, Dec. 14 vs. Lake Superior State. The net has been his since, and he stopped 62 of 64 shots in a sweep of Minnesota State last weekend. The son of NHL TV and radio announcer Dan Kamal, Chris is playing more than 4,000 miles from his home outside of Atlanta but will practically be in the neighborhood this weekend, as the Seawolves visit Alabama Huntsville (180 miles away).
Must Read/See/Hear Material
Daily Gazette: Classic overachiever: Carr on verge of scoring record
The Gazette: Once cut from team, Torrel becomes Air Force stalwart
Burlington Free Press: Massar fulfills dream by suiting up for UVM
College Hockey News: 'The Pistol' explodes
College Hockey News: Hayes Lifted
Omaha World Herald: Archibald finds lots of ways to score goals
Five More Notes No One Should Be Without
Witt's a workhorse – Two surging Hockey East teams meet this weekend as Vermont visits Northeastern, where the Catamounts will have to content with redshirt junior goaltender Clay Witt (Brandon, Fla./Sioux Falls-USHL). It's been a long road to the spotlight for Witt, who left his home in Florida to play for the Boston Jr. Bruins and attend high school in Massachusetts. After two years in the USHL and three years backing up Chris Rawlings, he's in the spotlight now at NU, and he's been busy. Witt has stopped 34.4 shots per game, most in the nation, and has eight games with more than 35 saves (5-2-1). Included in that was a 47-save effort in a 4-1 win vs. UMass Lowell last Saturday at Fenway Park.
Boston Herald: Goalie helps Huskies to national ranking
Wilcox is Gophers' Ironman – Minnesota sophomore Adam Wilcox (South St. Paul, Minn./Tri-City-USHL/TB) has minded the net in 58 of the Gophers' 60 games since his arrival on campus, befitting the image of Ironman on his mask. Friday he takes over a much different net, however, as Minnesota hosts Ohio State outdoors in TCF Bank Stadium. The top-ranked Gophers, who own the nation's longest current unbeaten streak at 6-0-2, are looking to build upon their four-point lead in the Big Ten standings.
Friday's game is on BTN; Saturday's game is on FOX Sports North
Lakers' goalie worth the wait – Junior Jimmy Sarjeant (Aurora, Ont./Newmarket-OJHL) bided his time as Mercyhurst's third-string goalie for two years, appearing in just five games, but that seasoning is paying off now. His 87-save weekend sweep of Holy Cross improved his record to 13-4-2, with a .930 save percentage. The Lakers are 11-1-1 and in first place in Atlantic Hockey entering a home series with surging Connecticut, which has won four of its last five.
Crandall delivers for UMD – Minnesota Duluth is back to .500 in NCHC play (5-5-0) thanks to a weekend sweep at Nebraska Omaha behind the goaltending of redshirt senior Aaron Crandall (Lakeville, Minn./Des Moines-USHL). Crandall has won three in a row and boasts a .948 save percentage in his last four games. Crandall – whose father played goal at Ohio State and whose younger brother, Justin, is a forward at UMD – is a dual major (finance and marketing) and one of the top student-athletes on the team.
Finn has Colgate flying – Colgate has won three straight – all against ranked opponents – behind the efforts of freshman goaltender Charlie Finn (North Vancouver, B.C./Kingston-OJHL). Finn, who had a .854 save percentage in mid-November, has posted a .953 while starting six of seven games since then. The two-time OJHL Goaltender of the Year has helped Colgate make a significant jump in ECAC Hockey – the Raiders stand fourth in the conference entering this weekend's games at Dartmouth and Harvard after finishing 11th a year ago.
NHL Note of the Week
Four of the top 10 goaltenders in save percentage, including leader Ben Bishop, played college hockey (also Ben Scrivens, Ryan Miller, Brian Elliott).
Fries at the Bottom of the Bag
Even with many schools still on winter break, eight arenas hosted sellout crowds last weekend. Six other games featured non-sellouts with at least 10,000 fans … 25% of the hat tricks recorded this season (7 of 28) came in the last week … Three goaltenders recorded 50+ saves in a game in the last week (UMD's Aaron Crandall, Mercyhurst's Jimmy Sarjeant and AIC's Hunter Leisner), all in victories … SCSU forward Nic Dowd will preview his team's game against Western Michigan on Friday's edition of NHL Live on NHL Network ... Catch Cornell legend Ken Dryden on this weekend's edition of Hockey On Campus (NHL Network Radio, collegehockeynews.com).