Wednesday, January 22, 2014
Notes: In-State Rivals Visit JLA
Chelios brothers make their final visit to the Joe with MSU, plus more.
---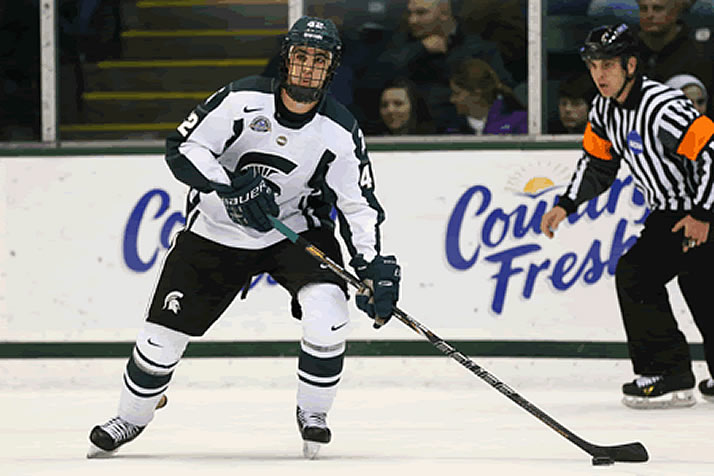 Jake Chelios moved to defense his freshman year at Michigan State after playing forward until that point.
By Nate Ewell
Chelios brothers make last trip to the Joe – Michigan State seniors Dean and Jake Chelios (both Bloomfield Hills, Mich./Chicago-USHL) make their final visit to Joe Louis Arena as Spartans Thursday night as MSU faces Michigan. It's a familiar place for the duo, who occupy two of the top four positions on MSU's scoring chart – they practically grew up at "the Joe," where their father, Chris, played 10 years for the Red Wings. The Spartans – 3-1-2 since Christmas and coming off a sweep of Penn State – have played nine games at Joe Louis the last three seasons but know they won't be back this year, since their conference tournament in the new Big Ten will be held at Xcel Energy Center in St. Paul, Minn.
Thursday's game is on FS Detroit; Friday's game is on BTN
MSUSpartans.com: Jake Chelios continues his production
Red Wings: UM, MSU bring in-state rivalry back to JLA
Must Read/See/Hear Material
The Pipeline Show: Connor & Kellen Jones (.mp3)
Mining Journal: NMU's Dahlstrom worth the wait
St. Cloud Times: Sophomore brings international skill to SCSU
Anchorage Daily News: Pettitt earning multiple degrees when not on ice
LA Kings: Gravel has more than a puncher's chance at the NHL
NHL.com: St. Cloud's Dowd stretching his roots
Hockey Journal: Sommer, Crusaders savor milestone win
Bangor Daily News: Senior defenseman's leadership has been important ingredient at Maine
Democrat & Chronicle: Lynch is RIT's Mr. Consistency
Five More Notes No One Should Be Without
LaFontaine, Mavericks seek North Star Cup – The hottest player entering this weekend's inaugural North Star College Cup at the Xcel Energy Center may also have the most famous hockey name. Minnesota State's J.P. LaFontaine (Oxford, Mich./Green Bay-USHL) has 21 points (12g-9a) in his last 14 games, a pace his uncle Pat, now the President of Hockey Operations with the Buffalo Sabres, must be proud of. J.P.'s father, John, also boasts a strong hockey background as a coach at the legendary Shattuck St. Mary's program, where J.P. played prior to spending a year with the USHL's Green Bay Gamblers.
Ginn leads Holy Cross's fresh start – Two wins at Niagara with the return of talented sophomore defenseman Karl Beckman (Okemos, Mich./Amarillo-NAHL) could herald a fresh start for Holy Cross, which is now 6-15-2 but has been in nearly every game. Leading the way is junior goaltender Matt Ginn (Lindsay, Ont./Victoria-BCHL), who has played 45 consecutive games for the Crusaders. The workhorse stopped 79 of 83 shots (.952) last weekend and leads the nation with 698 saves entering this weekend's game against Bentley.
Hayes hitting potential for BC – Boston College senior Kevin Hayes (Dorchester, Mass./Nobles-Prep/CHI) has been a solid contributor for three years with the Eagles, but this season the first-round draft pick is fulfilling his potential. He has 11 goals in the last 11 games, giving him 17 for the year – which matches his total from his first three seasons. The younger brother of former Eagle Jimmy Hayes, now with the Florida Panthers, Kevin is looking to add a third NCAA title to the family's legacy at The Heights.
Local product continues Union's net strength – A local product will play a big role in Union's hopes of retaining the Mayor's Cup in its Saturday night meeting with Rensselaer at Albany's Times Union Center. Goaltender Colin Stevens (Niskayuna, N.Y./Boston Jr. Bruins-EJHL) has helped the Dutchmen to a No. 3 national ranking despite the departure of last year's netminder, Troy Grosenick, to the San Jose Sharks' system. Stevens is 12-2-1 with a 1.98 GAA and .927 save percentage, showing no drop-off from Grosenick's efforts of the past two years.
Balance propels North Dakota – North Dakota, which started the season 4-7-2, is 8-0-1 in its last nine headed into a weekend series at Denver. Perhaps not surprisingly for a team that lost two of the top 15 rookie scorers in the AHL, it's been a group effort for UND. Fourteen players have at least a goal in those nine games, with only sophomore Rocco Grimaldi (Rossmoor, Calif./U.S. NTDP/FLA) recording as many as four goals or a point per game in that stretch.
Friday's game is on CBSSN; Saturday's game is on Root Sports
NHL Note of the Week
Eight of the 20 NHLers with 20+ goals this season played college hockey (40%).
Fries at the Bottom of the Bag
Niagara and RIT meet for two games this weekend, with Friday's on CBS Sports Network. Eight of the teams' last 11 meetings have gone to OT … 14 of Denver's 24 games this season have been ties or decided by one goal … Saturday's hat tricks by Martin St. Louis (Tampa Bay/Vermont) and Joe Pavelski (San Jose/Wisconsin) marked the first time two alums had a hat trick in one game since John Madden (Michigan) and Randy McKay (Michigan Tech) both scored four goals for New Jersey at Pittsburgh on Oct. 28, 2000.