Tuesday, January 14, 2014
Stat Pack: Hat Sale
A flurry of hat tricks, plus first goals, team shooting percentages and more.
---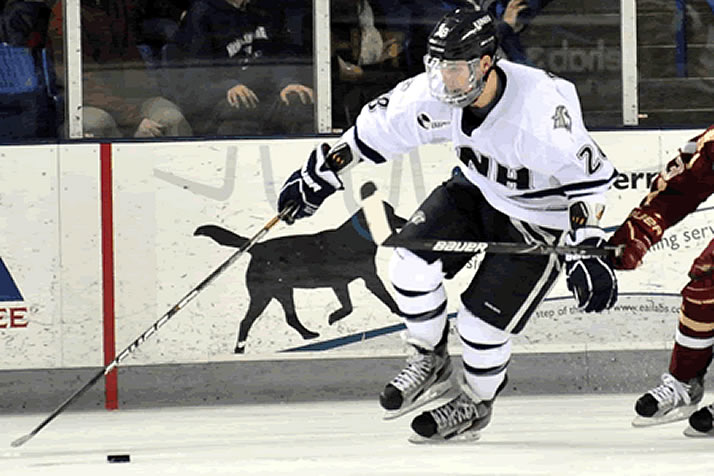 Grayson Downing is one of two UNH Wildcats to record a hat trick this season.
In our Stat Pack feature, College Hockey Inc. highlights five obscure but telling statistics from the world of college hockey. You can find many more, in our filtered stats database.
1. The last week has seen 7 hat tricks, 25% of the season total (28). On the year, seven teams have had two players record a hat trick:
Alaska Anchorage: Scott Allen, Jordan Kwas
Bentley: Brett Gensler, Alex Grieve (2)
Connecticut: Brant Harris, Billy Latta
Mercyhurst: Daniel Bahntge, Chris Bodo
Miami: Riley Barber, Blake Coleman
New Hampshire: Grayson Downing, Matt Willows
Rensselaer: Ryan Haggerty, Brock Higgs
2. Players who give their team a spark can be especially valuable, and they aren't always the biggest scorers overall.
Leaders, First Goal of the Game
5 - C.J. Reuschlein, Army
5 - Nick Sorkin, UNH
4 - 10 players tied
Leaders, Team's First Goal of the Game
7 - Alex Grieve, Bentley
7 - Nick Sorkin, UNH
6 - 6 players tied
3. Team shooting percentages can illustrate which teams generate the best scoring chances, but can also suggest which teams have over- or under-achieved to this point.
Best Team Shooting Percentage
13.5% - Boston College
12.5% - St. Lawrence
12.3% - Rensselaer
12.1% - Cornell
11.9% - Ferris State
Lowest Team Shooting Percentage
5.0% - Alabama Huntsville
6.1% - Merrimack
6.1% - Michigan Tech
6.4% - Colorado College
6.9% - Holy Cross
6.9% - Penn State
4. The busiest goalie in college hockey has faced nearly twice as many shots per game as goalie on the opposite end of the spectrum.
Most Saves Per Game (min. 33% of team minutes played)
34.4 - Clay Witt, Northeastern
34.0 - Matt Larose, Alabama Huntsville
32.4 - Marco DeFilippo, Brown
32.0 - Eamon McAdam, Penn State
31.4 - Alex Vazzano, Sacred Heart
Fewest Saves Per Game (min. 33% of team minutes played)
18.0 - Stephon Williams, Minnesota State
18.7 - Michael Garteig, Quinnipiac
18.8 - Cole Huggins, Minnesota State
19.3 - Kirk Thompson, Nebraska Omaha
19.6 - Sam Marotta, Merrimack
5. Since the holiday break, special teams has fueled several teams' success.
Best PP Since Christmas
50.0% - Colorado College (5/10)
35.7% - Ohio State (5/14)
35.3% - Mercyhurst (6/17)
33.3% - Denver (3/9)
33.3% - Merrimack (4/12)
33.3% - St. Lawrence (1/3)
Best PK Since Christmas
100% - Notre Dame (13/13)
100% - Minnesota (12/12)
100% - Northern Michigan (9/9)
100% - Cornell (6/6)
100% - Union (6/6)