Thursday, January 9, 2014
UMD Earns Stadium Journey's Top Spot
NCAA hockey arenas hailed in Stadium Journey's reviews of the top 100 stadium experiences.
---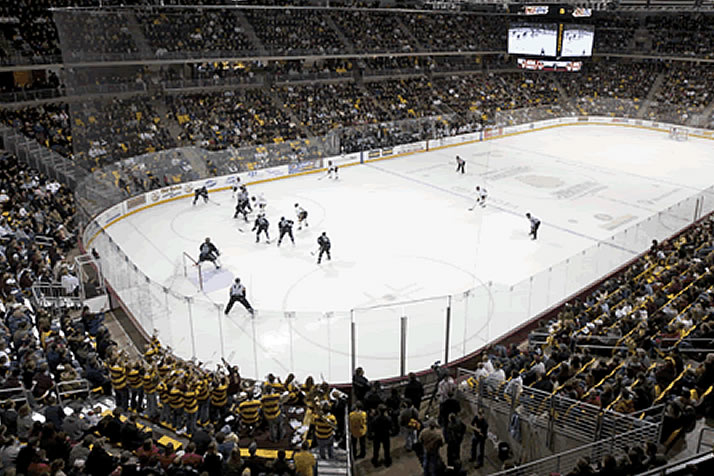 Amsoil Arena opened on New Year's Eve in 2010.
As U.S. college hockey fans have known for years, if you want to enjoy the best in a stadium experience, go to an NCAA hockey game.
The staff of Stadium Journey, a magazine and web site found at stadiumjourney.com, agree, ranking Minnesota Duluth's Amsoil Arena as the top stadium experience in North America for 2013.
Stadium Journey | A Look at NCAA Arenas
The publications's Top 100 Stadium Experiences of 2013 not only features an NCAA hockey arena in the No. 1 position, but also two of the top three and six of the top 87 spots.
The third-annual rankings are based on reviews of 1,700 venues across sports and around the world from the past year by Stadium Journal writers.
Stadium Journey gives each facility its FANFARE score, based on the following criteria:
Food & Beverage
Atmosphere
Neighborhood
Fans
Access
Return on Investment
Extras
With Amsoil Arena taking the top spot, five other college hockey venues are in the top 87 among iconic stadiums like the Daytona International Speedway, Rupp Arena and the Rose Bowl:
3. Compton Family Ice Arena, Notre Dame
15. Mariucci Arena, Minnesota
38. CenturyLink Center, Nebraska Omaha
41. Kohl Center, Wisconsin
87. World Arena, Colorado College
Amsoil, which earned a 4.9 rating out of 5, is described by writer Matt Ward:
"Amsoil Arena was designed to take the history of hockey in Duluth and capture it all in one place, and capture it, they did. With no expense spared, Amsoil Arena challenges the likes of Ralph Engelstad Arena, long considered to be the best arena in college hockey, for the title. While Amsoil may not surpass Ralph Engelstad in terms of atmosphere, it has the means to give it a run-for-its-money.

"If you ever find yourself in Duluth, do yourself a favor and catch a game at Amsoil Arena. Whether the game you attend is a closely contested game or not, you will walk out of Amsoil Arena feeling like you got your money's worth for the experience alone."
Four arenas in the list, while not typically hosting college hockey games, did play host to NCAA hockey in 2013: Fenway Park (5th), Xcel Energy Center (7th), TD Ameritrade Park (16th) and Van Andel Arena (92nd).