Tuesday, February 4, 2014
34 Heading to Sochi
Representatives from 19 NCAA schools will compete in the Olympic men's hockey tournament.
---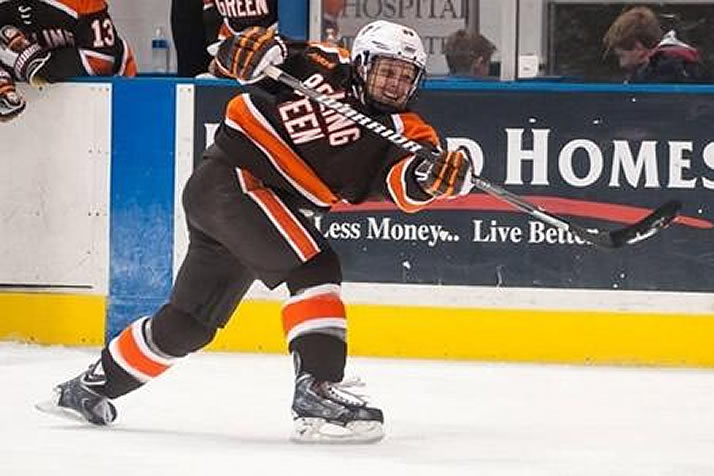 Ralfs Freibergs will represent Latvia at the 2014 Olympics and be the only active NCAA player to take part in the Games.
Note: Updated Thursday to reflect the addition of Martin St. Louis (Vermont) to Canada's roster.
The addition of Maine alumnus Gustav Nyquist to the Swedish Olympic team brings the total number of NCAA representatives in the Olympic men's hockey tournament to 33, representing 19 schools.
Bowling Green defenseman Ralfs Freibergs and 32 former college hockey stars will take part in the tournament this month in Sochi, Russia, including 20 members of the U.S. Olympic team. Freibergs, a native of Riga, Latvia, is the only current NCAA player to be selected.
Austria has five former NCAA players on its roster, while Canada (four), Sweden (two), and Latvia (one) also have NCAA representation.
Minnesota and Wisconsin each have four alums in the tournament, while Maine, Michigan and North Dakota have three each.
NCAA Representatives in the 2014 Sochi Olympics
| | | | |
| --- | --- | --- | --- |
| Country/Player | Pos. | Current Team | NCAA Team |
| Austria | | | |
| Mathias Lange | G | Iserlohn (GER) | Rensselaer |
| Brian Lebler | F | EHC Linz (AUT) | Michigan |
| Andreas Nodl | F | Red Bull Salzburg (AUT) | St. Cloud State |
| Thomas Pock | D | KAC Klagenfurt (AUT) | Massachusetts |
| Mattias Trattnig | D | Red Bull Salzburg (AUT) | Maine |
| Thomas Vanek | F | NY Islanders (NHL) | Minnesota |
| Canada | | | |
| Duncan Keith | D | Chicago (NHL) | Michigan State |
| Chris Kunitz | F | Pittsburgh (NHL) | Ferris State |
| Patrick Sharp | F | Chicago (NHL) | Vermont |
| Martin St. Louis | F | Tampa Bay (NHL) | Vermont |
| Jonathan Toews | F | Chicago (NHL) | North Dakota |
| Latvia | | | |
| Ralfs Freibergs | D | Bowling Green | |
| Sweden | | | |
| Carl Hagelin | F | NY Rangers (NHL) | Michigan |
| Gustav Nyquist | F | Detroit (NHL) | Maine |
| United States | | | |
| Jimmy Howard | G | Detroit (NHL) | Maine |
| Ryan Miller | G | Buffalo (NHL) | Michigan State |
| Jonathan Quick | G | Los Angeles (NHL) | Massachusetts |
| Justin Faulk | D | Carolina (NHL) | Minnesota Duluth |
| Paul Martin | D | Pittsburgh (NHL) | Minnesota |
| Ryan McDonagh | D | NY Rangers (NHL) | Wisconsin |
| Brooks Orpik | D | Pittsburgh (NHL) | Boston College |
| Kevin Shattenkirk | D | St. Louis (NHL) | Boston University |
| Ryan Suter | D | Minnesota (NHL) | Wisconsin |
| David Backes | F | St. Louis (NHL) | Minnesota State |
| Ryan Kesler | F | Vancouver (NHL) | Ohio State |
| Phil Kessel | F | Toronto (NHL) | Minnesota |
| T.J. Oshie | F | St. Louis (NHL) | North Dakota |
| Max Pacioretty | F | Montreal (NHL) | Michigan |
| Zach Parise | F | Minnesota (NHL) | North Dakota |
| Joe Pavelski | F | San Jose (NHL) | Wisconsin |
| Paul Stastny | F | Colorado (NHL) | Denver |
| Derek Stepan | F | NY Rangers (NHL) | Wisconsin |
| James van Riemsdyk | F | Toronto (NHL) | New Hampshire |
| Blake Wheeler | F | Winnipeg (NHL) | Minnesota |
Olympians by NCAA School
Boston College: Brooks Orpik (US)
Boston University: Kevin Shattenkirk (US)
Bowling Green: Ralfs Freibergs (LAT)
Denver: Paul Stastny (US)
Ferris State: Chris Kunitz (CAN)
Maine: Jimmy Howard (US), Gustav Nyquist (SWE), Mattias Trattnig (AUT)
Massachusetts: Thomas Pock (AUT), Jonathan Quick (US)
Michigan: Carl Hagelin (SWE), Brian Lebler (AUT), Max Pacioretty (US)
Michigan State: Duncan Keith (CAN), Ryan Miller (US)
Minnesota: Phil Kessel (US), Paul Martin (US), Thomas Vanek (AUT), Blake Wheeler (US)
Minnesota Duluth: Justin Faulk (US)
Minnesota State: David Backes (US)
New Hampshire: James van Riemsdyk (US)
North Dakota: T.J. Oshie (US), Zach Parise (US), Jonathan Toews (CAN)
Ohio State: Ryan Kesler (US)
Rensselaer: Mathias Lange (AUT)
St. Cloud State: Andreas Nodl (AUT)
Vermont: Patrick Sharp (CAN), Martin St. Louis (CAN)
Wisconsin: Ryan McDonagh (US), Joe Pavelski (US), Derek Stepan (US), Ryan Suter (US)