Wednesday, February 19, 2014
Notes: Alaskan Offense Thriving
Maine's do-it-all star, top seniors at Wisconsin and Princeton, UConn's goalies from afar and more.
---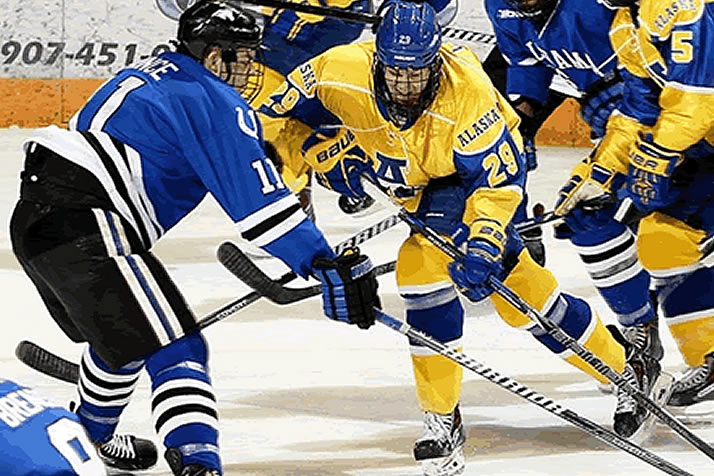 Alaska's Jared Larson has seven goals and nine points in his last nine games.
By Nate Ewell
MBA student helps spark Alaska – Alaska has stormed into home-ice position in the WCHA playoff race thanks in part to an ignited offense that has scored 26 goals in the last four games. Redshirt junior Jared Larson (Apple Valley, Minn./Fairbanks-NAHL) has led the way with five goals in that time and has seven goals and nine points in the last seven games. Larson completed his undergraduate degree in three years at Minnesota before transferring to the city where he played junior hockey, where he is earning his MBA. With his degree in hand, he didn't have to sit out a year under the NCAA's typical transfer rules.
WMU, NCHC Fights to Ice Duchenne
This weekend Western Michigan will host its annual Ice Duchenne weekend as WMU and the NCHC team up with nonprofit organization Jesse's Journey to continue to pursue a cure for Duchenne's Muscular Distrophy. WMU associate head coach Rob Facca's son, Louie, was diagnosed with Duchenne's four year ago, and this spring and summer Rob's father, Bob, will walk from Quebec City to Winnipeg to raise money and awareness for the fight against DMD. To learn more, visit wmubroncos.com.
Must Read/See/Hear Material
ESPN.com: Penn State is building another special program
NHL.com: PSU's Glen dishes out life-saving assist
Wisconsin State Journal: Good-natured Rumpel has taken control in goal
Minnesota Hockey Magazine: Path to success unique for UNO's Archibald
Providence Journal: Bennett set to take the next step
Boston Globe: Dartmouth produces solid NHLers
Daily Gazette: Depth a big key to Union's success
Five More Storylines No One Should Be Without
Hutton is Maine's do-it-all star – Whether it's facing off against an opponent's top line or scoring a big goal, Maine has come to count on sophomore defenseman Ben Hutton (Prescott, Ont./Nepean-CCHL/VAN) for just about everything. His 11 goals and 7 PPGs lead all NCAA defensemen, and he's just two goals shy of Maine's single-season record for defensemen that is held by New York Islanders head coach Jack Capuano and two others. First-year head coach Red Gendron and his staff have leaned heavily on the 6-foot-3, 200-pound Hutton, part of the team's top defense pairing with senior Brice O'Connor (Londonderry, N.H./New Hampshire-EJHL).
Portland Press Herald: Hutton's developed pro skating skills to become NHL prospect
Z thing at UW – Mark Zengerle (Rochester, N.Y./Salmon Arm-BCHL) is a goal scorer's dream for a centerman; the Badger senior leads all active players with 112 career assists, 12% more than the next closest player. Saturday, however, it was Zengerle's two goals that propelled the Badgers to just their second road win of the season, 4-2 at Ohio State. Zengerle is a big part of a strong senior class that will play its final games at Kohl Center this weekend against Michigan State.
Calof is Princeton's catalyst – Princeton has struggled to a 4-14-0 ECAC Hockey record but has shown an ability to upset teams above it in the standings, like Friday's 3-2 win at Brown. A big reason for that is the return to health of senior Andrew Calof (Nepean, Ont./Nepean-CCHL). One of the conference's elite playmakers, the son of a professor led the Tigers in scoring each of his first three seasons but missed 10 games this year due to injury. He has a six-game point streak and is averaging two points per game in that time (2g-10a) entering his final home series vs. Colgate and Cornell.
UConn goalies far from home, close to perfect – As Connecticut native and UMass alum Jonathan Quick leads Team USA in goal, UConn is being led by two goalies from far away. Senior Matt Grogan (Gilbert, Ariz./Bismarck-NAHL) and freshman Robby Nichols (Dallas, Texas/Wenatchee-NAHL) have split time in the last 10 games and both have save percentages north of .940 in that time. Their efforts have the Huskies in contention for a top-four Atlantic Hockey finish and a first-round tournament bye with four regular-season games remaining.
Faragher leads with experience – A year ago Ryan Faragher (Fort Frances, Ont./Bismarck-NAHL) was the unknown among the goaltenders at the Frozen Four in Pittsburgh. Now the junior has No. 4 St. Cloud State in the hunt for a return trip and is playing with the confidence of a veteran, posting a .928 save percentage in his last three games. Faragher and UMass Lowell's Connor Hellebuyck (Commerce, Mich./Odessa-NAHL) are the nation's only goaltenders with Frozen Four playing experience, and both have led their teams to top-10 rankings.
Friday's game is on CBS Sports Network
Olympic Note of the Week
In Thursday's gold medal women's hockey game, every member of Team USA and 16 Canadians have developed in NCAA hockey. Nine players have brothers who have played or are committed to play Division I hockey (Agosta-Marciano, Apps, Bellamy, Carpenter, Johnston, Kessel, J. Lamoureux, M. Lamoureux, Marvin).
· NCAA Olympic Guide (.pdf)
· Infographic
Fries at the Bottom of the Bag
Alabama Huntsville goaltender Carmine Guerriero (Montreal, Que./Hawkesbury-CCHL) set a school record with 61 saves at Minnesota State Saturday night ... 11 games are on national and regional sports networks this weekend, including 7 Friday night … Boston College became the first team to capture its conference regular-season title last weekend; Union is the only team that could join the Eagles this weekend … 27 former NCAA players remain alive in the Olympic men's hockey tournament with at least seven assured of a medal.