Wednesday, February 26, 2014
Notes: Captains' Log
We focus on captains from around the country as the end of the regular season approaches.
---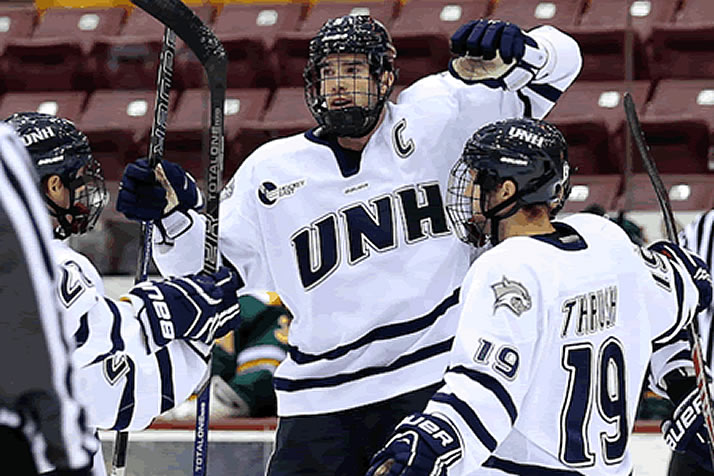 Eric Knodel scored a goal in each game of the Ice Breaker and was named to the All-Tournament Team.
By Nate Ewell
Knodel's growing role – Only five points separate second through eighth place in Hockey East entering the final weekend of the regular season, and with the top five teams earning first-round byes, there's a lot at stake. New Hampshire, which is tied for fifth, visits Merrimack for two games and will lean heavily on captain Eric Knodel (West Chester, Pa./Des Moines-USHL/TOR) for leadership, defense and offense on the blue line. The 6-foot-6, 225-pound Knodel has seen his role grow dramatically since not playing a single game as a freshman and he's more important than ever now for the Wildcats. With top offensive defenseman Trevor van Riemsdyk (Middletown, N.J./New Hampshire-EJHL) lost to injury, Knodel is playing big minutes in every situation.
Must Read/See/Hear Material
Omaha World-Herald: UNO's Raubenheimer has no regret over injury
Philadelphia Daily News: Gostisbehere a name for Flyers fans to remember
Daily Gazette: Senior class has made lasting impression at Union
Daily Gazette: Hard work paying off for Union's Ciampini
Wisconsin State Journal: Meuer says the best is yet to come for UW seniors
New Haven Register: Quinnipiac found gold mine in B.C.
Ferris State Athletics: Bulldogs Unleashed Ep. 6
Five More Storylines No One Should Be Without
Bohr Core one sign of Canisius's leader – With one goal and four points on the year, Canisius senior Ryan Bohrer (West St. Paul, Minn./North Iowa-NAHL) may not seem like an obvious choice for captain on a team with seven seniors. His leadership skills are obvious, however, upon closer inspection. Take, for example, the "Bohr Core" – a Facebook group of 87 members who follow the workout routines posted by Bohrer designed to strengthen the core. That started with a group of four or five teammates on the NAHL's North Iowa Outlaws who joined Bohrer – a health and fitness enthusiast – for post-practice workouts. Now Bohrer and the other Golden Griffins seniors hope to lead the team on a postseason run like last year, when they won Atlantic Hockey.
Simpson leads UND – The NCHC regular-season championship could come down to this weekend's North Dakota-St. Cloud State series. UND senior captain Dillon Simpson (Edmonton, Alta./Spruce Grove-AJHL/EDM) and his teammates are on a 14-2-1 run and may be the nation's hottest team outside of Boston College (17-0-2). Simpson, the son of former Michigan State and NHL star Craig Simpson, has developed impressively since playing 30 of 44 games as a 17-year-old freshman. Still younger than some of UND's freshmen, he is one of the NCHC's top all-around defensemen and leads all conference blueliners in scoring.
The Pipeline Show: Dillon Simpson
Sikura's return sparks Dartmouth – Dartmouth's on a four-game unbeaten streak that has coincided with the return of junior captain Tyler Sikura (Aurora, Ont./Newmarket-OJHL), and that's no coincidence. Sikura, who sprained ligaments in his knee Dec. 30, rehabbed vigorously and returned to the ice six weeks later with a two-assist effort at St. Lawrence. Friday he scored in OT vs. Brown and suddenly what appeared to be a lost season for the 7-16-4 Big Green holds some potential intrigue as the ECAC Hockey tournament looms.
No lone Wolfe for MSU – Late in the game, trailing 4-1, and having just missed on a chance of his own, Greg Wolfe (Canton, Mich./Omaha-USHL) had every excuse to give up on the play. Instead the Michigan State captain chased down a Wisconsin player, stripped the puck and set up a Spartan goal. That leadership of the senior class – which accounts for the Spartans' top three scorers – and the goaltending of sophomore Jake Hildebrand (Butler, Pa./Cedar Rapids-USHL) could make MSU a dangerous team down the stretch despite its 9-15-7 record.
Healthy Czarnowczan helps Ferris State – Ferris State travels to Alaska this weekend with a chance to clinch the WCHA title. The program has returned to the national prominence it enjoyed in 2012, when the Bulldogs reached the Frozen Four, and the healthy return of senior captain Scott Czarnowczan (Macomb, Mich./Green Bay-USHL) has been a big factor. Limited to 22 games last year due to injury, Czarnowczan (pronounced Zar-now-zin) has come back strong and been named a finalist for the Senior CLASS Award, befitting someone who has twice earned the program's Blue Line Competitive Award.
NHL Note of the Week
As the NHL season resumes after the Olympic break, former college players represent:
- 30% of all players
- 7 of the top 20 scorers (35%)
- 8 of the top 18 goal scorers (44%)
- 6 of the top 10 goalies in GAA
- the top 2 and 5 of the top 12 goalies in save percentage
Fries at the Bottom of the Bag
Sixteen players have 18 or more goals, 10 more than at this time last season … Colorado College has won three in a row after a 3-18-6 start … On Sunday the entire Alaska Anchorage team will shave their heads to benefit the St. Baldrick's Foundation … UNO junior Josh Archibald (Brainerd, Minn./Brainerd HS/PIT) leads the nation in goals (8) and points (13) in February … Five former NCAA players claimed Olympic gold medals, with Duncan Keith (Michigan State) and Jonathan Toews (North Dakota) becoming the first former college players to win gold twice. Vermont, with Patrick Sharp and Martin St. Louis, produced two gold medalists.