Wednesday, February 12, 2014
Notes: Duo Has Air Force Flying
Colgate's Goulakos, Minnesota State's McInnis among other highlights in advance of big weekend.
---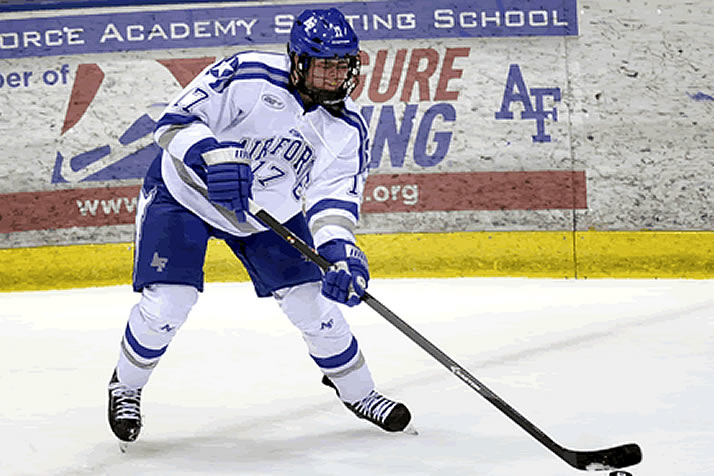 Chad Demers has eight points during his current five-game point streak.
By Nate Ewell
Air Force's leaders – Air Force has one of the nation's best one-two punches in juniors Chad Demers (Grafton, N.D./Fargo-USHL) and Cole Gunner (Richfield, Minn./Tri-City-USHL), who combined for 4 goals and 6 assists in a sweep of Atlantic Hockey-leading Mercyhurst last weekend. The duo, who rank second and third, respectively, in conference scoring, are no strangers to leadership, as one might expect from Cadets. Demers served as the superintendent of the obstacle course during Basic Cadet Training this past summer, while Gunner taught survival skills to underclassmen in Expeditionary and Survival Evasion Training.
Highest Scoring Pairs of Teammates
106 points – Johnny Gaudreau & Kevin Hayes, BC
78 – Greg & Matt Carey, SLU
75 – Cole Gunner & Chad Demers, AFA
Focus on Sochi
34 NCAA representatives (representing 19 schools) are playing in the Olympic men's hockey tournament.
· NCAA Olympic Guide (.pdf)
· Infographic
Must Read/See/Hear Material
Grand Forks Herald: Pattyn is concrete solid for UND
MLive.com: Nagelvoort finds a home in net for Michigan
Boston Globe: Why the Beanpot is so special to Boston
Boston Globe: Gaudreau's line has BC flying high
The Pipeline Show: BC's Mike Matheson & UW's Joel Rumpel
Yahoo! Puck Daddy: The game of the year (pt. 1)
The Hockey News: Kunitz an influential Bulldog
College Hockey News: Hudson Crossing
Five More Storylines No One Should Be Without
Goulakos's great story gets even better – The story of Colgate captain Spiro Goulakos (Montreal, Que./St-Jerome-LHJAAAQ) was already a good one – diagnosed with Hodgkin's lymphoma in December 2012, he returned to the ice quicker than expected and has played every game this year. Recording a hat trick and adding an assist – as a defenseman – in front of a sold out crowd to help snap rival Cornell's nine-game unbeaten streak just adds to Goulakos's lore. The only defenseman with a hat trick in Division I this season, Goulakos and the Raiders are 7-2-1 since Jan. 1 and 10-5-1 in ECAC Hockey play.
Mass factor at Minnesota State – While the city of Boston had its eyes on the Beanpot this week, another native son continues to put up impressive numbers while captaining Minnesota State. Johnny McInnis (Boston, Mass./Okotoks-AJHL) is the only Massachusetts native in the WCHA, but you can bet the Mavericks are thrilled he ventured west. McInnis has built upon his goal and point totals each year and now, as a senior, has 16 goals and 27 points through 30 games, including 9 goals in the last 8 games. The Mavericks are 5-1-0 in league play in that time and host Alabama Huntsville this weekend.
Pittsburgh's goalie pipeline – Fresh off its first Big Ten conference win, Penn State hosts Michigan State in a showcase of Western Pennsylvania's remarkable success in producing goaltenders. The Nittany Lions' Matt Skoff (McKees Rocks, Pa./Sioux City-USHL) and Spartans' Jake Hildebrand (Butler, Pa./Cedar Rapids-USHL) are the latest in a recent string of successful Pittsburgh-area goaltenders. That list includes recent back-to-back national champions Kenny Reiter (UMD, 2011) and Parker Milner (BC, 2012). Skoff earned Penn State's first mention in the Big Ten's three stars of the week this week, while Hildebrand has been honored a team-high three times by the conference.
Friday's game is on BTN; Saturday's game is on ESPNEWS
Paliotta, UVM welcome BC – Fresh off a sweep of New Hampshire, Vermont hosts No. 1 Boston College this weekend which likely means a healthy dose of the nation's best line for UVM junior defenseman Michael Paliotta (Westport, Conn./U.S. NTDP/CHI). A Blackhawks draft pick, the 6-foot-3, 201-pound Paliotta has added more offense to his formidable defensive game this season – with 19 points he is one point shy of matching his total production from his freshman and sophomore years.
Standings peek – The top two teams in the NCHC meet this weekend as Minnesota Duluth travels to St. Cloud, but that series might not provide any clarity in the conference race. With four weeks remaining in the regular season, six of the eight teams are within four points (and a win is worth three). The other five conferences aren't nearly as up in the air at this point, though all but Hockey East have teams within four points of the leader.
Olympic Note of the Week
Six sets of former college teammates are competing in Sochi, but none will face each other in the preliminary rounds. Two sets of college teammates are teammates on the U.S. squad (Kessel & Wheeler, McDonagh & Stepan).
Fries at the Bottom of the Bag
Twice in the last three games Quinnipiac's Connor Jones (Montrose, B.C./Vernon-BCHL) has scored within 10 seconds of the start of the game, making him the first player in NCAA history to do that twice in his career … AIC head coach Gary Wright won his 300th career game last weekend … All five ECAC Hockey games on Saturday night were sellouts, part of a tremendous weekend for attendance across the country.