Thursday, February 6, 2014
Notes: OSU's Goalie Find & More
A pro in college, high-performing NHL sons and an emerging star at Brown among this week's topics.
---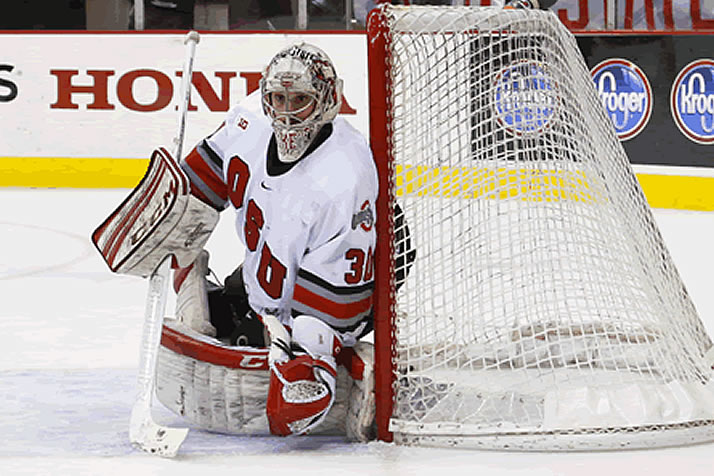 Christian Frey has been among the Big Ten's Three Stars of the Week each of the last two weeks.
By Nate Ewell
A find in Frey – Ohio State has had six goaltenders on its roster during the course of the season, but the most recent addition is standing out from the crowd. Christian Frey (Arlington, Texas/Dubuque-USHL) began the season with Dubuque in the USHL and enrolled at Christmas, posting a 5-1-0 record, a 2.19 GAA and .936 save percentage since then. He has the Buckeyes on a three-game winning streak entering this weekend's series at Michigan State.
Friday's game is on BTN; Saturday's game is on FS Detroit+
Must Read/See/Hear Material
Boston Globe: Patrick Brown following famous footsteps at BC
Buffalo News: Niagara finds an effective leader in Kohls
College Hockey News: Making time for the pain
Minnesota Daily: Lettieri making a name for himself
Daily Gazette: Dumais gets his chance
The Pipeline Show: SCSU's Ryan Faragher
Five More Notes No One Should Be Without
Pro pedigree – Northern Michigan visits WCHA-leading Ferris State this weekend looking to build upon its 5-3-0 record in the new year that has lifted the Wildcats over .500 in conference play (9-8-1). Junior defenseman Mitch Jones (Delta, B.C./Surrey-BCHL) has been a big contributor, ranking second on the team with 17 points. Jones – who spent a portion of last season at forward – is a rare college hockey player with professional experience, though it's not in hockey. An outstanding indoor lacrosse player, he had a goal and four points in three games for the Washington Stealth last season as a rookie in the NLL.
Note: The NCAA's amateurism regulations permit an athlete to play professionally in one sport while maintaining eligibility in another.
Hats off to Zombo – Two teams tied for second place in the NCHC – Nebraska Omaha and North Dakota – meet this weekend in Grand Forks, and UND will look to slow UNO's surging offense, which scored eight goals Saturday vs. St. Cloud State. Leading the way was junior center Dominic Zombo (Ballwin, Mo./Sioux Falls-USHL), who scored his first career hat trick. Zombo's father, Rick, starred at North Dakota in the 1980s and then played 652 games in the NHL; he is currently the head coach at the ACHA program at Lindenwood.
Naclerio in starring role – Mark Naclerio (Milford, Conn./Waterloo-USHL) was a solid, if unspectacular contributor in his season with the USHL's Waterloo Blackhawks – in fact, on a team that featured eight future NHL draft picks, the undrafted free agent was named the Unsung Hero. He quickly emerged in a starring role at Brown, however, earning top-line center duties as a freshman and now, as a sophomore, being named the ECAC Hockey Player of the Month for January. Naclerio leads the Bears in scoring and his 1.38 points per game rank ninth nationally entering a big weekend at Union and RPI.
Providence Journal: Secret is out on Brown's Naclerio
Differential in goal for Niagara – Niagara, which faces nearby rival Canisius in a home-and-home tonight and Saturday, has improved significantly in the second half (5-4-1 in 2014 after a 3-11-2 start). That's perhaps not surprising given their reliance on two freshman goaltenders after the departure of star Carsen Chubak to the pros. The two Ontario natives – Adrian Ignagni (Mississauga, Ont./St. Michael's-OJHL) and Jackson Teichroeb (London, Ont./Lincoln-USHL) – have shown significant improvement already in their NCAA careers. Since Dec. 7, Teichroeb's save percentage is 40 points higher than it was at that point in the season (.923 vs. 883), while Ignagni's has jumped 32 points (.922 vs. .890).
Who will be the Beanpot hero? – Boston College's hunt for its fifth straight Beanpot culminates in Monday's championship game vs. Northeastern, and it's often an unsung hero who delivers on Boston's big stage. BC gets 44% of its goals from its first line, but a few other candidates could step up. One, freshman Ryan Fitzgerald (North Reading, Mass./Valley-EJHL/BOS), scored in his Beanpot debut Monday in front of his father, Tom, a former Providence star, longtime NHLer and current Pittsburgh Penguins exec. Prior to that game Tom tweeted:
Grew up going into the Garden for the 1st 2 Mondays of Feb watching the Beanpot. Now I get to watch my son compete for BC. Proud Dad

— Tom Fitzgerald (@tjf1097) February 3, 2014
Monday's game is on NESN
Fries at the Bottom of the Bag
The addition of Gustav Nyquist (Maine) and Martin St. Louis (Vermont) to the Swedish and Canadian Olympic teams, respectively, brings the total number of NCAA representatives competing in the men's hockey tournament in Sochi to 34 … Canisius defenseman Chris Rumble (Seattle, Wash./Wenatchee-NAHL) had part of a video he created featured in a Microsoft Super Bowl commercial … 11 games are on national or regional sports networks between Thursday and Monday.