Tuesday, March 11, 2014
52 to Attend NTDP Camp
14 already committed to Division I programs among the attendees for March 21-25 camp.
---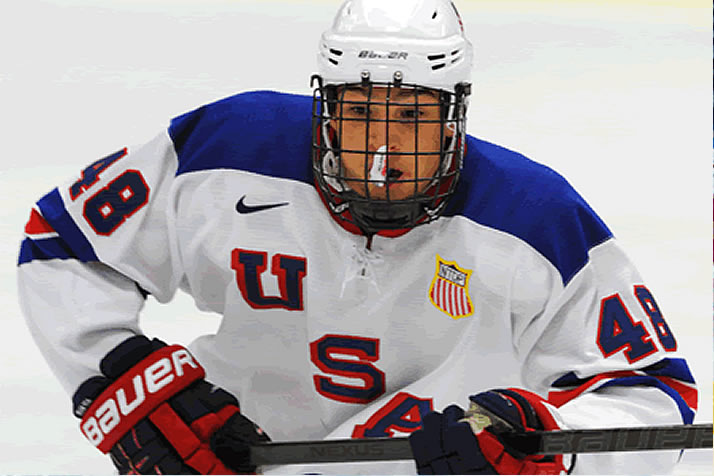 Boston College recruit Sonny Milano has been at the U.S. NTDP the past two seasons.
Fifty-two of the top 1998-born players in the United States will take part in USA Hockey's National Team Development Program Evaluation Camp, to be held March 21-25 in Ann Arbor, Mich. The camp will help select the 2014-15 U.S. National Under-17 Team.
Fourteen players already committed to Division I programs are among the invitees, with Michigan and Michigan State each boasting three commitments on the camp roster. Harvard and Minnesota each have two commits, while Boston College, Boston University, Massachusetts and Minnesota Duluth have one each.
College Hockey Inc. Director of Education and Recruitment Kyle Lawson - an alum of the U.S. NTDP who played at Notre Dame - will serve as one of the camp's coaches, as will former NHLers Bake Geoffrion and David Tanabe, both Wisconsin alums.
"We're excited to welcome another talented crop of players to our tryout camp," said Peter Ward, director of player personnel for the NTDP. "The entire scouting staff puts in days, months and years of hard work to identify what we believe are the nation's top players in this age group."
Players will be split into three teams - Red, White and Blue - with games between the teams scheduled for March 22, 24 and 25 at the Ann Arbor Ice Cube.