Thursday, March 27, 2014
ESPN Analysts Preview Regionals
The men calling the game share their players to watch, plus why they love college hockey.
---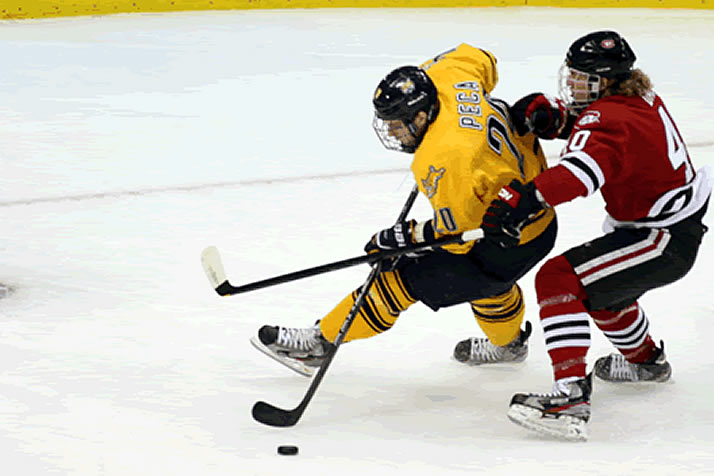 Quinnipiac's Matthew Peca was the MVP of last year's East Regional.
In advance of the NCAA Regionals, we caught up with the ESPN commentators who will be calling the games. They sound as excited to drop the puck as any of the players or coaches.
TV Schedule | ESPN's Coverage Plans
Can you single out two players you are excited to watch and why?
John Buccigross, East Region Play-by-Play: "Shayne Gostisbehere (Margate, Fla./South Kent-Prep/PHI) of Union and Mathew Peca (Petawawa, Ont./Pembroke-CCHL/TB) of Quinnipiac. These are two players we will see get a shot to play in the NHL. I had them both in Providence last year and it will be interesting to see their progression, especially head to head. Like many underclassmen they are on that college/pro fence. If the Flyers (Gostisbehere) and Lightning (Peca) push hard to turn pro the player probably will. Even if, deep down, they would like to return to college. College is more fun and appealing to a college student than the AHL when you're on the AHL/NHL bubble."
Darren Eliot, Midwest Region Analyst: "I am really looking forward to seeing the Spink twins (Tyson and Tylor; Williamstown, Ont./Cornwall-CCHL) for the Colgate Raiders. Having watched and covered the Sedin twins in the media over the past 15 years, I'm curious to see if the Spink boys have some of the same innate chemistry in looking for and finding one another in the offensive zone. I'm also looking forward to seeing NTDP alum Nick Kerdiles (Irvine, Calif./U.S. NTDP/ANA) again. I think he is one of the most dynamic players in the country."
Billy Jaffe, Northeast Region Analyst: "I'm interested to see Minnesota State goaltender Cole Huggins (Centennial, Colo./Coquitlam-BCHL). They say how composed he is, how he never seems to get rattled. It sounds like Connor Hellebuyck (Commerce, Mich./Odessa-NAHL/WPG) to me, which sets up a great matchup. I'm also excited to watch Denver's Daniel Doremus (Aspen, Colo./Sioux Falls-USHL). He was the MVP of the NCHC tournament so he's a big reason why they're here. He's a true 200-foot player who we will see in every situation."
Sean Ritchlin, West Region Analyst: "Mike Reilly (Chanhassen, Minn./Penticton-BCHL/CBJ) is one of the most exciting players in college hockey. I love the fact that he's given free reign by the coaching staff. He's very involved in the offense, whether he's rushing the puck or playing the point. With his skating ability and hockey sense, he's made a big step in his sophomore year. Another I'm really excited to see is Cody Wydo (Allen Park, Mich./Motor City-NAHL). Any time you can score 30 goals in 41 games, that's really impressive. I'm curious if he can get into those dead spaces and use his quick release against a really good Minnesota team."
Dave Starman, Studio Analyst: "Obviously Johnny Gaudreau (Carneys Point, N.J./Dubuque-USHL/CGY) is one because he is so electric, but his center Billy Arnold (Needham, Mass./U.S. NTDP/CGY) might be the best NHL prospect on the line. Kevin Hayes (Dorchester, Mass./Nobles-Prep/CHI) is a monster and he has come a long way to becoming a more complete and full-time star player. Arnold facilitates the success they each have because he is the guy who can move the puck, play with pace, take care of the defensive zone and do the dirty work. You can't lose watching the three of them, they are all so different and yet the line plays seamlessly.
"Nic Dowd (Huntsville, Ala./Indiana-USHL/LA) is a man child. He and Arnold are probably the best 200 footers in the NCAA. Dowd does so much in all three zones, sacrifices offense for defense, but his defensive play facilitates a lot of offense.
"Michael Mersch (Park Ridge, Ill./U.S. NTDP/LA) at Wisconsin is another. Power-play specialist, plays a man's game, great hands, He and Hudson Fasching (Burnsville, Minn./U.S. NTDP/BUF) at Minnesota are both great to watch."
What do you like most about covering college hockey?
Buccigross: "The intimacy and gratefulness of the players and coaches. Matt Kuchar said in this month's Golf Digest that the Ryder Cup attempts at team unity are nice, but they can't replicate the shared bond and everyday intimacy of college athletes. College athletes, like hockey players, share a short-term goal of a school championship and a share long-term goal of individual success. You can't conjure that up in a week. It takes months and years. That's why those on-ice, post championship team pictures are so jubilant and joyful. It's an explosion of love for that person for which you have given and shared everything."
Eliot: "In covering the college game the past three seasons, I've come to really appreciate the game on so many levels. The atmosphere in the buildings and the level of fan involvement is refreshing. I appreciate that the coaches enjoy talking about the game and welcome the opportunity to do so. In the end, I'm most drawn to the players. Their earnestness brings me back to when I played for Cornell (keeps me young at heart!). And I like the fact that the college game remains a place where players of all shapes and sizes can compete and flourish. If you have skill – can move the puck and move your feet –you can compete, even on defense. College hockey offers up something for everyone from a fans' perspective and is open to diverse opportunities from a players' perspective. That's college hockey: a little bit of everything means something for everyone."
Jaffe: "I love the people, and I'm always reminded of that when I cover the college game. There's a home-like feel to it – very welcoming – and the coaches, players and administrators really make it that way. The ultimate passion of the game is great, too. There are no nights off, and we'll see that this weekend given the single-elimination format. This is your life – you're going to school and playing hockey, and you can see that passion on the ice."
Ritchlin: "I'm a college hockey guy, and really passionate about what it brings to each individual. I've been doing this 10 years now, so some kids I've covered are playing in the NHL and others are succeeding in business. I love seeing the camaraderie and how much fun these guys are having together. This time of year, there's always a big upset, too. Any team can win it – Yale proved that much last year."
Starman: "After 11 years covering college hockey what I like is the fact that the programs seem to really understand that what we do is in partnership with them. We're all in this together and the coaches and SIDs have really grabbed on to what national TV can provide when they work with a partner they trust. For me personally, the opportunity to talk hockey and coaching with some great hockey minds is unreal. Picking coaches brains, talking strategy, learning from them, understanding the nuances of every team, it's a rush for me and I bring a lot of that to my presentations for the USA Hockey Coaching Education Program."