Wednesday, March 5, 2014
Notes: Balisy Leads Broncos
Leaders at WMU, RIT and UAF lead our weekly notes looking around college hockey.
---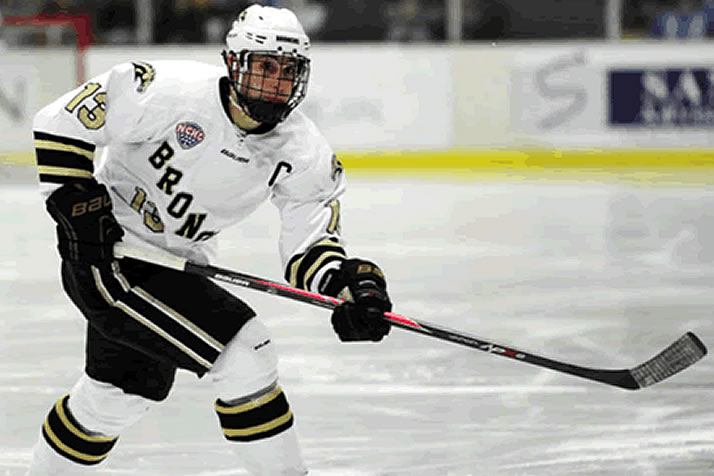 Chase Balisy has ranked first or second in scoring at WMU each of his four seasons.
By Nate Ewell
Balisy leads Broncos – A hat trick on senior night – accounting for all three Western Michigan goals – was a fitting send-off for Chase Balisy (Rancho Santa Margarita, Calif./U.S. NTDP/NSH). The Broncos' top center, who carries a four-game goal-scoring streak into the final weekend of the regular season at North Dakota, has been a consistent offensive threat since he stepped foot on campus. His game has grown, meanwhile, in just about every other area, as he has become a reliable 200-foot player for head coach Andy Murray. With a strong finish this weekend Balisy and the Broncos could make an encore appearance at Lawson Arena in the first round of the NCHC tournament.
Must Read/See/Hear Material
Star Tribune: Reilly brothers make Gophers history
Bemidji Pioneer: Revamped WCHA might not be the best, but it's more exciting
Hockey Now: Border Crossing
Buffalo News: Stint in Alaska helped Sullivan become top-line center for Canisius
NCAA.com: Slapshots in the Sun Belt
NHL.com: Riley coaching legacy strong at West Point
Calgary Sun: Johnny be Great
USCHO.com: The sound of victory
Daily Gazette: No more jitters for Union's Sakellaropoulos
Daily Gazette: Gostisbehere not getting caught up in hype
Five More Storylines No One Should Be Without
Captain's return boosts RIT – RIT is in unfamiliar territory as the road team when Atlantic Hockey opens postseason play this weekend, but the Tigers appear better than their ninth-place finish suggests. A big reason is the healthy return of junior captain Matt Garbowsky (St. George, Ont./Powell River-BCHL), who came back last weekend after missing 24 games due to injury. Garbowsky – who had seven points in the season's first eight games before the injury – didn't have a point last weekend but helped spark the Tigers to a sweep of Canisius. The center helps make RIT a candidate to pull an upset in this weekend's series at Holy Cross.
Seniors lead UAF surge – Alaska heads into the final weekend of the regular season – and the deciding series for the Governor's Cup with Alaska Anchorage – on a six-game winning streak. Fueling the run have been Nos. 36 and 37, seniors Colton Beck (Langley, B.C./Langley-BCHL) and Cody Kunyk (Sherwood Park, Alta./Sherwood Park-AJHL), with 13 and 12 points in those six games, respectively. The linemates are two of three seniors on the roster, with defenseman Michael Quinn (Surrey, B.C./Westside-BCHL), and that small group is hoping to lead the Nanooks to a first-round home playoff series in the WCHA.
Fairbanks Daily News-Miner: Trio of seniors developed strong bond at UAF
Bayreuther turning heads – St. Lawrence, which features ECAC Hockey's most productive freshman class, hosts Brown in a compelling first-round series this weekend. It could be the final pre-NHL Draft viewing opportunity for rookie defenseman Gavin Bayreuther (Canaan, N.H./Fargo-USHL), who could be the first current college player taken in June. It's the third year of draft eligibility for Bayreuther, but his dynamic contributions for the Saints have scouts intrigued. He ranks second nationally among defensemen in scoring with 33 points in 34 games.
Shutouts in South Bend – Boston University returns to South Bend, Ind., Saturday just two weeks after Notre Dame goalie Steven Summerhays (Anchorage, Alaska/Green Bay-USHL) blanked the Terriers in back-to-back games Feb. 21-22. Summerhays has seen significant playing time since he arrived at Notre Dame, and his game has developed impressively, with a save percentage and GAA improving each year. He leads the NCAA with seven shutouts (and played all but one minute in an eighth), and enters this weekend with a .990 save percentage in his last four games.
Steven Summerhays, Year-by-Year
Freshman: 12 GP, .863, 3.04, 0 SO
Sophomore: 20 GP, .910, 2.43, 2 SO
Junior: 36 GP, .919, 2.01, 4 SO
Senior: 32 GP, .929, 1.87, 7 SO
Di Giuseppe's revival – Michigan junior Phil Di Giuseppe (Maple, Ont./Villanova-OJHL/CAR) has a scorer's nose for the net, but he was limited to five tallies in the first 26 games this season. That's turned around in a big way lately, with four goals (and two game-winners) in the last four games. Di Giuseppe's offensive resurgence will make the third-place Wolverines even more of a threat in the Big Ten conference race heading into the final two weeks of the regular season and the conference tournament.
Saturday's game is on FS Detroit
NHL Note of the Week
With the addition of Ryan Miller, the St. Louis Blues have eight former NCAA players on their roster, all of whom were All-Americans. Miller and teammate Jordan Leopold won back-to-back Hobey Baker Awards in 2001 and '02.
Fries at the Bottom of the Bag
Two conferences – the NCHC and WCHA – wrap up regular-season play this weekend, and both have two teams tied for first place … Last weekend Bentley's Brett Gensler became Atlantic Hockey's all-time leading scorer, Andy Iles set the Cornell record for career saves and Robert Morris's Cody Wydo and Nebraska Omaha's Josh Archibald set school single-season records for goals … 13 former NCAA players – from 12 different schools – played in the NHL's Heritage Classic Sunday in Vancouver.