Monday, March 3, 2014
Stat Pack: Road Stoppers
Goalies who can steal games, top seniors and freshmen and more in this week's closer look at stats.
---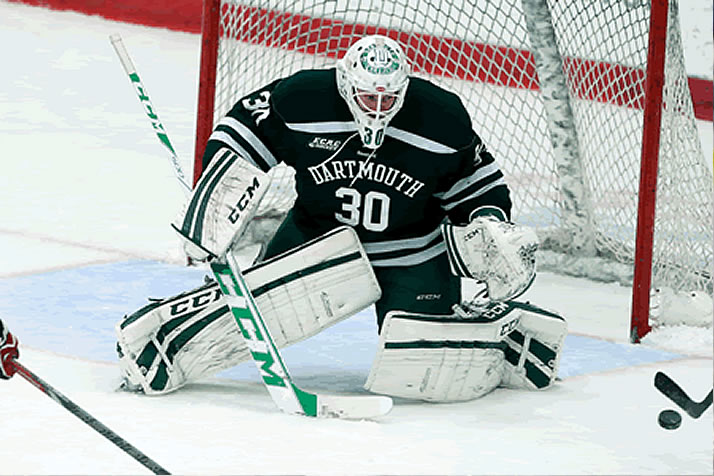 Dartmouth sophomore Charles Grant has a .946 save percentage away from Hanover this season (Photo by David Silverman).
By Nate Ewell
In our Stat Pack feature, College Hockey Inc. highlights five obscure but telling statistics from the world of college hockey. You can find many more, in our filtered stats database.
1. As postseason tournaments get underway, there's one thing every underdog would love - a goaltender who can steal a game. With that in mind, here are the 10 best save percentages away from home this season:
Best Save Percentage, Road & Neutral Games
.946 - Charles Grant, Dartmouth
.945 - Thatcher Demko, Boston College
.943 - Jesse Wilkins, Bemidji State
.942 - Clay Witt, Northeastern
.942 - Kevin Kapalka, LSSU
.942 - Connor Hellebuyck, UMass Lowell
.940 - Jimmy Sarejeant, Mercyhurst
.935 - Robby Nichols, Connecticut
.934 - Lukas Hafner, Western Michigan
.933 - Colin Stevens, Union
2. Here's a look at the teams and players with the most success at the faceoff dots this season:
Best Faceoff Pct., Team
55.9% - Quinnipiac
54.5% - Clarkson
54.4% - Holy Cross
54.1% - Minnesota
53.8% - Boston College
Best Faceoff Pct., Players
69.4% - Jeremy Wick, SLU
63.1% - Daniel Holmberg, MTU
62.3% - Justin Selman, Michigan
62.2% - Brent Norris, UConn
62.0% - Chris Maniccia, UMass Lowell
3. Junior Johnny Gaudreau (Carneys Point, N.J./Dubuque-USHL/CGY) leads the nation in scoring, but the next five players behind him are all seniors. Here's a look at the top-scoring seniors in the country:
Most Points, Seniors
53 points (15g-38a) - Greg Carey, St. Lawrence
51 (22-29) - Kevin Hayes, Boston College
45 (18-27) - Brett Gensler, Bentley
45 (14-31) - Kevin Goumas, UNH
44 (12-32) - Bill Arnold, Boston College
40 (16-24) - Chris McCarthy, Vermont
39 (18-21) - Kellen Jones, Quinnipiac
38 (18-20) - Cody Kunyk, Alaska
37 (13-24) - Daniel O'Donoghue, Mercyhurst
36 (17-19) - Daniel Carr, Union
4. At the other end of the spectrum, here are the freshmen contributing the most offensively:
Most Points, Freshmen
40 points (19g-21a) - Sam Anas, Quinnipiac
36 (12-24) - Mike Szmatula, Northeastern
34 (18-16) - Mario Puskarich, Vermont
34 (18-16) - Matt Carey, St. Lawrence
33 (8-25) - Gavin Bayreuther, St. Lawrence
31 (12-19) - Alex Globke, LSSU
31 (5-26) - David Norris, AIC
29 (5-24) - Justin Danforth, Sacred Heart
5. Here's a look at the top-five teams that have had to kill off the most and the fewest power plays by opponents:
Most Penalty Killing Situations
183 - Western Michigan
174 - Ferris State
170 - Sacred Heart
166 - Minnesota Duluth
165 - Nebraska Omaha
Fewest Penalty Killing Situations
93 - Yale
106 - St. Cloud State
107 - New Hampshire
108 - AIC
109 - Minnesota