Tuesday, March 25, 2014
Top NCAA Tournament Storylines
Could another first-time champion be crowned as 16 teams vie for the NCAA title?
---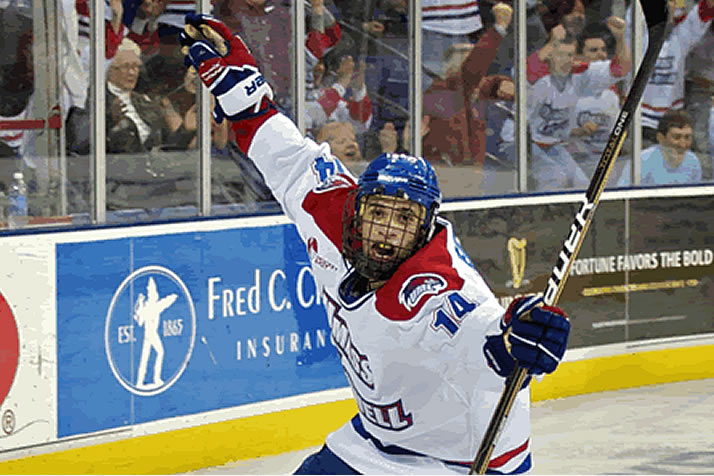 Joseph Pendenza and UMass Lowell are seeking a second straight trip to the Frozen Four.
By Nate Ewell
Another first-time champ? – Two of the last three years the national champion was a team that had never won it before (Minnesota Duluth in 2011, Yale in 2013). Only five teams in this field have won national championships before, and four of them face off in the first round: Denver (7), North Dakota (7), Wisconsin (6), Boston College (5) and Minnesota (5). The 11 others enter in search of their first championships.
2014 NCAA Tournament Bracket | Printable (.pdf) | Ticket Info | TV Schedule
Media Notes: 2014 NCAA Tournament (.pdf) | Stat Pack: Compare the Teams
No one-year wonders –
The last two Frozen Fours have been filled with first-time participants: Ferris State and Union in 2012, Quinnipiac, UMass Lowell and St. Cloud State in 2013. All five of those teams are back in the field this year. In fact, only two teams in the tournament – Minnesota State and Robert Morris – have never reached the Frozen Four.
Experience counts – Despite the rise in early departures for the NHL in recent years, college hockey remains a game that rewards experienced teams. The tournament field is a case in point, with the top five scorers in the field and 11 of the top 14 being juniors or seniors. A number of players in the field turned down opportunities to sign pro contracts last summer to pursue an NCAA championship, including Boston College's Johnny Gaudreau (Carneys Point, N.J./Dubuque-USHL/CGY), St. Cloud State's Nic Dowd (Huntsville, Ala./Indiana-USHL/LA) and Wisconsin's Michael Mersch (Park Ridge, Ill./U.S. NTDP/LA).
Most seniors
11 – Notre Dame
9 – Wisconsin
7 – Vermont, UMass Lowell
Young goalies – While experience is evident among the tournament's top scorers, five freshman goaltenders lead their teams into the NCAA field. One of them, Robert Morris's Dalton Izyk (Oswego, N.Y./Indiana-USHL), had started just two games before an injury pressed him into duty March 9. Five other starters are sophomores – in fact, only Denver senior Sam Brittain (Calgary, Alta./Canmore-AJHL/FLA) has seen action in more than one previous NCAA Tournament. The last first-year goaltenders to win national championships were BU's Kieran Millan in 2009 and BC's John Muse in 2008.
View the future – Twenty-seven NHL teams have at least one draft pick in the tournament, with a total of 92 drafted players on the 16 rosters (Robert Morris and Ferris State are the only teams without any draft picks). Chicago (8), Florida (8), Calgary (6), Los Angeles (6) and Buffalo (5) have the most prospects participating among NHL teams. North Dakota (15), Minnesota (14), Notre Dame (11) and Boston College (10) have the most drafted players on their rosters. While most players are drafted prior to arriving at college, some – like Boston College goaltender Thatcher Demko (San Diego, Calif./U.S. NTDP) – are eligible for the 2014 NHL Entry Draft (which will also be held in Philadelphia). Many others will be signed as undrafted free agents.
Forty-six schools have had a former player in the NHL this season, including 14 of the 16 teams in the tournament (Quinnipiac and Robert Morris are the exceptions). Thirty percent of all NHL players developed in NCAA hockey.
Draft Picks in the 2014 NCAA Tournament | NCAA In the NHL
Brotherly love indeed – Two sets of twins on opposite sides of the bracket highlight a number of brother connections in the tournament: Quinnipiac's Connor and Kellen Jones and Colgate's Tylor and Tyson Spink. Minnesota has a trio of brothers in the Reillys (Connor, Mike and Ryan). Other brother combinations in the field include Connor and Tim Clifton (Quinnipiac), Johnny and Matthew Gaudreau (Boston College), Mark and Mitch MacMillan (North Dakota) and Casey and Josh Nelson (Minnesota State).
Three other sets of brothers find themselves on opposing teams. The Brodzinskis, Jonny (St. Cloud State) and Michael (Minnesota) could be second-round opponents. Two other sets – Thomas (Notre Dame) and Theo (Union) DiPauli and Stephane (North Dakota) and Yvan (Vermont) Pattyn – could only meet in the national championship game.
Seven players in the tournament have brothers who have played in the NHL: Boston College's Kevin Hayes (Jimmy), UMass Lowell's Josh Holmstrom (Ben), Minnesota's Kyle Rau (Chad), Denver's Wade Bennett (Beau), Quentin Shore (Drew) and Nolan Zajac (Travis), Providence's Brandon Tanev (Chris).
Coach speak – Denver's Jim Montgomery is the only first-year head coach in the tournament, but he's no stranger to the event. He won the 1993 championship as a player at Maine, scoring three times in the third period of the title game and earning Most Outstanding Player honors. Wisconsin head coach Mike Eaves and Vermont head coach Kevin Sneddon also won championships as players, at Wisconsin in 1977 and Harvard in 1989, respectively.
You've got a friend – Thirty natives of Pennsylvania or New Jersey are pursuing a trip to Philadelphia, as the Frozen Four returns to the Keystone State for the second year in a row. Among that group is Carneys Point, N.J., native Johnny Gaudreau of Boston College, the Hobey Baker Award favorite. Ten of the 16 schools have a Philadelphia or New Jersey native on the roster.
Hailing from everywhere – Six countries, 31 states, 6 Canadian provinces and the District of Columbia are represented on NCAA Tournament rosters. The 16 teams in the field clearly demonstrate the growth of the sport geographically. Three of the teams' leading scorers and one starting goaltender hail from California, while the Hobey Baker Award finalists in the field include players from Alabama, Florida and New Jersey.
BCS busters – For 10 straight years, at least one school that plays Division II or III in sports other than hockey has reached the Frozen Four. Candidates this year include St. Cloud State, which made the trip last year, Ferris State, Minnesota State and Union.
Hobey watch – Each NCAA regional features at least one Hobey Baker Award finalist (seven of the 10 total are in the tournament). The winner will be announced the day before the championship game in Philadelphia, not far from where Hobey Baker himself was born (Bala Cynwyd, Pa.).