Friday, April 11, 2014
All-America Teams Named for 2013-14
Quinnipiac's Anas named Rookie of the Year, Maine's O'Connor wins Derek Hines Award.
---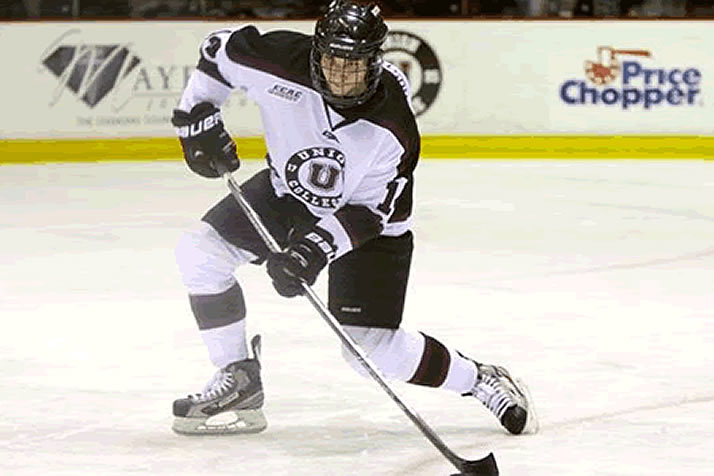 A second-team honoree last season, Shayne Gostisbehere was named first-team All-American this year.
Seven participants in Saturday's national championship game are among the honorees on the 2013-14 American Hockey Coaches' Association (AHCA) CCM Hockey All-America teams, announced Friday evening in Philadelphia.
Union (4), Minnesota (3) and Boston College (3) led all schools in the number of selections, with Union claiming both first-team defense positions on the East team. Alaska, Denver, Maine and Wisconsin also had two honorees apiece.
The 25 honorees represent 10 U.S. states and five Canadian provinces. Seventeen NHL teams have prospects or signees among the players honored, led by Florida (3), Los Angeles (2) and Tampa Bay (2).
EAST FIRST TEAM
Pos.
WEST FIRST TEAM
Connor Hellebuyck, UMass Lowell
Commerce, Mich./Odessa-NAHL/WPG
G
Sam Brittain, Denver
Calgary, Alta./Canmore-AJHL/FLA
Mat Bodie, Union
East St. Paul, Man./Powell River-BCHL
D
Jake McCabe, Wisconsin
Eau Clair, Wis./U.S. NTDP/BUF
Shayne Gostisbehere, Union
Margate, Fla./South Kent-Prep/PHI
D
Mike Reilly, Minnesota
Chanhassen, Minn./Penticton-BCHL/CBJ
Greg Carey, St. Lawrence
Hamilton, Ont./Burlington-OJHL/PHX
F
Josh Archibald, Nebraska Omaha
Brainerd, Minn./Brainerd HS/PIT
Johnny Gaudreau, Boston College
Carneys Point, N.J./Dubuque-USHL/CGY
F
Nic Dowd, St. Cloud State
Huntsville, Ala./Indiana-USHL/LA
Kevin Hayes, Boston College
Dorchester, Mass./Nobles-Prep/CHI
F
Ryan Dzingel, Ohio State
Wheaton, Ill./Lincoln-USHL/OTT
EAST SECOND TEAM
WEST SECOND TEAM
Colin Stevens, Union
Niskayuna, N.Y./Jr. Bruins-EJHL
G
Adam Wilcox, Minnesota
South St. Paul, Minn./Tri-City-USHL/TB
Ben Hutton, Maine
Prescott, Ont./Nepean-CCHL/VAN
D
Joey LaLeggia, Denver
Burnaby, B.C./Penticton-BCHL/EDM
Michael Matheson, Boston College
Pointe-Claire, Que./Dubuque-USHL/FLA
D
Colton Parayko, Alaska
St. Albert, Alta./Ft. McMurray-AJHL/STL
Daniel Carr, Union
Sherwood Park, Alta./Powell River-BCHL
F
Austin Czarnik, Miami
Washington, Mich./Green Bay-USHL
Ryan Haggerty, Rensselaer
Stamford, Conn./U.S. NTDP/NYR
F
Cody Kunyk, Alaska
Sherwood Park, Alta./Sherwood Park-AJHL/TB
Devin Shore, Maine
Ajax, Ont./Whitby-OJHL/DAL
F
Michael Mersch, Wisconsin
Park Ridge, Ill./U.S. NTDP/LA
F
Kyle Rau, Minnesota
Eden Prairie, Minn./Sioux Falls-USHL/FLA
In addition to the All-America teams, the AHCA honored Maine's Bruce O'Connor (Londonderry, N.H./New Hampshire-EJHL) with the Derek Hines Award as the nation's unsung hero and Quinnipiac's Sam Anas (Potomac, Md./Youngstown-USHL) as the national rookie of the year.