Friday, April 18, 2014
Alums Claim AHL Awards
Former Minnesota State star Travis Morin named MVP; Miami's Curtis McKenzie top rookie.
---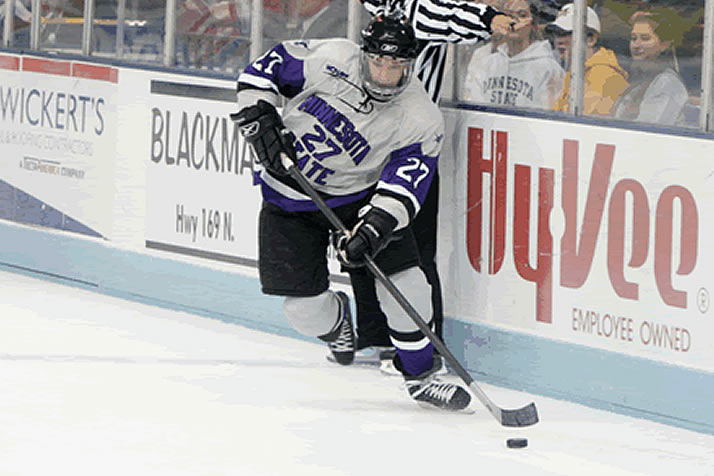 Travis Morin totaled 133 points in his four years at Minnesota State.
Former NCAA players filled the ranks of award winners in the American Hockey League this season, led by league MVP Travis Morin, who starred at Minnesota State.
In addition to Morin, Miami alum Curtis McKenzie claimed the AHL rookie of the year honors, while former Ferris State goaltender and Western Michigan head coach Jeff Blashill was the league's coach of the year.
Morin, who claimed the Les Cunningham Award as MVP, has led the league in scoring all season. He enters this, the final weekend of the regular season, with 87 points in 65 games for the Texas Stars, 15 more than the next-closest player. The Stars are also assured of the top overall record in the AHL.
Morin has also skated four games with Dallas in the NHL this season. The Brooklyn Park, Minn., native led the Mavericks in scoring twice while skating with current St. Louis Blues captain David Backes.
McKenzie, Morin's teammate in Texas, played four years in Oxford and jumped right into the AHL at the end of last season. This season he has 64 points in 74 games, good for ninth in the AHL in scoring and first among rookies.
In addition to Morin, four-year college stars Andy Miele (Miami) and Spencer Abbott (Maine) both stand in the top six in the AHL in scoring. BU's Adam Clendening, Miami's Chris Wideman and Bemidji State's Brad Hunt make up three of the league's top five in scoring by defensemen.
The league's All-Star Teams included Morin and Clendening on the first team and Abbott, Hunt and Miele on the second team.
Former Wisconsin star Jake Dowell captured the league's Fred T. Hunt Award for sportsmanship, determination and dedication to hockey. Dowell, the captain of the Iowa Wild, lost his father this February to Huntington's disease, which also affects Jake's older brother, Luke. He has led fundraising and awareness efforts to help fight the disease.
Finally, the AHL's 30 team Man of the Year award winners included 13 former NCAA stars, honored for making a positive impact in their communities.