Monday, April 7, 2014
Developing Story: Johnny Gaudreau
The nation's leading scorer has taken advantage of his time at BC 'to get better every single day.'
---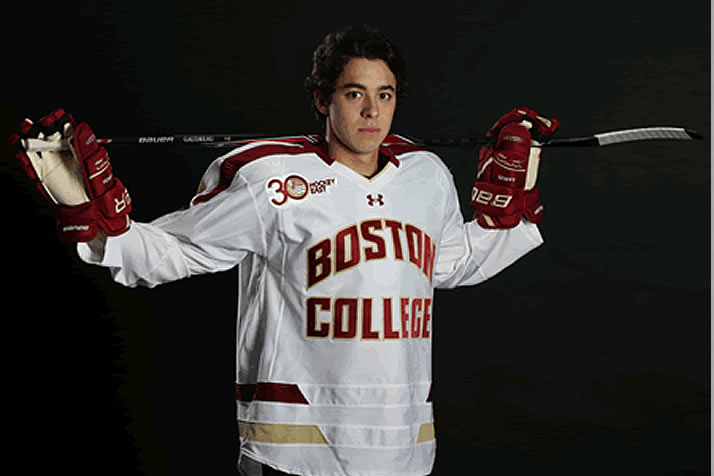 Johnny Gaudreau has 20 more points than any non-teammate in the country.
By Nate Ewell
In Developing Story, a regular feature on collegehockeyinc.com, we highlight current college hockey players who have developed their skills during their careers – either on the ice or off – and in turn made a bigger impact on their team's success.
In Johnny Gaudreau's first Frozen Four appearance, two years ago in Tampa, he scored a goal so dazzling that the Boston Globe dubbed it "Gaudreau's Goal – it deserves capital letters."
Truth is, from the moment he stepped on the college hockey scene as an 18-year-old in the fall of 2011, Gaudreau has been making head-turning plays. His talent level is so obvious – and so impressive – that it's easy to miss the development in his game while at Boston College.
Now a junior and facing the well publicized decision of whether to sign with the NHL's Calgary Flames after this week's Frozen Four, the Carneys Point, N.J., native is a stronger, faster, craftier and more complete player than when he came to campus.
"It's incredible, how much I've improved here," Gaudreau said. "B.C. has given me the opportunity to get better every single day."
Like most college players – particularly offensive-minded ones – Gaudreau has seen his biggest improvement on the defensive side of the puck. He plays a 200-foot game, and head coach Jerry York isn't hesitant to play him against an opponent's top line. He's also one of the first forwards on the penalty kill for the Eagles, which wasn't the case two years ago.
"Every day, working with the coaching staff, I've gotten better," Gaudreau said. "I keep harping on my defensive game, because I know I'm going to have to be better defensively at the next level."
Defensive improvement is the result of a combination of factors. Daily video sessions of 15 to 20 minutes have helped Gaudreau break down every aspect of his game. Even more, he cites one designated "defensive day" of practice each week that has helped him improve.
As his offensive numbers demonstrate, however, his improvement hasn't stopped there. His goal, assist and point totals have increased dramatically each season, and even though he averaged a point per game as a freshman, his improvement since then surpasses all other juniors nationwide (see graphic, above).
Always working
Visitors to Conte Forum on weekday mornings are accustomed to seeing Eagles players out on the ice, working on a particular aspect of their games. Situated among the classroom buildings and across from a dining hall, it's easy for players to visit the arena between classes, and the ice is usually available to them.
A true rink rat, Gaudreau seems to be on the ice in every spare moment.
"The ice is down for us whenever we want to come down and skate," he said. "That's really important. Whether it's shooting pucks, getting an extra skate in, it's really good to have that ice.
"We tend to have fun out there," he added, "but a lot of times you're working on your game. There's always a goalie down at the rink or you can shoot them a text and get them down there."
For York, Gaudreau's drive to improve has stood out – even coming off a sophomore season where he led the country in points per game.
"I think he's gotten better every week," York said. "I've never seen any satisfaction in him, that he's reached his peak. He's always working on something. That's pretty impressive when you have someone playing at his level."
Improved strength
Off the ice, Gaudreau has improved his strength and conditioning. That might not be self-evident – he has a 150-pound frame and the same boyish looks as his freshman year – but it can be seen in his explosive first step or his strength on the puck.
Having two team weightlifting sessions per week and an extensive summer program designed by strength and conditioning coach Russell DeRosa has given Gaudreau that added strength, without robbing him of his trademark quickness and skill.
"My freshman year I was really small," he said, without irony. "Throughout the year Coach DeRosa sets up great lifts for us two times a week. What's best about Coach DeRosa are our summer programs. I can feel myself getting stronger every single summer with the workouts he provides us. I know it will help me out in the long run."
Already a generational talent in college hockey, whether he plays his senior season or not, Gaudreau hasn't reached that level purely due to innate talent.
That talent is there, for sure, but so is the drive to improve – something the schedule, staff and facilities at Boston College have allowed him to exploit.