Wednesday, April 16, 2014
Former NCAA Stars Chase Stanley Cup
At least 14 former college players are taking part in all eight first-round playoff series.
---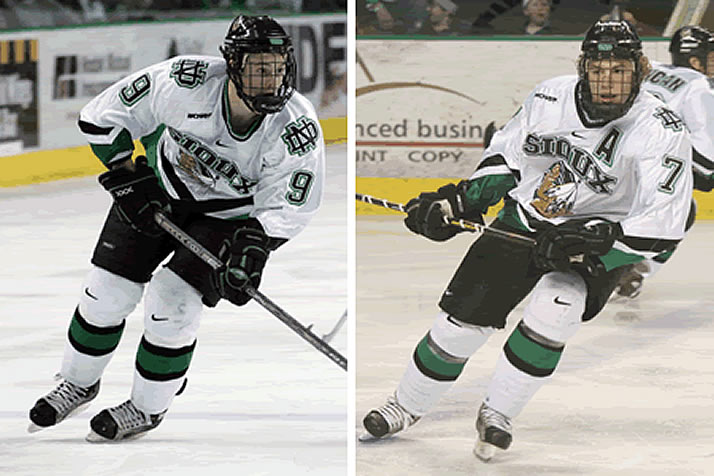 Jonathan Toews (left) and T.J. Oshie are among the former teammates facing off in the first round of the Stanley Cup Playoffs.
As the puck drops on the Stanley Cup Playoffs Wednesday night, we know that whatever team hoists the Cup in June, we will see the 200th former college player have his name etched on that storied trophy as a player. The 16 teams in the hunt for the NHL's top prize feature between four and 13 former college players on each roster, setting up a number of intriguing storylines for NCAA fans.
NHL Matchup Tool | Record 305 NCAA Alums in NHL | NCAA Alums Who Won the Stanley Cup
More than half of the first-round playoff series feature former college teammates facing off against each other. Fourteen of the 16 playoff teams have a former NCAA champion on their current roster.
Check out some of the NCAA-related storylines below, with the number of former college players on each roster in parentheses, and find even more detail by visiting our NHL Matchup Tool.
COLORADO (5) vs. MINNESOTA (12)
Former NCAA champions
Colorado: Paul Stastny (Denver), Paul Carey (Boston College, twice)
Minnesota: Keith Ballard (Minnesota, twice), Justin Fontaine (Minnesota Duluth)
Notes
Avalanche players Erik Johnson (Minnesota) and Brad Malone (North Dakota) both won WCHA playoff titles at Xcel Energy Center
Three players - Colorado's Johnson and Minnesota's Nate Prosser (Colorado College) and Jason Zucker (Denver) are facing teams in the states where they played college hockey
ST. LOUIS (10) vs. CHICAGO (6)
College Teammates
Ryan Miller vs. Duncan Keith (Michigan State)
T.J. Oshie, Chris Porter vs. Jonathan Toews (North Dakota)
Former NCAA champions
St. Louis: Brian Elliott (Wisconsin), Jordan Leopold (Minnesota), Kevin Shattenkirk (Boston University)
Chicago: Ben Smith (Boston College, twice)
Notes
Chicago's AHL assistant coach, Mark Osiecki, was an assistant coach on Brian Elliott's Wisconsin team that won the 2006 NCAA title
ANAHEIM (6) vs. DALLAS (8)
College Teammates
Nick Bonino vs. Alex Chiasson (Boston University)
Former NCAA champions
Anaheim: Nick Bonino (Boston University)
Dallas: Chris Mueller (Michigan State)
Notes
Shawn Horcoff played in the 1999 Frozen Four in Anaheim with Michigan State
SAN JOSE (11) vs. LOS ANGELES (4)
College Teammates
Tommy Wingels vs. Alec Martinez (Miami)
Justin Braun vs. Jonathan Quick (Massachusetts)
Former NCAA champions
San Jose: Adam Burish (Wisconsin), John McCarthy (Boston University), Joe Pavelski (Wisconsin)
BOSTON (7) vs. DETROIT (8)
College Teammates
Corey Potter vs. Justin Abdelkader, Drew Miller (Michigan State)
Former NCAA champion
Detroit: Justin Abdelkader (Michigan State)
Notes
Jimmy Howard was the MVP of the 2004 Hockey East Tournament at TD Garden, leading Maine to the title
Corey Potter (2006, Michigan State) and Reilly Smith (2011, Miami) both won CCHA championships at Joe Louis Arena; Chad Johnson (Alaska) and Torey Krug (Michigan State) also played college games at the Joe
Torey Krug played for Detroit's current AHL coach, Jeff Blashill, with the USHL's Indiana Ice prior to attending Michigan State
TAMPA BAY (8) vs. MONTREAL (7)
Former NCAA champions
Tampa Bay: J.T. Brown (Minnesota Duluth), Matt Carle (Denver, twice)
Montreal: Brian Gionta (Boston College), Thomas Vanek (Minnesota)
Notes
Team scouts Brian Putnam (TB) and Mark Mowers (MTL) were teammates at UNH
PITTSBURGH (13) vs. COLUMBUS (7)
College Teammates
Brian Gibbons vs. Cam Atkinson (Boston College)
Former NCAA champions
Pittsburgh: Brian Gibbons (Boston College, twice), Paul Martin (Minnesota, twice), Brooks Orpik (Boston College), Rob Scuderi (Boston College)
Columbus: Cam Atkinson (Boston College)
Notes
Six of the NCAA-leading 26 Boston College alums to appear in the NHL this season played for Pittsburgh
NY RANGERS (8) vs. PHILADELPHIA (6)
Former NCAA champions
NY Rangers: Chris Kreider (Boston College, twice)
Notes
The two first-team All-America defensemen who were teammates on 2014 NCAA champion Union signed with these teams on April 15 (Mat Bodie, NYR, and Shayne Gostisbehere, PHI)