Tuesday, April 22, 2014
Gustin a Two-Sport Rarity
Holy Cross forward also pitches for the Crusader baseball team.
---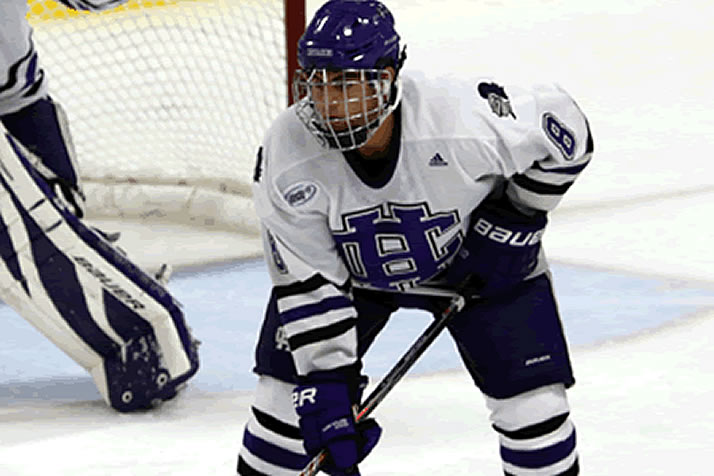 Sean Gustin recorded 10 points in 33 games this year for the Crusaders.
Sean Gustin (Stoneham, Mass./Belmont Hill-Prep) saw his role increase so much between freshman and sophomore year, jumping from 5 GP to 33 GP, one might surmise that he spent every spare moment of the offseason in the rink.
Quite the contrary. As Emily Correia writes on GoHolyCross.com, Gustin swaps his skates for baseball cleats in the spring and takes the mound as a relief pitcher for the Crusader baseball team:
Gustin describes his normal day as practices and lifts with one team and then individual work for the other. Especially during hockey season, Gustin needs to work in throwing a bullpen with a teammate in addition to his normal hockey practices. Gustin, DiCenzo and Pearl all agree that being a pitcher is part of what helps him to balance the two seasons. "Being a pitcher really helps him because he can throw and play catch with his teammates away from the field and behind the scenes to prepare himself for the baseball season while he still has his eyes on winning an Atlantic Hockey championship," [baseball coach Greg] DiCenzo reasoned.
Holy Cross head coach Paul Pearl himself played baseball and hockey at Holy Cross, but it's rare to find a two-sport Division I athlete these days. Gustin, in fact, may be the only current Division I men's hockey player representing his school in another sport as well - College Hockey Inc. isn't aware of any others.
Gustin embraces the entire student-athlete experience, posting a 3.60 grade-point average as an economic major. And he relishes the time he gets to spend with both groups of teammates.
"The most rewarding part about being a part of two teams is the camaraderie that comes from building life-long relationships with guys that I can call my brothers," Gustin told Correia. "I know there is no other group of guys that play with more heart and grit, and I'm proud to be with them."