Saturday, April 12, 2014
A More Perfect Union!
Dutchmen claim their first national championship with incredible 7-4 win vs. Minnesota.
---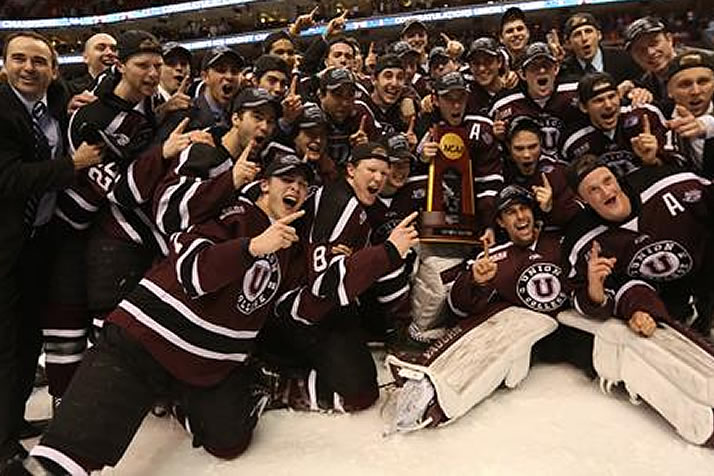 In a thrilling national championship game featuring 89 shots and 11 goals, Union claimed its first national championship with a 7-4 victory against Minnesota Saturday night in Philadelphia.
Seven players scored for the Dutchmen, including defenseman Shayne Gostisbehere (Margate, Fla./South Kent-Prep/PHI), who added two assists, was +7 and earned the tournament's Most Outstanding Player honor.
"It's unbelievable the growth this program has taken over the past probably eight years," said captain Mat Bodie (East St. Paul, Man./Powell River-BCHL). "I've only been here for four of them, but this championship is for anyone that's ever had a hand in Union hockey because we wouldn't be here without all those players before us. We learned a lot from them, and they broke us into college hockey, and we're forever grateful for that."
The game was the first championship game in the history of the USCHO.com poll (since 1996-97) that featured the No. 1 and No. 2 teams. It lived up to those expectations, providing back-and-forth action and tremendous entertainment for the crowd of 18,742 and live TV audiences on ESPN and TSN2.
That Union-Minnesota Frozen Four final game was one of the best hockey games I watched this season. Outstanding. #TSN2

— Bob McKenzie (@TSNBobMcKenzie) April 13, 2014
The 89 shots on goal were the most in a national championship game through regulation, and the 11 goals were the most scored in a title game since 1991.
Minnesota took a 2-1 lead just 10:03 into the first period, but Union responded quickly. The Dutchmen scored three goals in a span of 1:54 to take a 4-2 lead into the first intermission. It was the fastest three-goal spurt in a national championship game since 1977.
"I think that's been a staple of our team all year that we come in waves," said Bodie. "You really felt that at the end of the first there. I thought we really carried the play for a stretch of time there. All three of those goals were pack-of-wolves goals, where guys were on net, and second and third chances. I think that's probably one of the biggest staples of our team all year."
The scoring settled down in the second period, as the Golden Gophers cut the lead to one goal early in the period. They never were able to tie the score, however, as Max Novak (Oak Ridge, N.J./New Jersey-EJHL) netted the eventual game-winner 5:31 into the third and the Dutchmen added two more late goals.
With 89 shots between the two teams, both goaltenders were busy. Colin Stevens (Niskayuna, N.Y./Boston Jr. Bruins-EJHL) made 36 saves for Union, while Adam Wilcox (South St. Paul, Minn./Tri-City-USHL/TB) stopped 41 for Minnesota. Senior Michael Shibrowski (Andover, Minn./Des Moines-USHL) played the final 45 seconds for the Gophers and made one save.
All-Tournament Team
F: Kyle Rau (Eden Prairie, Minn./Sioux Falls-USHL/FLA)
F: Sam Warning (Chesterfield, Minn./Cedar Rapids-USHL)
F: Daniel Ciampini (Concord, Ont./St. Michael's-OJHL)
D: Mat Bodie (East St. Paul, Man./Powell River-BCHL)
D: Shayne Gostisbehere (Margate, Fla./South Kent-Prep/PHI)
G: Colin Stevens (Niskayuna, N.Y./Boston Jr. Bruins-EJHL)