Tuesday, April 15, 2014
Record 305 Alums Play in NHL
Former college players account for all-time high of 31% of NHL, representing 49 schools.
---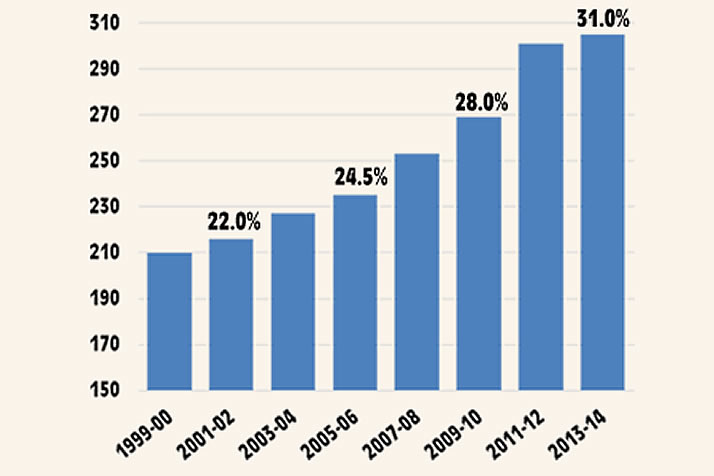 Former NCAA players in the NHL since 1999-2000.
A record 305 former U.S. college hockey players appeared in the NHL this season, making up 31% of all NHL players, also an all-time high. Those totals represent sharp increases from as recently as 2002-03, when 211 former NCAA players accounted for 21.1% of the NHL.
List of 305 Alums in the NHL | NHL Matchup Tool | NHL Debuts
College hockey's presence in the NHL can be seen not just in volume, but also in the impact of those players. Five of the NHL's top 10 goal scorers played NCAA hockey, and the 24 former college goaltenders in the league posted a cumulative save percentage (.916) and goals-against average (2.43) that were better than the league average. Eleven former college players led their NHL teams in goals and 10 led their teams' defensemen in scoring.
"The college hockey experience is unmatched and brings variables for players that are not available through other avenues," said Dave Ogrean, executive director of USA Hockey. "Being part of a college hockey program is a terrific place to grow and mature as both a player and person and it's terrific to see the number of college players going on to play professionally continue to grow."
Forty-nine schools had a former player in the NHL this season, also an all-time high. Boston College (26), Wisconsin (21), Michigan (19), Michigan State (17) and Minnesota (16) had the most former players in the NHL.
"In today's day and age, more and more college players are making it to the NHL level and having an impact," said former Vermont star Patrick Sharp, who led the defending Stanley Cup champion Chicago Blackhawks in goals and points. "To be someone who other college players look up to is a great feeling."
The growing impact of college players in the NHL shows no signs of slowing. Fifty-four former college players made their NHL debuts this season, representing 33.8% of all new players in the league. Ten of those players made their debuts following the conclusion of their NCAA seasons.
More than 73% of the 305 former college players in the NHL this season spent at least three years at school, with 44% playing four years. Ninety-four of the NCAA players in the NHL were undrafted free agents, meaning that more than half of the players in the league who were never drafted played college hockey (58%).