Monday, April 28, 2014
Recruits Lead U.S. to U18 Gold
19 commits to 12 schools among Team USA's championship team at Under-18 World Championship.
---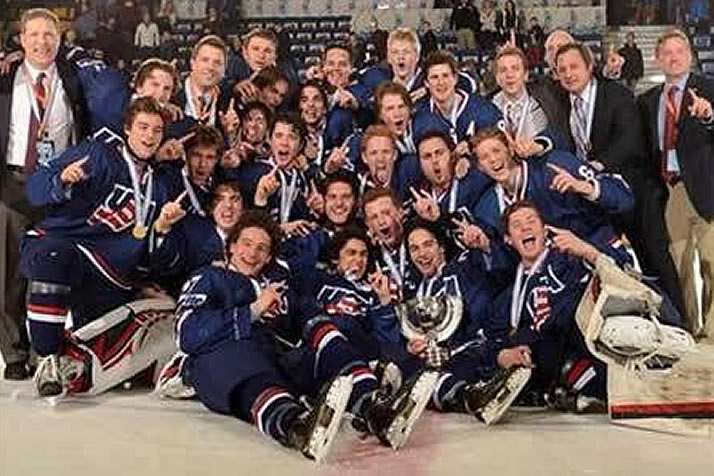 The U.S. celebrates its gold medal win in Finland Sunday (Photo via twitter.com/usantdp).
After an upset loss in its opening game of the tournament, the U.S. National Under-18 Team - which featured 19 college commits headed to 12 different schools - rebounded to win its next six games, capturing the gold medal in the Under-18 World Championship Sunday with a 5-2 win vs. the Czech Republic.
With the win, the U.S. claims gold for the fifth time in the last six years at the event and the eighth time overall.
Auston Matthews, one of the few uncommitted players on the roster, starred Sunday, scoring two goals, while Boston College recruit Sonny Milano had a goal and two assists. The U.S. scored just 33 seconds into the game and never looked back.
After that initial 4-2 setback to Switzerland, Team USA turned in a dominant performance in the tournament. It outscored the rest of its opponents 29-8, and only the host Finns were able to stay within a goal of the Americans.
Miami recruit Louie Belpedio, Boston University recruit Jack Eichel and OHL goaltender Alex Nedeljkovic were named the top three players for the U.S. in the tournament.
Michigan recruit Kyle Connor recorded a point in all seven games of the tournament. Matthews and Eichel both had points in all six of the U.S. victories.
Boston College has three future stars on the roster, while Boston University, Michigan, Michigan State, Minnesota and Notre Dame each have a pair of representatives. Cornell, Miami, North Dakota, Northeastern, Wisconsin and Yale each have a recruit on the team as well. Michigan State alum and former Alabama-Huntsville head coach Danton Cole is the head coach of the team.
U.S. National Under-18 Team
| | | |
| --- | --- | --- |
| G | Edwin Minney | Michigan State |
| G | Alex Nedeljkovic | OHL |
| D | Louie Belpedio | Miami |
| D | Ryan Collins | Minnesota |
| D | Jack Dougherty | Wisconsin |
| D | Brandon Fortunato | Uncommitted |
| D | Jack Glover | Minnesota |
| D | Noah Hanafin | Boston College |
| D | Johnathan MacLeod | Boston University |
| F | Anders Bjork | Notre Dame |
| F | Kyle Connor | Michigan |
| F | Jack Eichel | Boston University |
| F | Jared Fiegl | Cornell |
| F | Shane Gersich | North Dakota |
| F | Ryan Hitchcock | Yale |
| F | Dylan Larkin | Michigan |
| F | Auston Matthews | Uncommitted |
| F | Sonny Milano | Boston College |
| F | Dylan Pavelek | Michigan State |
| F | Nolan Stevens | Northeastern |
| F | Alex Tuch | Boston College |
| F | Joe Wegwerth | Notre Dame |