Friday, April 4, 2014
Star Players Commit to Return
With pro hockey calling, several star players have committed to return to college.
---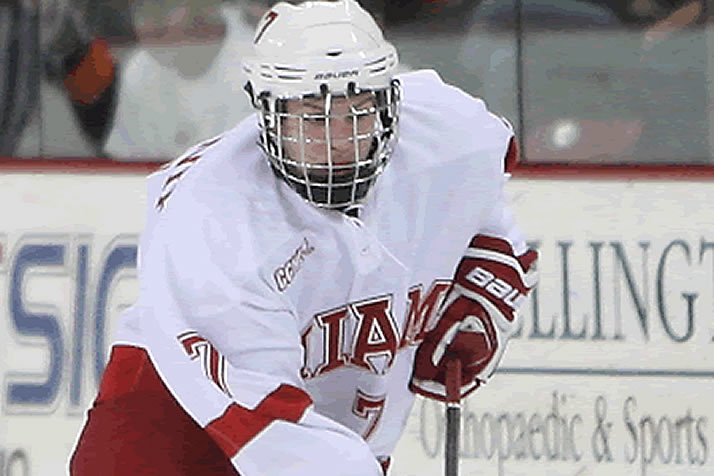 Austin Czarnik, Miami's leading scorer, will return to Oxford for his senior season.
By Nate Ewell
As the list of NCAA players signing pro contracts is impressive and keeps growing, there are a few notable names missing.
Among them are Providence goaltender Jon Gillies (South Portland, Maine/Indiana-USHL/CGY) and Miami forwards Riley Barber (Livonia, Mich./U.S. NTDP/WSH), Blake Coleman (Plano, Texas/Indiana-USHL/NJ) and Austin Czarnik (Washington, Mich./Green Bay-USHL). Each announced their intentions to return to school for the 2014-15 season this week.
A theme of unfinished business emerged from all four returnees, and they should all enter next season as contenders to still be playing once the 2015 Frozen Four rolls around.
"This is a great group of guys to play with," Coleman said. "I believe that we have a lot in this locker room and some unfinished business going into next year. We're going to develop that much more coming back this year with the culture in Oxford and the support of the coaching staff."
The decisions - which, we should note, aren't limited to these four - echo that of St. Cloud State's Nic Dowd, who returned for his senior season this year. He and the Huskies had reached the Frozen Four a year ago, and he said the decision to return was about more than winning on the ice.
"It wasn't a fact of what we had coming back and the possibility of winning another championship," Dowd said. "I think it was the team and the university, and my head coach, and my roommate [Kevin Gravel] that drew me back. Every year everything is different. We could have a great year, which we did. We could have a bad year. Regardless, if we had not made it back to this point I still would have been extremely happy that I came back to St. Cloud State.
"One of the biggest things I learned from seniors before me, is guys want to leave their mark on the program and you want to give back as much as the university, my coaching staff, and my teammates have given to me. It's almost like it's something bigger than yourself and playing at St. Cloud State has been the best four years of my life."
History shows that choices like Dowd's to return to college hockey will not hold back a player's professional career. Of the 292 former NCAA players in the NHL this year, nearly half spent four years in school and 73% played at least three years.
The decisions of Gillies, Barber, Coleman and Czarnik understandably elicited excitement from coaches and fans of the Providence and Miami programs. They also produced some thoughts on social media from players who have faced that decision before. Among them, former Miami star Carter Camper:
@ACzarnik7 @MiamiOH_Hockey good for you bud. Great for Miami. Best decision you'll make. Enjoy and make the most of every day you are there

— carter camper (@carter_camper) April 2, 2014