Thursday, May 1, 2014
Alums Advance in Cup Playoffs
Half of the top 14 scorers in round one played college hockey.
---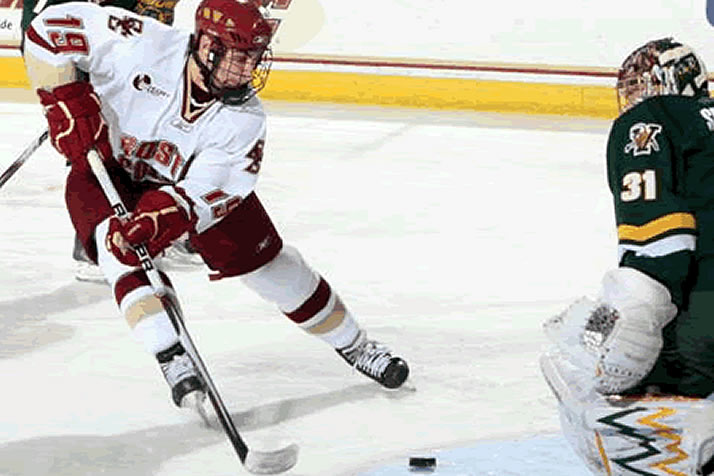 Chris Kreider is one of seven former Boston College stars remaining in the chase for the Stanley Cup.
The second round of the Stanley Cup Playoffs, which begin Thursday night, will be filled with former NCAA hockey stars as more than 60 alums continue their pursuit of the Stanley Cup.
NHL Matchup Tool | Record 305 NCAA Alums in NHL | NCAA Alums Who Won the Stanley Cup
Twenty-nine NCAA schools have a former player still alive in the chase for the Stanley Cup, led by Boston College (7) and Wisconsin (6). Twelve other schools have multiple players on the eight remaining teams.
Former college players - who made up a record 31% of the NHL this season - were dramatic contributors in the opening round. Zach Parise (North Dakota) and Paul Stastny (Denver), whose teams faced off in round one, share the league lead in playoff scoring to this point with 10 points. The top two scoring defensemen are Pittsburgh teammates Matt Niskanen (Minnesota Duluth) and Paul Martin (Minnesota). Martin and fellow former Golden Gopher Alex Goligoski share the NHL lead in plus/minus.
In all, 4 of the top 6 playoff scorers and 7 of the top 14 played college hockey.
Each second round series will feature at least 10 former college players on the ice. Each series also features a general manager who played college hockey.
With at least 4 NCAA alums on each of the remaining teams, the number of former college players who have won the Stanley Cup is assured of reaching at least 200 this season.
Check out some of the NCAA-related storylines below, with the number of former college players on each roster in parentheses, and find even more detail by visiting our NHL Matchup Tool.
CHICAGO (6) vs. MINNESOTA (11)
Former NCAA champions
Chicago: Ben Smith (Boston College, twice)
Minnesota: Keith Ballard (Minnesota, twice), Justin Fontaine (Minnesota Duluth)
Notes
12 NCAA schools are represented in this series
Jonathan Toews won the 2006 WCHA playoff title at Xcel Energy Center
Toews and Zach Parise are two of the highest profile North Dakota alums in the NHL
Keith Ballard (2002) and Justin Fontaine (2011) both won NCAA titles at Xcel Energy Center
ANAHEIM (6) vs. LOS ANGELES (4)
Former NCAA champions
Anaheim: Nick Bonino (Boston University)
Notes
The 10 NCAA players in the series played at 11 different schools (Ben Lovejoy played at both Boston College and Dartmouth)
Jonathan Quick is the only Massachusetts alum to have won the Stanley Cup
BOSTON (7) vs. MONTREAL (7)
Former NCAA champions
Montreal: Brian Gionta (Boston College), Thomas Vanek (Minnesota)
Notes
Brian Gionta won three Hockey East championships and the 2001 Beanpot at TD Garden

Torey Krug and Mike Weaver were both All-American defensemen at Michigan State; they are 2 of the 21 defensemen under 5'11" to play in the NHL this season (10 of whom played college hockey)
PITTSBURGH (13) vs. NY RANGERS (8)
College Teammates
Brian Gibbons vs. Chris Kreider (Boston College)
Former NCAA champions
Pittsburgh: Brian Gibbons (Boston College, twice), Paul Martin (Minnesota, twice), Brooks Orpik (Boston College), Rob Scuderi (Boston College)
NY Rangers: Chris Kreider (Boston College, twice)
Notes
14 NCAA schools are represented in this series
Six of the NCAA-leading 26 Boston College alums to appear in the NHL this season played for Pittsburgh