Wednesday, May 14, 2014
Hockey Posts NCAA's Best APR Mark
In four-year averages and single-year measurements, hockey stands atop all NCAA sports.
---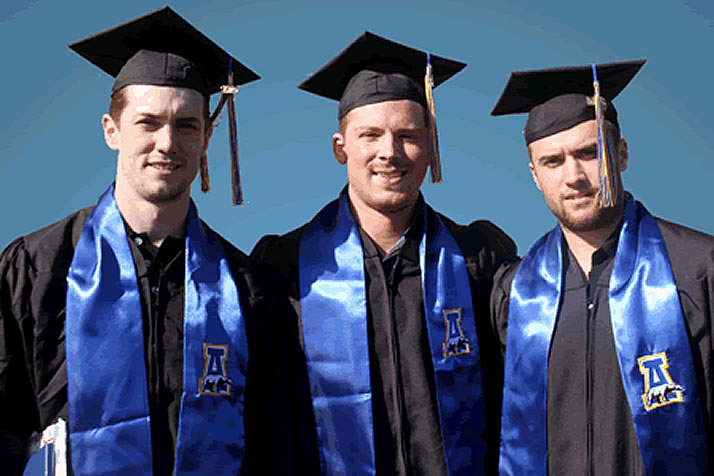 Alaska's three seniors - Michael Quinn, Cody Kunyk and Colton Beck - earned their degrees last weekend.
The NCAA's latest Academic Progress Rate (APR) data, released Wednesday, heralds men's hockey as the nation's No. 1 men's sport in terms of student-athletes successfully progressing toward their degree.
NCAA News Release | PowerPoint on NCAA Findings
The APR, created a decade ago to measure Division I schools and teams on their student-athletes' success in the classroom, awards points to teams based on students' grades, their progress toward their degree and for staying in school. Teams are also rewarded in the APR for students who return to school to complete their degrees.
Men's hockey's four-year average APR score of 984 from 2009-13 is eight points above the Division I average (976). Hockey, which features 59 Division I programs, has far more teams than the next five sports in the top six: water polo (22), gymnastics (16), volleyball (22), fencing (18) and skiing (11).
Hockey's single-year score of 984 in 2012-13 is four points better than the next-closest sport (men's golf) and a four-point improvement over hockey's single-year score in 2007-08.
Hockey also led all men's sports in single-year eligibility rates and single-year retention rates for 2012-13.
Not only is hockey excelling on average as a sport, but each of its individual teams has demonstrated success. The NCAA penalizes teams with low APRs by banning them from postseason play or enforcing other limitations. Across all sports, 36 teams will be prevented from participating in postseason play - an increase from 13 this season due to a higher benchmark - but none of the penalized teams are hockey programs.
Six men's hockey programs had perfect four-year average APR scores of 1,000, while more than half of all teams (33) had scores greater than 980.
The APR is related - but not identical - to the NCAA's Graduation Success Rate (GSR). The latest GSR for men's hockey, released in October, showed an 85% graduation rate, which ranked fifth among all men's sports.