Thursday, May 8, 2014
Recruits Chase Junior Titles
Championships on the line in the USHL, NAHL and CJHL.
---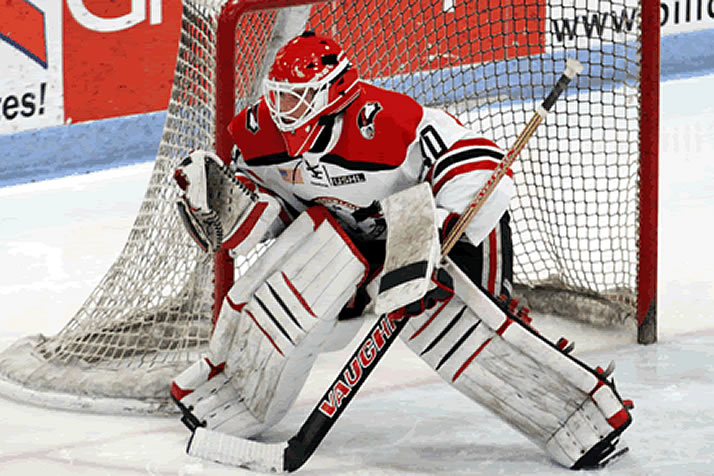 Future Notre Dame goaltender Cal Petersen leads Waterloo into the Clark Cup Final.
Dozens of future NCAA stars will compete for championships in the USHL, NAHL and CJHL as those events get underway this weekend.
Forty-four schools have committed recruits playing in at least one of the three championships, with 89 players on the rosters having committed to schools. More are likely to join them, especially after competing in high-profile events like these championships.
USHL.com | NAHL.com | CJHLHockey.com
Two schools - Alaska Fairbanks and Rensselaer - have future players competing in all three championships. A total of 24 schools have multiple commits playing this weekend.
USHL
The best-of-five Clark Cup final in the USHL features the Indiana Ice and Waterloo Black Hawks. Those two teams feature a combined 44 recruits committed to 31 schools.
The series begins Friday in Waterloo, where the Black Hawks have featured balanced scoring and excellent goaltending from Notre Dame recruit Cal Petersen throughout the playoffs. Future Massachusetts forward Brandon Montour leads the team in scoring with 14 points and shares the team lead in goals (5) with Drew Melanson (Rensselaer), Tyler Sheehy (Minnesota) and Blake Winiecki (St. Cloud State).
Indiana counters with Minnesota State recruit Jason Pawloski in net, who boasts a 1.13 goals-against average and .947 save percentage in the playoffs. Penn State recruit Scott Conway leads the Ice with 7 points in 7 games.
NAHL
The Robertson Cup final, for the NAHL championship, features a best-of-three format that will all be played in Fairbanks, Alaska, May 9-11. The Fairbanks Ice Dogs host the Austin Bruins in a series that will feature 15 Division I commits.
A pair of uncommitted players - Luke Dietsch and Niko Hildenbrand - lead an Austin team that features two Minnesota State commits in Casey Jerry and Eli May. Goaltender Nick Lehr is a Minnesota recruit.
Fairbanks has received outstanding goaltending from Lake Superior State commit Kevin Aldridge, who has a .934 save percentage in the postseason. Clarkson recruit Brett Gervais and uncommitted defenseman Nick Hinz share the team lead with 11 playoff points.
CJHL
Five teams from the CJHL will compete for the RBC Cup, which runs May 10-18 in Vernon, B.C:
Carleton Place Canadiens (CCHL, 9 recruits)
Dauphin Kings (MJHL)
Toronto Lakeshore Patriots (OJHL, 5 recruits)
Vernon Vipers (BCHL, 12 recruits)
Yorkton Terriers (SJHL, 4 recruits)
Those 30 committed players are headed to 20 different schools, with Rensselaer boasting the most representatives (3). Colgate, Lake Superior State, Michigan Tech, New Hampshire and RIT all have two recruits participating.
The top scorer in the CJHL playoffs has been Union recruit Kevin Shier of the Toronto Lakeshore Patriots, who has posted 32 points in 19 games. Alaska Fairbanks recruit Colton Sparrow has been the top playoff scorer for the host Vernon Vipers.
The RBC Cup features a round-robin preliminary round, followed by semifinals and a championship game.