Friday, May 2, 2014
Three Added to U.S. Worlds Roster
Wingels joins former Miami teammate Miele on Team USA; Thomas and Leggio added as goalies.
---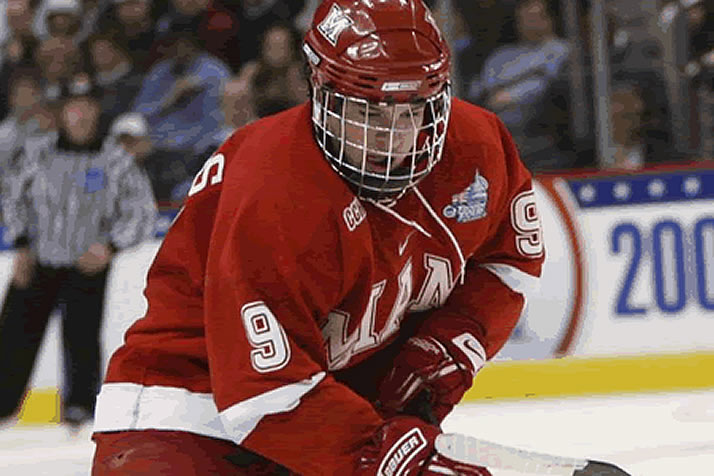 Former Miami star Tommy Wingels is making his debut on a U.S. national team.
Update: Bemidji State's Matt Read was added to Team Canada on Sunday.
Three former college players - forward Tommy Wingels (Miami) and goaltenders David Leggio (Clarkson) and Tim Thomas (Vermont) - have been added to the U.S. national team that will compete at the 2014 IIHF World Championship, bringing the total number of former NCAA stars on Team USA to 20.
Canada's roster features five former college players (with more players yet to be named). Seventeen schools have at least one alumnus slated to compete in the tournament.
The World Championship will take place May 9-25 in Minsk, Belarus, and Wednesday NBC Sports Network announced its plans to carry all of Team USA's games live.
Wingels joins former Miami teammate and Hobey Baker Award winner Andy Miele on the U.S. squad. This year's Hobey winner, Johnny Gaudreau, is on the team with B.C. linemate Kevin Hayes. The U.S. squad features four players who played NCAA hockey this season - those two, plus UMass Lowell goaltender Connor Hellebuyck and Wisconsin defenseman Jake McCabe.
Former college stars play an integral role in forming both the U.S. and Canadian teams. Bowling Green alum Rob Blake is the general manager of the Canadian team, while former Wisconsin star Jim Johansson heads up the U.S. Men's National Team Advisory Group, which also includes former college players Brian Burke, Paul Holmgren, Dean Lombardi, David Poile, Ray Shero, Don Waddell and Tom Kurvers.
Former College Players
Canada
| | |
| --- | --- |
| Goaltender | |
| Ben Scrivens | Cornell |
| Defensemen | |
| Kevin Bieksa | Bowling Green |
| Jason Garrison | Minnesota Duluth |
| Forward | |
| Matt Read | Bemidji State |
| Kyle Turris | Wisconsin |
United States
| | |
| --- | --- |
| Goaltender | |
| Connor Hellebuyck | UMass Lowell |
| David Leggio | Clarkson |
| Tim Thomas | Vermont |
| Defensemen | |
| Danny DeKeyser | Western Michigan |
| Matt Donovan | Denver |
| Jake Gardiner | Wisconsin |
| Jake McCabe | Wisconsin |
| Jeff Petry | Michigan State |
| Jacob Trouba | Michigan |
| Forwards | |
| Justin Abdelkader | Michigan State |
| Johnny Gaudreau | Boston College |
| Jimmy Hayes | Boston College |
| Kevin Hayes | Boston College |
| Colin McDonald | Providence |
| Andy Miele | Miami |
| Brock Nelson | North Dakota |
| Drew Shore | Denver |
| Craig Smith | Wisconsin |
| Tim Stapleton | Minnesota Duluth |
| Tommy Wingels | Miami |