Friday, May 23, 2014
USA Hockey Honors Gaudreau, Recruits
BC star picks up Player of the Year honors; North Dakota and Notre Dame recruits also honored.
---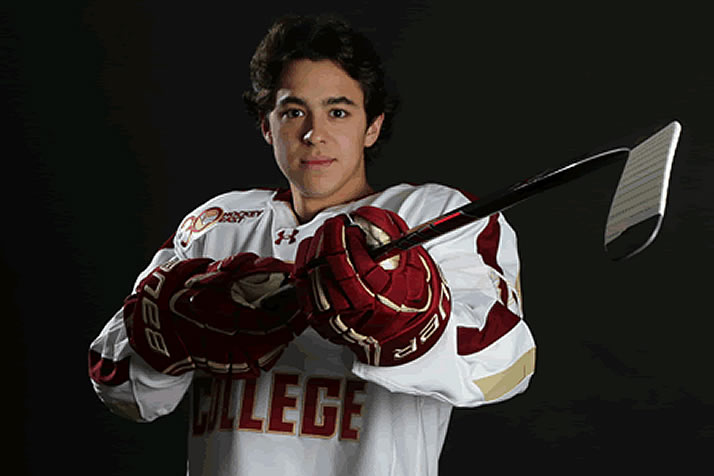 Johnny Gaudreau's latest honor is the USA Hockey College Player of the Year award.
Boston College star and Hobey Baker Award winner Johnny Gaudreau picked up another honor Thursday as USA Hockey named the Carneys Point, N.J., native its College Player of the Year.
A pair of incoming recruits are also among USA Hockey's award winners, as future North Dakota defenseman Tucker Poolman was named the Dave Tyler Junior Player of the Year and future Notre Dame goaltender Cal Petersen was named the Dave Peterson Goalie of the Year.
Legendary Boston University player and coach Jack Parker has been awarded the Distinguished Achievement Award for his lifelong contributions to the sport in the United States.
Those awards will be presented at USA Hockey's 2014 Annual Congress, held June 4-7 in Colorado Springs, Colo.
Gaudreau's remarkable 2013-14 season has spanned from the college ranks to the NHL and the IIHF World Championship. While he starred at each level, his impact in NCAA hockey this season will be remembered forever. Gaudreau averaged 2.0 points per game and led the nation in goals, assists and points, while collecting every possible individual honor. He led the Eagles to the Hockey East regular season championship and a berth in the 2014 Frozen Four.
Poolman, an East Grand Forks, Minn., native, led the USHL's Omaha Lancers to a 39-14-7 record while posting a career-best 41 points and league-leading 15 goals as a defenseman. The Winnipeg Jets draft choice will join the UND blueline this fall.
Peterson, of Waterloo, Iowa, backstopped his hometown Black Hawks in the USHL to a 44-11-5 record and the Anderson Cup as regular-season champions. He also helped Waterloo advance to the Clark Cup final. The Buffalo Sabres draft pick will join the Fighting Irish this fall.
Other award winners to be honored by USA Hockey include Adult Player of the Year Katie Vaughan, Bob Allen Women's Player of the Year Hilary Knight, Disabled Athlete of the Year Connor Barge, Adult Member of the Year Marshall Stevenson Jr., Bob Johnson Award winne Andy Yohe, Chet Stewart Award winner Harold "Skip" Trumble, Excellence in Safety Award winner Dr. Carolyn Emery, Walter Yaciuk Award winner Dennis Bushy, Builders Award winner Tony Rossi and Wm. Thayer Tutt Award winner Dave Wiitanen.