Monday, June 2, 2014
12 Alums Clash for Stanley Cup
200th former NCAA player will hoist Stanley Cup as Kings, Rangers face off.
---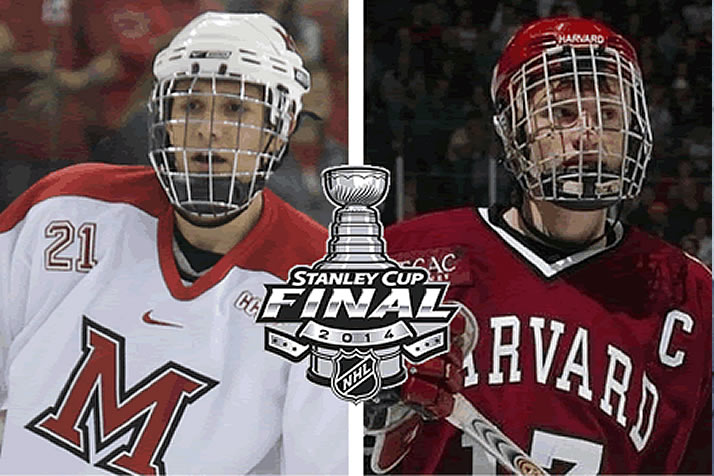 Alec Martinez (left) and Dominic Moore scored the goals that sent the Kings and Rangers, respectively, to the Cup Final.
Twelve former college hockey players representing 10 schools will meet in the Stanley Cup Final as the Los Angeles Kings and New York Rangers face off for hockey's biggest prize.
NCAA in the NHL | Stanley Cup Winners
The alums include leaders on both teams. Los Angeles, which features four former NCAA players, has 2012 Conn Smythe Award winner Jonathan Quick (Massachusetts) in goal and three stalwart defensemen who developed in college: alternate captain Matt Greene (North Dakota), Alec Martinez (Miami) and Willie Mitchell (Clarkson). All four were on the Kings team that won the Cup two years ago.
The Rangers feature twice as many former collegians, with eight. Three alums - Ryan McDonagh (Wisconsin), Martin St. Louis (Vermont) and Derek Stepan (Wisconsin) - share the team lead in playoff scoring with 13 points. Carl Hagelin (Michigan) and Chris Kreider (Boston College) are not far behind with 10 points each.
Martinez and Dominic Moore (Harvard) scored the goals that clinched each team's spot in the Cup Final.
Regardless of the result, the 200th former college player all-time will have his name engraved on the Stanley Cup, joining the list of 197 who have won it as players. Alabama-Huntsville could have its first Cup winner in Ranger backup goaltender Cam Talbot, while Moore could join Craig Adams as the only Harvard grads to hoist the Cup.
Seven of the 12 alums in the Final were All-Americans in school: Martinez, Mitchell, Quick for LA and Brian Boyle (Boston College), Hagelin, Moore and Martin St. Louis (Vermont) for the Rangers. Kreider is the only player in the final to have won an NCAA title (2010 and '12 with Boston College).
Below is a look at the alums on each roster courtesy of College Hockey Inc.'s NHL Matchup Tool:
LOS ANGELES KINGS


Former Collegians

2 – Matt Greene – North Dakota (2002-05)

Team captain as a junior
Ranks fourth in career PIM at North Dakota (347)
Teammates included Zach Parise, Travis Zajac, Drew Stafford, Chris Porter

27 – Alec Martinez – Miami (2005-08)

The CCHA's Best Defensive Defenseman in 2008
Second-team All-American and first-team All-CCHA in 2008
Teammates included Ryan Jones, Andy Greene, Andy Miele, Tommy Wingels

32 – Jonathan Quick – Massachusetts (2005-07)

Second-team All-American and second-team All-Hockey East in 2007
Led UMass to its first NCAA Tournament victory while shattering the program's single-season goaltending records
Teammates included Justin Braun

33 – Willie Mitchell – Clarkson (1997-99)

Shared the 1997-98 ECAC Rookie of the Year Award with teammate Erik Cole
Second-team All-America selection in 1999
The Most Outstanding Player in the 1999 ECAC Tournament
Teammates included Erik Cole, Kent Huskins (all three have won the Cup)

NEW YORK RANGERS


Former Collegians

20 – Chris Kreider – Boston College (2009-12)

Leading scorer for the Eagles as a junior, leading them to the NCAA title at Tampa Bay Times Forum
Also won the NCAA title as a freshman in Detroit
Second-team All-Hockey East in 2012
Hockey East All-Rookie Team as a freshman

21 – Derek Stepan – Wisconsin (2008-10)

Led the Badgers in scoring and ranked second nationally as a sophomore (54 points in 41 GP)
Teammates included Ryan McDonagh, Craig Smith, Jamie McBain, Jake Gardiner, Brendan Smith

22 – Brian Boyle – Boston College (2003-07)

Two-time All-American (first-team in 2007, second-team in 2006)
MVP of the 2005 Hockey East Tournament
Teammates included Patrick Eaves, Ryan Shannon, Cory Schneider, Andrew Alberts, Nathan Gerbe, Benn Ferriero, Ben Smith, Peter Harrold
Played some defense as a senior

26 – Martin St. Louis – Vermont (1993-97)

A three-time finalist for the Hobey Baker Award (1995, 1996, 1997)
1995 ECAC Player of the Year
First-team All-American in 1995, 1996 and 1997
Led the team in scoring all four years and holds Vermont career records in points and assists
Shares school records in single-season points and assists; set records for SHG (6) and GWG (9) in 1995-96
Teammates included Tim Thomas, Eric Perrin

27 – Ryan McDonagh – Wisconsin (2007-10)

Team tri-captain and second-team All-WCHA as a junior
WCHA All-Rookie Team in 2008
Teammates included Derek Stepan, Kyle Turris, Jamie McBain, Blake Geoffrion, Davis Drewiske, Jake Gardiner, Craig Smith, Brendan Smith

28 – Dominic Moore – Harvard (1999-2003)

First-team All-American in 2003
First-team All-ECAC as a senior; second-team as a sophomore
Team captain as a senior
Ranks 10th in career goals at Harvard, 11th in career points
Played one season with his two older brothers, Steve and Mark

33 – Cam Talbot – Alabama-Huntsville (2007-10)

MVP of the 2010 College Hockey America Tournament
Second-team All-CHA in 2010

62 – Carl Hagelin – Michigan (2007-11)

The CCHA's Best Defensive Forward in 2011
2011 Second-team All-American
Teammates included Kevin Porter, Max Pacioretty, Steve Kampfer, Aaron Palushaj, Chad Kolarik

Front Office

President/General Manager Dean Lombardi – New Haven
Assistant General Manager Rob Blake – Bowling Green (1987-90)
Special Assistant to the GM Jack Ferreira – Boston University (1963-66)
Player Development Nelson Emerson – Bowling Green (1986-90)
Director, Amateur Scouting Mark Yannetti – Brown/Williams
Assistant Coach Davis Payne – Michigan Tech (1988-92)
Collegiate Scout Mark Mullen – Boston University (2000-04)
Collegiate Scout Mike Donnelly – Michigan State (1982-86)
Amateur Scout Tony Gasparini – Minnesota Duluth (1995-99)
Amateur Scout Bob Crocker – Boston University (1954-55)
AHL Dir. of Hockey Operations Hubie McDonough – St. Anselm's (1983-86)

Front Office

Video Coach Jerry Dineen – SUNY-Plattsburgh (1987-90)
Director, Player Personnel Gordie Clark – New Hampshire (1971-74)
Director, Pro Scouting Kevin Maxwell – North Dakota (1978-79)
Amateur Scout Brendon Clark – Merrimack (2001-05)
AHL Head Coach Ken Gernander – Minnesota (1987-91)
AHL Assistant Coach Pat Boller – SUNY-Potsdam

In the System

Nic Dowd – St. Cloud State (2010-14)

First-team All-American and first-team All-NCHC selection this year
A Hobey Baker Award finalist
NCHC Defensive Forward of the Year and its Scholar-Athlete of the Year
Team co-captain

Derek Forbort – North Dakota (2010-13)

Kevin Gravel – St. Cloud State (2010-14)

Vincent LoVerde – Miami (2007-11)

Teammates included Alec Martinez, Ryan Jones, Tommy Wingels, Reilly Smith, Andy Miele

Michael Mersch – Wisconsin (2010-14)

Second-team All-American and first-team All-Big Ten as a senior

Brian O'Neill – Yale (2008-12)

Led Yale in scoring three straight seasons
Two-time first-team All-ECAC Hockey
Ivy League Player of the Year as a senior

Steve Quailer – Northeastern (2009-12)

Nick Shore – Denver (2010-13)

In the System

37 – Conor Allen – Massachusetts (2010-13)

Two-time member of the Hockey East All-Academic Team

41 – Stu Bickel – Minnesota (2007-08)

Teammates included Blake Wheeler, Cade Fairchild, Kyle Okposo

Mat Bodie – Union (2010-14)

Captain of the 2014 NCAA champions
First-team All-American and first-team All-ECAC Hockey selection as a senior
Third-team All-ECAC selection as a junior

39 – Ryan Haggerty – Rensselaer (2011-14)

Led ECAC Hockey and ranked fourth nationally with 28 goals as a junior
Second-team All-American and first-team All-ECAC Hockey selection

Kyle Jean – Lake Superior State (2010-12)

Danny Kristo – North Dakota (2009-13)

First-team All-American, first-team All-WCHA selection and one of 10 Hobey Baker finalists as a senior

29 – David LeNeveu – Cornell (2001-03)

Shared ECAC Hockey Player of the Year honors in 2002-03 (with Chris Higgins) when he led the nation in win percentage, GAA and save percentage
First-team All-American, first-team All-ECAC Hockey, Ken Dryden Award winner (top ECAC goalie), Hobey Baker Award finalist and ECAC Tournament MVP in 2003
Holds Cornell records for single-season (1.20) and career (1.29) GAA
Teammates included Matt Moulson, Douglas Murray

8 – Darroll Powe – Princeton (2003-07)

Team captain as a senior
Three times won Princeton's Tucker Ironman Award for dedication to conditioning
Classmate of Kevin Westgarth

College Draft Picks

Jonny Brodzinski – So., F, St. Cloud State – 5th (148), 2013

Paul LaDue – Fr., D, North Dakota – 6th (181), 2012

Joel Lowry – Jr., F, Cornell – 5th (140), 2011

NCHC Player of the Month for January 2014
NCHC All-Rookie Team selection

College Draft Picks

Steven Fogarty – So., F, Notre Dame – 3rd (72), 2011

Cristoval Nieves – So., F, Michigan –2nd (59), 2012

Brady Skjei – So., D, Minnesota – 1st (28), 2012

Honorable mention All-Big Ten this year