Wednesday, June 18, 2014
30 Named to U.S. Junior Camp
Fourteen schools represented among contenders for 2015 U.S. National Junior Team.
---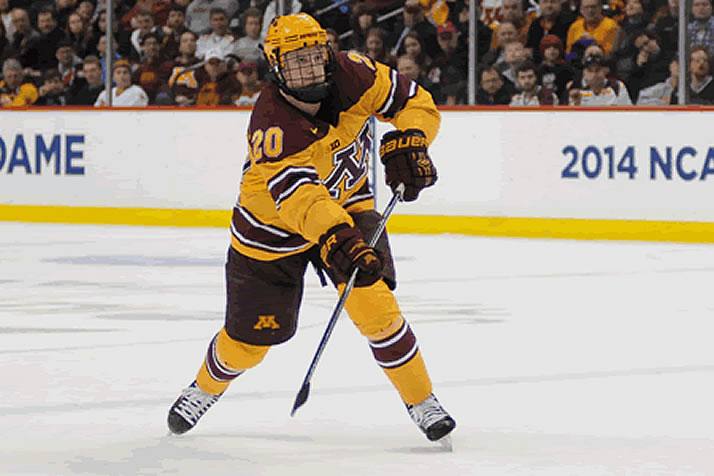 Rising sophomore Michael Brodzinski is one of five Minnesota players invited to U.S. National Junior Camp (Photo by Matt Christians).
Thirty college players representing 14 schools are among the 42 invitees to the 2014 U.S. National Junior Evaluation Camp to be held Aug. 2-9 in Lake Placid, N.Y.
Six Boston College players are on the roster, leading all schools, while Michigan and Minnesota each have five representatives. Miami and Notre Dame will be sending two players each, while Boston University, Cornell, Denver, Harvard, North Dakota, Providence, Quinnipiac, Wisconsin and Yale are also represented.
The camp, which features practices and games against Finland, Sweden and the Czech Republic, serves as an audition for the 2015 IIHF World Junior Championship, which will be held Dec. 26 to Jan. 5 in Toronto and Montreal.
Seven players in the camp are returning from the 2014 U.S. National Junior Team, including three of the Boston College Eagles: Thatcher Demko, Ian McCoshen and Steve Santini.
Eleven of the invitees will be freshmen on campus this fall, including heralded 2015 NHL Draft prospect Jack Eichel. The future Boston University Terrier returns after he was the youngest player on the 2014 U.S. National Junior roster.
NCAA Players Invited to U.S. National Junior Evaluation Camp
| | |
| --- | --- |
| Goaltender | |
| Thatcher Demko | Boston College |
| Defense | |
| Louie Belpedio | Miami |
| Mike Brodzinski | Minnesota |
| Will Butcher | Denver |
| Connor Clifton | Quinnipiac |
| Ryan Collins | Minnesota |
| Jack Dougherty | Wisconsin |
| Michael Downing | Michigan |
| Anthony Florentino | Providence |
| Clint Lewis | Cornell |
| Ian McCoshen | Boston College |
| Steve Santini | Boston College |
| Scott Savage | Boston College |
| Forwards | |
| Anders Bjork | Notre Dame |
| Taylor Cammarata | Minnesota |
| J.T. Compher | Michigan |
| Kyle Connor | Michigan |
| Jack Eichel | Boston University |
| Hudson Fasching | Minnesota |
| John Hayden | Yale |
| Connor Hurley | Notre Dame |
| Dylan Larkin | Michigan |
| Vinny Lettieri | Minnesota |
| Anthony Louis | Miami |
| Sean Malone | Harvard |
| Auston Matthews | Undecided |
| Sonny Milano | Boston College |
| Tyler Motte | Michigan |
| Nick Schmaltz | North Dakota |
| Alex Tuch | Boston College |