Saturday, June 28, 2014
62 Selected in 2014 NHL Draft
60-plus current and future NCAA players selected for the 13th consecutive year.
---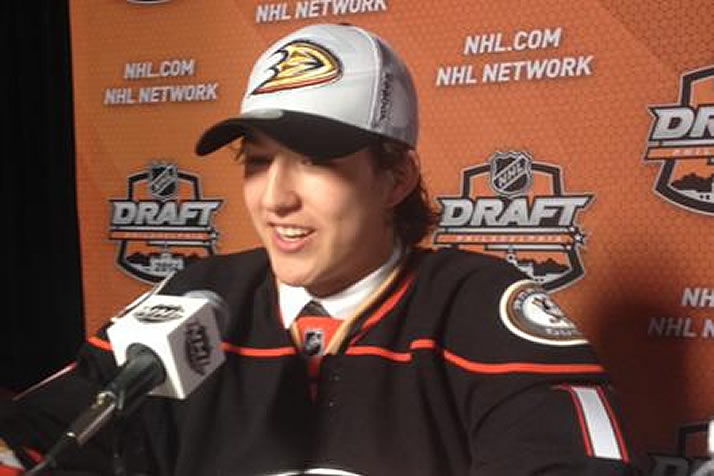 Brandon Montour was all smiles after being selected by Anaheim in the second round.
For the 13th consecutive year at least 60 current or future NCAA players were selected in the NHL Draft as 62 were taken in the 2014 event, held this weekend at Wells Fargo Center.
Sortable List of College Picks | Quotes on Select Draftees
More than half of all NCAA Division I schools (31 of 59) had at least one player selected, as 28 of the NHL's 30 teams chose at least one college player. Rivals Boston College and Boston University each had five players taken to lead all schools, while the Chicago Blackhawks led all NHL teams with seven NCAA selections.
After four college players were selected in Friday night's first round of the draft, Saturday saw eight players go in the second round. The fifth round was the busiest for NCAA players, with 15.
Boston College rising sophomore goaltender Thatcher Demko (San Diego, Calif./U.S. NTDP/VAN) was the first NCAA player selected Saturday and the first of five players taken who will be sophomores this fall. Demko led the Eagles to the 2014 Frozen Four, which was also held at Wells Fargo Center, as the youngest player in Division I this season (he turned 18 in December).
A total of 305 former college hockey players made up 31% of the NHL in 2013-14, both all-time highs.