Wednesday, June 4, 2014
Calder Cup Finals Feature Alums
Top scorers for both St. John's and Texas played NCAA hockey, plus many others in the series.
---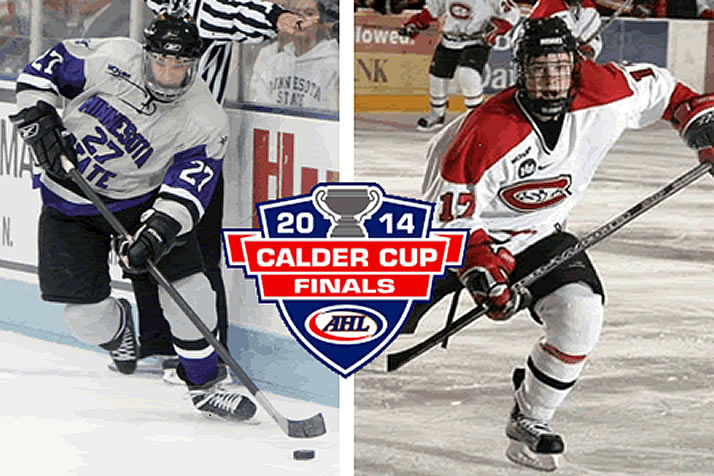 Travis Morin (left) and Andrew Gordon (right) tied for fifth in WCHA conference scoring in 2007 with Jonathan Toews.
Two 2007 All-WCHA selections who, at the time, were Washington Capitals draft picks lead their teams into the 2014 Calder Cup Finals, as the St. John's IceCaps and Texas Stars will meet for the championship of the AHL.
St. John's forward Andrew Gordon and Texas forward Travis Morin both lead their teams in playoff scoring and helped them secure berths in the finals with wins Tuesday night. Seven years ago, when Gordon was with St. Cloud State and Morin with Minnesota State, the duo tied for fifth in conference scoring with a North Dakota sophomore named Jonathan Toews.
The Calder Cup Finals will being on Sunday, June 8, in Texas, with Game 3 moving to St. John's on Wednesday, June 11.
With Gordon and Morin leading the way, both teams have impressive contingents of former college stars. Nine former NCAA players have played for St. John's in the Calder Cup playoffs, while Texas has used seven. Those 16 players represent 13 schools, with only Colorado College (Kris Fredheim and Toby Petersen), Ferris State (Zach Redmond and Blair Riley) and Minnesota State (Morin and Kael Mouillierat) boasting multiple participants. Redmond and Riley and Morin and Mouillierat were college teammates. CC and Minnesota State are both assured of an alum on the championship team.
Gordon's 16 points through 16 playoff games lead all AHL players, while Morin and teammate Mike Hedden, a Neumann College grad, are just one point behind. St. John's defenseman Will O'Neill, a former captain at Maine, leads all defensemen in the Finals in scoring with 13 points in 13 games.
Here's a look at each of the former NCAA players who have played for these teams in the playoffs:
ST. JOHN'S ICECAPS


Former Collegians

7 – Kris Fredheim – Colorado College (2006-10)

Teammates included Nate Prosser, Chad Rau, Jack Hillen

10 – Andrew Gordon – St. Cloud State (2004-07)

First-team All-WCHA in 2007

16 – John Albert - Ohio State (2007-11)

Among the Buckeyes' top three scorers all four seasons
Teammates included Zac Dalpe, Matt Bartkowski

19 – Kyle MacKinnon – Providence (2007-11)

Led the team in scoring as a junior; second as a senior
Teammates included Mark Fayne

21– Kael Mouillierat – Minnesota State (2007-11)

Twice led the team in goals
Teammates included Travis Morin

24 – Zach Redmond – Ferris State (2007-11)

Second-team All-American and first-team All-CCHA as a senior
Second-team All-CCHA as a junior
Team captain as a senior
Teammates included Blair Riley

25 – Blair Riley – Ferris State (2006-10)

Led the team in goals and points as a senior
Teammates included Zach Redmond

27 – Will O'Neill – Maine (2008-12)

Team co-captain as a senior
Led Maine defensemen in scoring three times
Teammates included Brian Flynn, Spencer Abbott

42 – Josh Lunden – Alaska Anchorage (2006-10)

Led the team in scoring as a sophomore
Alternate captain as a senior

TEXAS STARS


Former Collegians

2 – William Wrenn – Denver (2009-11)

Teammates included Beau Bennett, Drew Shore, Jason Zucker, Matt Donovan, Joe Colborne, Patrick Wiercioch

6 – Jamie Oleksiak – Northeastern (2010-11)

16 – Curtis McKenzie – Miami (2009-13)

Teammates included Reilly Smith, Andy Miele

17 – Chris Mueller - Michigan State (2004-08)

Won the 2007 NCAA championship
Assistant captain as a senior

Teammates included Justin Abdelkader, Tim Kennedy, Drew Miller, David Booth, Jim Slater

19 – Toby Petersen - Colorado College (1996-2000)

WCHA All-Rookie Team in 1997

23 – Travis Morin - Minnesota State (2003-07)

Led team in scoring twice
Second-team All-WCHA as a senior
Teammates included David Backes, Kael Mouillierat

26 – Mike Hedden – Neumann (2005-09)

Among the team's top three scorers all four seasons

Staff/Front Office

Video Coach Ian Andersen - Fmr. Michigan State Dir. of Hockey Operations

Staff/Front Office

General Manager/Dallas Stars Director of Hockey Operations Scott White - Michigan Tech (1985-89)
Assistant Coach Doug Lidster – Colorado College (1979-83)