Thursday, June 19, 2014
Geoffrion Relishes Next Step
Hobey winner succeeding in business after NHL career cut short by injury.
---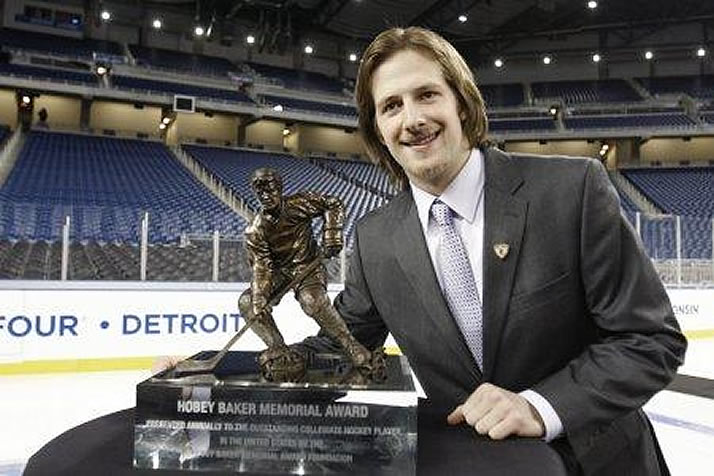 Blake Geoffrion won the Hobey Baker Award in 2010.
Blake Geoffrion had a promising NHL career cut short when he suffered a depressed skull fracture in an AHL game during the 2012 lockout. The 2010 Hobey Baker winner was just getting started, however; since that accident Geoffrion has shown his versatility in interests and abilities that extend beyond the sport.
After serving as a pro scout for the Columbus Blue Jackets for a season, Geoffrion has tackled a new challenge with Chicago consulting firm Korn Ferry Sports. Two recent newspaper articles caught up with the former Wisconsin Badger.
"His degree became his crutch, almost his coping mechanism," wrote Josh Cooper in the Tennessean of Geoffrion's transition from playing. "They could take away his hockey career, but not the fact that he graduated from college."
That degree helped Geoffrion land with Korn Ferry, an executive search firm. Its sports practice helps NFL organizations hire head coaches and universities hire athletic directors.
"I've been here for not even a month and I love it," Geoffrion told Pat Hickey of the Montreal Gazette. "I have my degree from the University of Wisconsin and this is an opportunity to use it. I was working with the Columbus Blue Jackets as a pro scout and I learned a lot about hockey, but this job gives me a chance to add some tools to the chest."
Meanwhile, Geoffrion's connection to the University of Wisconsin remains strong. On Friday, June 27, he hosts an all-star group of fellow former Badgers for the Blake Geoffrion Hockey Classic at LaBahn Arena on campus in a benefit for the UW Health Burn Center.