Friday, June 27, 2014
NHL Draft Notes: Familiar Paths
Notes gathered from four NCAA-bound selections in Friday's first round of the NHL Draft.
---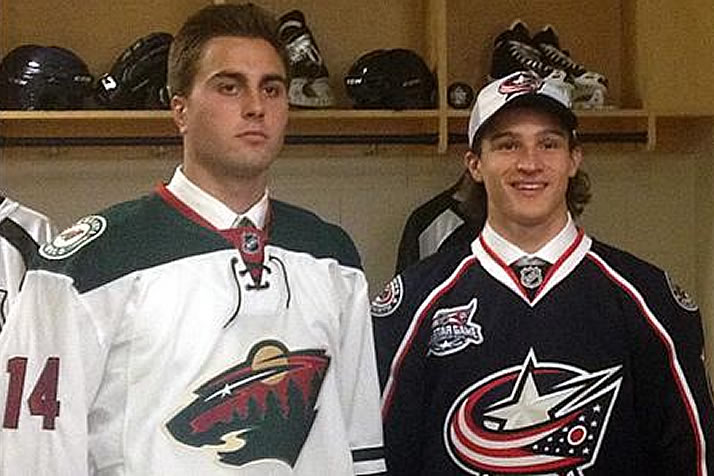 Alex Tuch (left) and Sonny Milano, headed to BC in the fall, were taken two picks apart Friday night.
By Nate Ewell
In the moments after being called to the stage at the NHL Draft and meeting their new organization's executives, prospects are whisked through a whirlwind of interviews, photo sessions and autograph signings.
News Release: Four Selected in NHL Draft's First Round
U.S. NTDP teammates Sonny Milano and Alex Tuch, taken two picks apart in Friday's first round of the NHL Draft, at least had a familiar face nearby as they ran the gauntlet one after another. Only strange part: they were in different jerseys.
After two years together in Ann Arbor, Milano and Tuch will embark on their college careers together as freshmen at Boston College this fall. Beyond that, their pro careers would diverge toward Columbus and Minnesota, the teams that selected them Friday night.
"We're pretty close," Tuch said while being interviewed about 10 yards from where Milano's session had just concluded. "We grew up playing against each other. The draft has been a little friendly competition – no bets, but bragging rights you could say."
Milano got those by a few minutes. The linemates for Team USA will now return to working together, potentially on the same line at BC. Milano's puckhandling wizardry has drawn comparisons to Johnny Gaudreau, and he admitted that Gaudreau's success was one of the things that drew him to BC.
"He's a skilled player, and that's what I consider myself," he said. "To see what he did there, yeah definitely [it was an inspiration]."
Tuch, meanwhile, is a big power forward in the mold of Kevin Hayes, the nation's No. 2 scorer last year behind Gaudreau.
"I'm a little grittier, maybe more physical," Tuch said when asked to compare his game to Hayes. "But we're both big right wings who like to shoot the puck coming down the wing."
Both Milano and Tuch have signed national letters of intent with the Eagles, though some have said Milano may jump to the Ontario Hockey League instead. When asked at the draft if that was a possibility, he reaffirmed his commitment: "No," he said flatly. "I'm going to BC."
Larkin Achieves Dream
The phrase "dream come true" gets thrown around a lot at the NHL Draft. But when Dylan Larkin got snapped up by Detroit at No. 15 after being quoted in papers as hoping to go to the Red Wings, there was documented confirmation that he was being honest.
Larkin, the Waterford, Mich., could achieve his hockey dreams without ever playing for a team outside his home state. The U.S. NTDP star is headed to Michigan in the fall, and now his pro future lies in Detroit (with a possible stop with the AHL's Grand Rapids Griffins).
Before getting too far down that road he has more dreams to accomplish, beginning this fall. Though he played at Yost Ice Arena as a visitor this year, he's looking forward to a new perspective in Maize and Blue.
"I think it will be cool to come down those stairs on the other side," he said. "I was pretty nervous for that game this year. Yost is a special place. They're passionate fans, it should be fun."
Schmaltz continues tradition
Nick Schmaltz seems to be following some well-worn paths. It's family tradition to play at North Dakota – whether it's his father and uncle on the football team or his brother, Jordan, with hockey. He and Jordan also share the distinction of both being first-round picks.
Now he'll become part of the North Dakota-to-the-Blackhawks tradition that has seen a number of players go from the school that used to wear the Indian-head logo to the NHL team that still does. Former Sioux and Blackhawk stars like Troy Murray and Ed Belfour have given way to Jonathan Toews.
Schmaltz, who grew up in Madison, Wis., and played for the Chicago Mission, noted that he grew up a Blackhawks fan – but he didn't have any Blackhawk posters on his bedroom wall.
"No," he said, "I have a North Dakota Sioux head painted on my wall."
Headed to the right places
Part of the appeal of taking the likes of Larkin, Milano, Tuch and Schmaltz: NHL general managers know they are going to schools with proven track records of developing prospects.
Boston College had 26 alums in the NHL this season. Michigan had 19. North Dakota had 12, five of whom wore a letter for their team.
Larkin said that one of the first things he heard when he met the Red Wings' brass was head coach Mike Babcock's assurance that he was headed to a good place, playing for his good friend Red Berenson. Chicago general manager Stan Bowman told Brad Schlossman of the Grand Forks Herald that North Dakota had been good to them before, as in Toews's case.
Minnesota assistant general manager Brent Flahr raved about Boston College.
"That's a factor for sure, especially for a bigger guy who is going to get to play with some skilled players," he said. "Players over the last number of years have really developed well there. They play a brand of hockey that's offensive and he'll develop his skill. They skate, they do all the things we want him to do. It's a good option for us for sure."