Friday, June 13, 2014
Quick Chases Second Cup
Former UMass star has led Los Angeles within one win of second Stanley Cup in three years.
---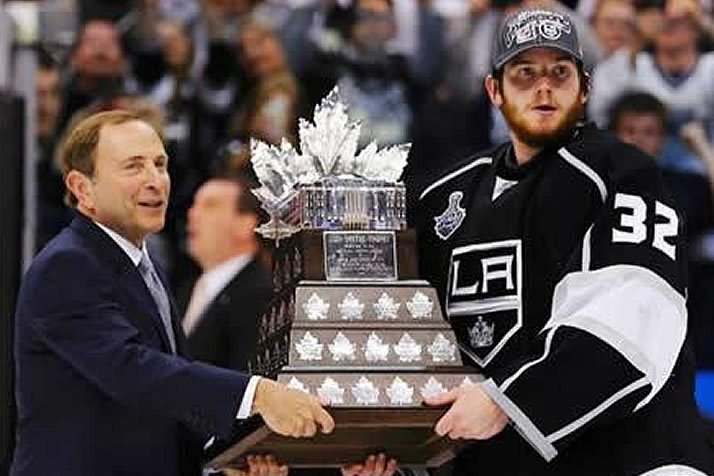 When Jonathan Quick won the Conn Smythe Trophy in 2012 he was the third straight NCAA alum to win it (Tim Thomas, Jonathan Toews).
As the Stanley Cup Final returns to Los Angeles for Game 5 Friday night, former Massachusetts star Jonathan Quick has the Kings one win away from their second Cup in three years.
While Quick is not among the favorites for the Conn Smythe Trophy that he won in 2012, he has played his best in the final series against the New York Rangers. He posted a shutout in Game 3 to give the Kings a 3-0 series lead and has a .931 save percentage in the series.
NCAA Stanley Cup Winners | 12 Alums in Cup Final
Quick is one of four NCAA alums on the Kings' roster, with the other three making up half of his defense corps: Matt Greene (North Dakota), Alex Martinez (Miami) and Willie Mitchell (Clarkson). All four were on the team when it won the Cup two years ago.
With another win, Quick would join Ken Dryden (six Cups) and Chris Terreri (two) as the only former NCAA goaltenders to win multiple Stanley Cups. Like Dryden and Terreri before him, Quick benefitted from his time on campus - in particular the opportunity to practice regularly and work one-on-one with a goaltending coach.
"Very few guys can go straight from high school to the pros," Quick said. "You learn how to mature on and off the ice in college."
NCAA hockey produced 24 NHL goaltenders in 2013-14, including Vezina Trophy finalist Ben Bishop (Maine), recent Vezina winners Ryan Miller (Michigan State) and Tim Thomas (Vermont) and U.S. Olympian Jimmy Howard (Maine).
With another win from Quick, college hockey would have three of the last four Stanley Cup winning goaltenders as well.