Tuesday, July 22, 2014
Camps Show Off Player Development
NHL development camps demonstrate the strides that prospects have made while on campus.
---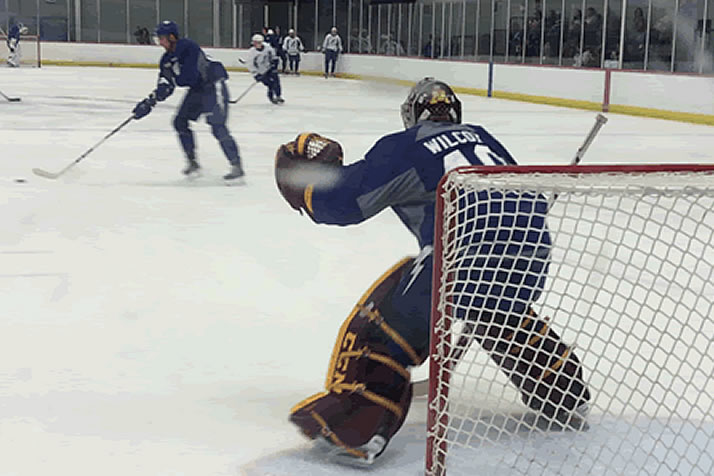 Minnesota's Adam Wilcox stared down shooters like first-round pick Jonathan Drouin at Tampa Bay Lightning development camp.
By Nate Ewell
Hockey schools and camps are a summer routine by the time a player reaches the NCAA level, but for more than 400 college players this year those camps took place at the highest level - with NHL teams.
NHL development camps, held by nearly every team in the league, give drafted prospects and free agents a chance to work closely with professional coaches and show the teams how much their games have improved.
NCAA Players in 2014 Development Camps | NCAA Player Development
Related: Alums Prep for New Full-Time Jobs
For many NCAA players, that improvement comes in the form of strength and conditioning. In St. Louis, WCHA defensive player of the year Colton Parayko has usually turned heads with his height, at 6-foot-5 - but this year his strength has caught up.
"It's a great program to get bigger and stronger and he's taking advantage of it," Blues director of amateur scouting Bill Armstrong said of the Alaska Nanooks, where Parayko will be a junior. "He's going in the right direction. He's got a long way to go, but he's getting there … He's putting the odds in his favor by how hard he's working."
Another first-team all-conference defenseman, Boston College's Mike Matheson, drew similar praise at Florida Panthers' camp.
"He's getting stronger and stronger," Panthers manager of player development Bryan McCabe told NHL.com. "He's blowing away some of the tests out there. He's one of the stronger guys in the room. He's a quick guy. He's a student of the game, for sure. He asks questions. He thinks it. He sleeps it. He eats it. We're looking for a big year out of him at BC this year."
Maine's Devin Shore – a Dallas Stars prospect – explained how the year-round approach to building strength allows college players to make those improvements.
"We got two solid heavy lifts in [during a week], not maintenance lifts, let's get stronger," he told the team's web site. "This season I put on 10 pounds during the season. I came into the season at 195 and by the final game I was 205. I put on weight during the season, which is a positive."
All-around improvement
Strength isn't the only area where college prospects demonstrate their development. From hockey sense to specific skills, NCAA players return to their second or third NHL camps a different player than their first.
At 6'4", Yale's Rob O'Gara has always used his size to his advantage. After two seasons with the Bulldogs, the Bruins draft pick is showing more skill to go with it.
"I think the best part of his game that has gotten better is his ability to move the puck," Providence Bruins head coach Bruce Cassidy told the Providence Journal, of Yale's Rob O'Gara. "When I first saw him, big guy, you're assuming stay-at-home defensive defenseman.
"He has a good stick, always had good lateral feet from day one, and now you see a guy who can make plays with the puck as well, below the goal line, breaking it out to the neutral zone. He's more of a complete package than maybe you thought at first."
Another rising junior defenseman, Jordan Schmaltz, has the added attention that comes with being a first-round draft pick at St. Louis Blues camp. He discussed the strides he has made in two years at North Dakota.
"I feel like I definitely went a step or two in the right direction this year," Jordan Schmaltz said to NHL.com. "I thought I had a really good year this year and I'm just really looking forward to building off that this coming year at North Dakota.
"Every year, I've grown a little bit. I played with some really good players this year. Dillon Simpson this year was my partner and I think we just complemented each other really well. With another year here at North Dakota, I have high expectations to continue to move forward and round out my game."
'Living in the now'
While time wearing an NHL crest and working with NHL coaches obviously has its appeal, NCAA players at development camps see that their immediate future remains on campus.
"I play college hockey, and when I'm ready for the next step I'll take it," Avalanche prospect Will Butcher told the Denver Post. "You get four years to prove yourself in college hockey, and college hockey focuses more on development, lifting weights and becoming a man. It's one of the reasons why I chose college hockey over major junior. I'm living in the now."
While NHL contracts may be in these players' futures, first comes the opportunity to chase college championships.
"I'm not thinking beyond next year," said Sabres first-round pick J.T. Compher of Michigan. "My goal is to win the national championship."
"We want to win a championship," echoes Maine's Shore. "I think this year is the year for our team. We are going to have a great team. A Hockey East championship and getting to the Frozen Four, those are the results based goals. But if you just focus on getting better every day and doing whatever part to win, that stuff takes care of itself."
NHL executives recognize that these prospects will pay off for their teams several years down the road.
"This isn't a sprint," Harvard alum and Bruins assistant general manager Don Sweeney said while speaking of Yale's O'Gara. "The finished product is still well down the road, but he's made a lot of good strides and we feel really good about where he is and, more importantly, where he's going to go to.''