Wednesday, August 6, 2014
Badgers Lead U.S. Hall Class
Rafalski, Sauer among impressive group of 2014 inductees to the U.S. Hockey Hall of Fame
---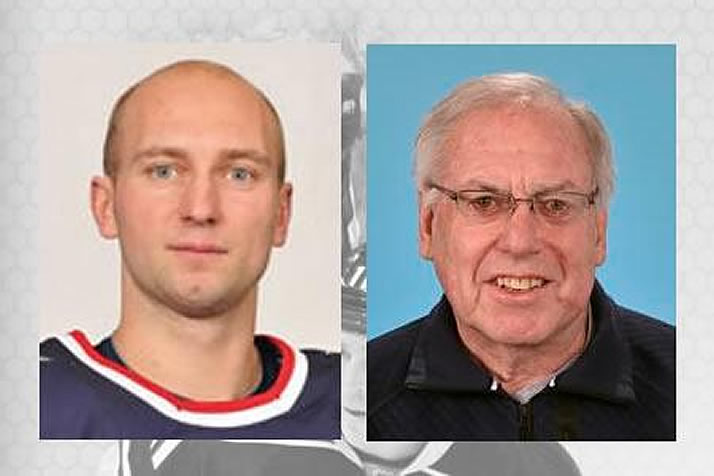 Brian Rafalski (left) and Jeff Sauer (right) have enjoyed tremendous success at the NCAA and international levels.
Former Wisconsin star Brian Rafalski and his college coach, Jeff Sauer, are among the four members of the 2014 class of inductees to the U.S. Hockey Hall of Fame, USA Hockey announced Wednesday. They join Karyn Bye Dietz and Lou Vairo in a class that will be formally enshrined Dec. 4 in Minnesota.
USA Hockey Announcement | Collegians in the Hall of Fame
"The class of 2014 is an extraordinary collection of individuals that have had an immensely positive impact on hockey in our country," said Ron DeGregorio, president of USA Hockey. "Cumulatively, they have been involved at every level of hockey and this group is a big reason why our sport has advanced to the point it has in the United States."
Rafalski's impressive NHL and international career began humbly enough, as the undrafted defenseman developed during four years with the Badgers. He played 150 games for Sauer in Madison, and after totaling just three goals in his first two seasons, had 17 combined as a junior and senior. His 11-goal, 45-point senior year in 1994-95 earned him first-team All-America honors, as well as the WCHA Defensive Player of the Year Award.
Rafalski broke into the NHL after beginning his pro career in Europe and won three Stanley Cups with the New Jersey Devils and Detroit Red Wings. He also represented Team USA at three Olympics and was named the best defenseman at the 2010 Olympics in Vancouver.
"Brian was a player who was always involved in the play, a guy you could count on in all situations," Sauer said. "He was an excellent student off the ice as well and was really in school for all the right reasons."
Sauer won two national championships at Wisconsin (1983, 1990) during a 31-year NCAA head coaching career that began at his alma mater, Colorado College. Twice named WCHA Coach of the Year at CC, he went on to lead the Badgers for 20 seasons that included 12 NCAA Tournament berths, six WCHA playoff titles and two WCHA regular-season titles.
Sauer has remained active in coaching at the international level, leading the U.S. National Sled Hockey Team for the past four years and coaching the U.S. Deaflympic Ice Hockey Team in the last three Winter Deaflympics.
Sauer has been honored with USA Hockey's Distinguished Achievement Award (2000), the American Hockey Coaches Association's John "Snooks" Kelly Founders Award (2004) and the NHL's Lester Patrick Trophy (2011). He has also been inducted into the Wisconsin Hockey Hall of Fame, Wisconsin Athletic Hall of Fame, the Colorado Springs Sports Hall of Fame and the Colorado College Athletic Hall of Fame.
Rafalski talked about the impact of his Wisconsin coach.
"The atmosphere there was one where you came in to college as a boy and left as a man," he said. "We came to the rink every day, worked hard for two, three or four hours, and when you came out you were ready to make a career out of hockey if you wanted to."
U.S. Hockey Hall of Fame inductees are chosen on the basis of extraordinary contribution to the sport of hockey in the United States.
The U.S. Hockey Hall of Fame was incorporated in 1969 and inducted its first class in 1973. To date, there are 161 enshrined members in the Hall. For information on the members of the U.S. Hockey Hall of Fame, visit USHockeyHallofFame.com.