Tuesday, August 5, 2014
U.S. Trims Evaluation Camp Roster
20 NCAA players or recruits among those remaining in Lake Placid at National Junior Evaluation Camp.
---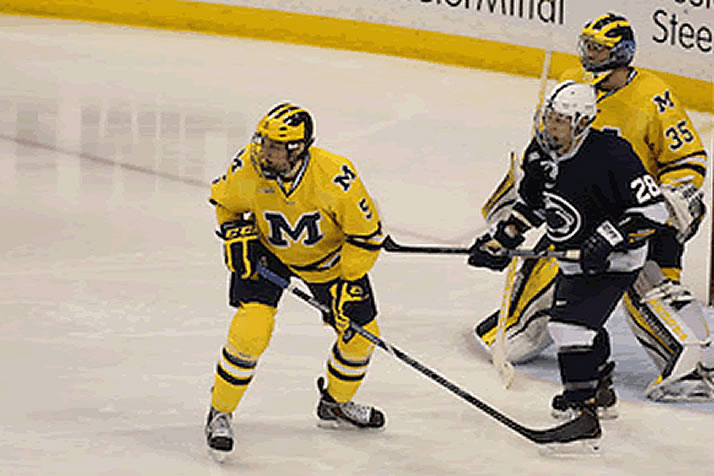 Michael Downing is among five Wolverines who remain at USA Hockey's National Junior Evaluation Camp (Photo by Larry Radloff).
Twenty players representing 11 NCAA schools are among the 27 remaining at the USA Hockey National Junior Evaluation Camp. That group will face the Czech Republic, Finland and Sweden the rest of this week in Lake Placid, N.Y., as evaluations continue for the U.S. National Junior Team that will compete in the 2015 World Junior Championship.
Five current or future Michigan players are among those 20, led by sophomores J.T. Compher, Michael Downing and Tyler Motte. Boston College (four), Miami (two) and Minnesota (two) also have multiple representatives remaining in camp. Another BC player, sophomore Ian McCoshen, will no longer be participating in this week's camp for precautionary reasons.
The remaining U.S. players will face Sweden on Wednesday, Finland on Thursday and the Czech Republic on Saturday. Those teams include at least three future NCAA players: Sweden's Leon Bristedt (Minnesota) and Finland's Erik Autio (Penn State) and Mika Ilvonen (St. Cloud State).
"As a staff, we have been very pleased with the effort and competitiveness of the 42 players in camp," said former Wisconsin star Jim Johansson, USA Hockey's assistant executive director of hockey operations and the general manager of the 2015 U.S. National Junior Team. "The three remaining games this week provide an opportunity for additional assessment of the players who are staying. We will continue to evaluate the players released today throughout the fall."
NCAA Players at National Junior Evaluation Camp
| | |
| --- | --- |
| United States | |
| Louie Belpedio | Miami |
| Anders Bjork | Notre Dame |
| Will Butcher | Denver |
| Ryan Collins | Minnesota |
| J.T. Compher | Michigan |
| Kyle Connor | Michigan |
| Thatcher Demko | Boston College |
| Jack Dougherty | Wisconsin |
| Michael Downing | Michigan |
| Jack Eichel | Boston University |
| Hudson Fasching | Minnesota |
| Anthony Florentino | Providence |
| John Hayden | Yale |
| Dylan Larkin | Michigan |
| Anthony Louis | Miami |
| Auston Matthews | Uncommitted |
| Sonny Milano | Boston College |
| Tyler Motte | Michigan |
| Steve Santini | Boston College |
| Nick Schmaltz | North Dakota |
| Alex Tuch | Boston College |
| Finland | |
| Erik Autio | Penn State |
| Mika Ilvonen | St. Cloud State |
| Sweden | |
| Leon Bristedt | Minnesota |