Tuesday, September 16, 2014
Daly, Holmgren Receive Honor
Lester Patrick Trophy honors outstanding service to hockey in the U.S.
---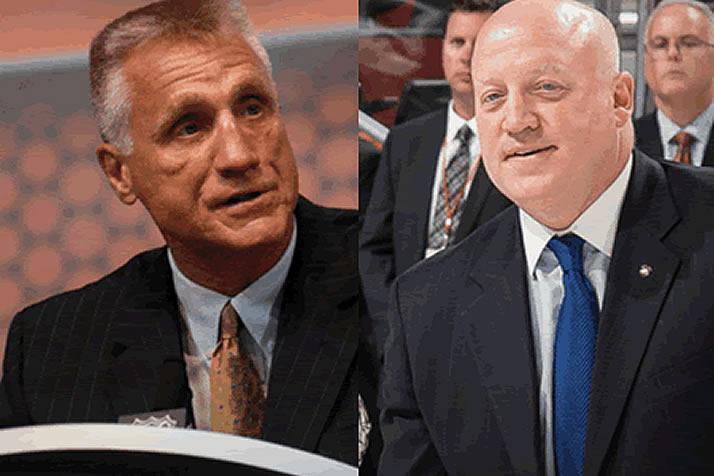 Deputy Commissioner of the NHL Bill Daly and former University of Minnesota star Paul Holmgren have been named the 2014 recipients of the Lester Patrick Trophy, which honors outstanding service to hockey in the United States.
Daly, who was named to his current post with the NHL in 2005, is the league's point person in its dealings with College Hockey Inc., as well as USA Hockey, the American Hockey League and the United States Hockey League. A former Dartmouth football player, Daly has been a steadfast supporter of NCAA hockey.
"Bill Daly is a great friend to NCAA hockey," said College Hockey Inc. Executive Director Mike Snee. "His support of college hockey in general and in particular College Hockey Inc. has been invaluable. Bill understands and appreciates the impact college hockey has had on hockey in the United States and shares our excitement about its potential for growth. We thank Bill for his support and offer our heartfelt congratulations on this well-deserved honor."
Holmgren, the president of the Philadelphia Flyers, reached the national championship game under Herb Brooks in 1974-75, his only season of college hockey. He turned pro after that year and enjoyed a successful WHA and NHL career, playing 10 seasons with the Minnesota North Stars and the Flyers. He has been widely involved in furthering the sport throughout his caerr in various roles for USA Hockey.
Daly and Holmgren will be honored as part of the U.S. Hockey Hall of Fame induction ceremony on Thursday, Dec. 4, in Minneapolis.
Correction: An earlier version of this story incorrectly identified Minnesota as the 1975 NCAA champions; Michigan Tech won the national championship that season.