Tuesday, September 23, 2014
Draft Spotlight Shines on NCAA
Three first-round talents on campus make college hockey a key stop for scouts, draft fans.
---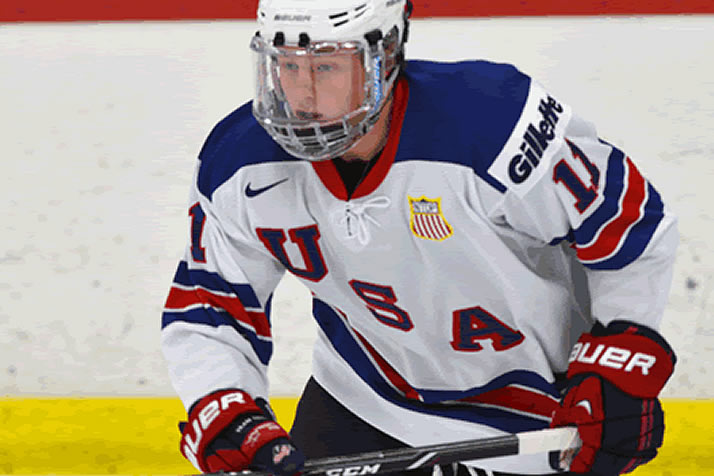 Boston University freshman Jack Eichel could be the highest draft pick among NCAA players since 2006 or '07.
When three current NCAA players - all first-round NHL Draft prospects - take the ice Thursday night at the CCM/USA Hockey All-American Prospects Game, it marks the start of a season in which scouts, media and fans who follow hockey prospects will have a very close eye on college hockey.
Jack Eichel (Boston University), Noah Hanifin (Boston College) and Zach Werenski (Michigan) are among the top players in the game, which will be shown live on NHL Network (7 p.m. ET).
Central Scouting Highlights NCAA Players | AllAmericanProspectsGame.com
Spotlight on NCAA hockey: The presence of top 2015 NHL Draft prospects will put the spotlight on NCAA hockey in 2014-15 in a way the sport hasn't seen for several years.
At least 60 current or future U.S. college hockey players have been selected in each of the last 13 NHL Drafts, but most of those – particularly in the first round – have been college recruits, rather than current players. The last first-round pick who spent that season in college was Northeastern's Jamie Oleksiak (Dallas Stars) in 2011; the last time three first-round picks came from the college ranks was 2006 with North Dakota's Jonathan Toews (Chicago), Minnesota's Phil Kessel (Boston) and Michigan's Mark Mitera (Anaheim).\
Accelerated studies: Most NCAA draft picks are recruits, rather than current NCAA players, due to their age – they are typically drafted the same month that they graduate from high school. Eichel, Hanifin and Werenski all finished their high school studies in three years in order to enroll on campus this fall.
How it might help scouts: NHL scouts will have the opportunity to evaluate Eichel, Hanifin and Werenski against bigger, stronger, faster competition than most other North American draft-eligible players, since most NCAA players range in age from 19 to 24. Many of their teammates and opponents will have the opportunity to step right into the NHL – last year 10 NCAA players appeared in the NHL following their NCAA seasons. "Lots of times scouts aren't quite sure about a player and how his game will translate to another level," said Michigan Tech head coach Mel Pearson, who coached the likes of Jack Johnson, Jacob Trouba and Carl Hagelin as an assistant coach at Michigan. "Once they get a chance to see a player against older, stronger competition it can really help."
Big stages: Eichel and Hanifin will be introduced to one of college hockey's great rivalries at Boston University and Boston College, respectively, and will have the opportunity to play at Boston's TD Garden in the Beanpot. With Michigan, Werenski will face both of those teams on the road (Oct. 25, Dec. 13), and will play at Joe Louis Arena (Great Lakes Invitational and Big Ten Tournament) and Soldier Field (Feb. 7 vs. Michigan State).
Beyond the big three: Eichel, Hanifin and Werenski are just three of the 31 current or future NCAA players taking part in Thursday's game (and a few uncommitted players could join them). Other notable 2015 NHL Draft prospects playing college this season include Canadians Cameron Hughes at Wisconsin and A.J. Greer at Boston University, plus a handful of freshmen who will be candidates to be selected in their second year of draft eligibility.
The bigger picture: The NHL has a much stronger college hockey flavor today than it did in 2006, the last time three current NCAA players were taken in the first round of the NHL Draft. A total of 305 former NCAA players appeared in the NHL last season, a 30% increase from 2006 (235).
Top college picks in history: Eichel and Hanifin are projected to join a select group of NCAA players to be taken in the top five of the NHL Draft. The history:
No. 1 Overall
Erik Johnson, Minnesota (2006)
Rick DiPietro, Boston University (2000)*
Joe Murphy, Michigan State (1986)*
No. 2 Overall
James van Riemsdyk, New Hampshire (2007)
Dany Heatley, Wisconsin (2000)*
Craig Simpson, Michigan State (1985)*
No. 3 Overall
Kyle Turris, Wisconsin (2007)
Jonathan Toews, North Dakota (2006)*
Jack Johnson, Michigan (2005)
No. 4 Overall
Paul Kariya, Maine (1993)*
No. 5 Overall
Phil Kessel, Minnesota (2006)*
Blake Wheeler, Minnesota (2004)
Thomas Vanek, Minnesota (2003)*
Ryan Whitney, Boston University (2002)*
Aaron Ward, Michigan (1991)*
Bill Guerin, Boston College (1989)
* Played college hockey in the year preceding the NHL Draft