Tuesday, September 2, 2014
Michigan Hockey Covers CHI Summit
70 top players from the state converged on East Lansing to learn about the NCAA route.
---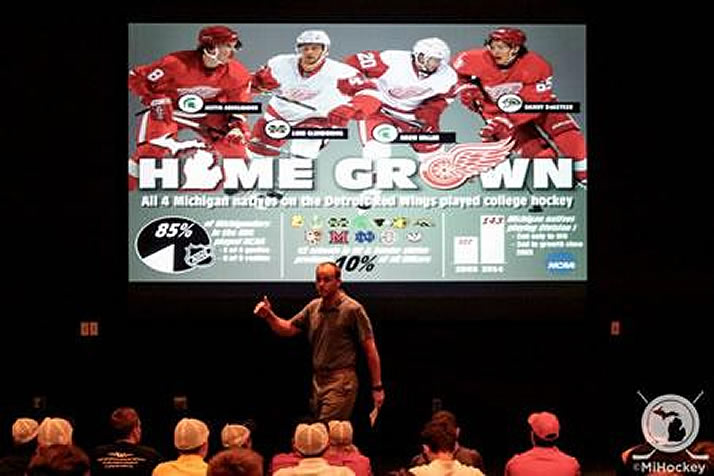 Former Ferris State Bulldog Jeff Blashill spoke at the 2014 College Hockey Summit in Michigan (Photo by Michael Caples, MiHockey).
College Hockey Inc. brought 70 of the top 14- and 15-year-olds in Michigan together for a College Hockey Summit Aug. 19 in East Lansing, an event designed to showcase the NCAA route and inform players and parents on eligibility requirements.
Nick Barnowski from MiHockeyNow.com covered the event, which featured special guest speakers Jeff Blashill and Danton Cole:
The College Hockey Summit featured speakers such as Grand Rapids Griffins head coach Jeff Blashill and Danton Cole of the U.S. National Team Development Program. The players had the chance to compete in front of college coaches, and they also received a tour of Michigan State's hockey facilities.

Blashill, a Ferris State alum and former head coach at Western Michigan, emphasized that no matter which route a player takes – college or major junior – success isn't guaranteed.

"The player dictates the player's success, not the route," Blashill told MiHockey. "It can be murky waters to work through for the families and the players and if I can help shed any light on that I was certainly happy to do that."

Cole, who spoke to the hockey players and their parents after Blashill, said he agrees with the Griffins coach in that the player determines his own success, but that it's also important to obtain as much information about both sides of the equation as possible.

"These are some pretty good hockey players, they're going to have some decisions to make and we're trying to give them as much information as we can," said Cole, who played for MSU from 1985-1989. "Find out as much as you can and find what fits for you. I like options and I think college hockey gives guys great options in life and in hockey."
The Michigan event was one of dozens like it that College Hockey Inc. hosts across North America each year.
"I think it's tremendously important because a lot of times in the past decisions were made without everybody knowing the information and it was made at a time before colleges could present their side of it," said Cole, who played in 318 NHL games as a fifth-round draft pick. "I think it's been great that [CHI Executive Director Mike Snee's] been able to do it and I think he's done a good service for a lot of young men."