Wednesday, October 22, 2014
Notes: Mauermann Leads Providence
Top-five clash in North Dakota highlights exciting weekend schedule.
---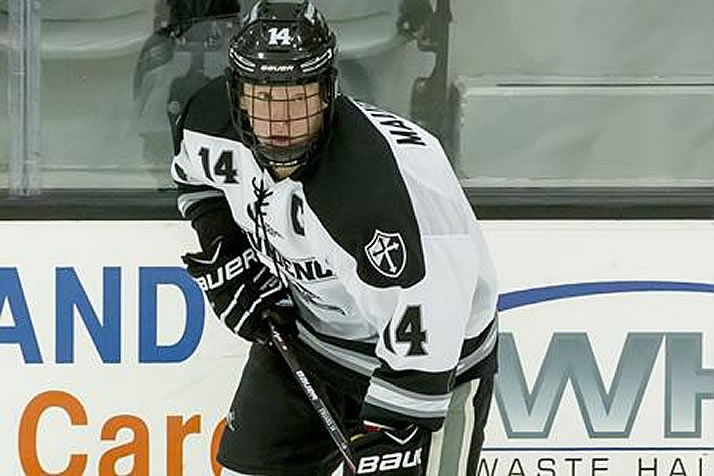 Winnipeg draft pick Jamie Phillips posted his second career shutout last weekend at Ferris State.
By Nate Ewell
Providence makes its second long trip of the young season this weekend, as the No. 5 Friars visit No. 3 North Dakota. It's also the second time they'll play within a few states of co-captain Ross Mauermann's hometown (Janesville, Wis./Janesville-NAHL). Mauermann, who turned 24 this week, was looking for anywhere to play when his junior career ended; he joined head coach Nate Leaman's first team at Providence as a walk on. Since then he's led the Friars in scoring three times and is a big reason they are favored to win Hockey East this season.
Active Players Who Have Led Team in Scoring More than Once (entering 2014-15)
3 times – Matt Leitner (Minnesota State), Ross Mauermann (Providence)
2 times – Austin Czarnik (Miami), Alex Petan (Michigan Tech), Kevin Roy (Northeastern), Devin Shore (Maine), Tyler Sikura (Dartmouth), Matthew Zay (Mercyhurst)
Must Read/See/Head Material
Minnesota Hockey Journal: No buddy like a brother
Omaha World Herald: UNO coach expecting more big things from Guentzel
Hartford Courant: Minnesota natives starring for UConn
SBN College Hockey: Early season pleasant surprises
CollegeHockeyNews: Union's Charlie in Charge
The Pipeline Show: SB Nation's Jeff Cox
Five More Storylines No One Should be Without
BGSU's Quebec connection – Before sophomores Kevin Dufour (Quebec City, Que./Carleton Place-CCHL) and Pierre-Luc Mercier (Montreal, Que./Andre Laurendeau-CEGEP) arrived at Bowling Green, it had been nearly 30 years since the Falcons featured a player from Quebec. The duo is being rewarded for blazing a trail to Ohio. Dufour has six goals, leading all Division I players, with the last three assisted by Mercier. Falcons assistant coach Ty Eigner discovered the two Quebecois at a camp run by Clarkson assistant coach Phil Roy in Montreal – and those two teams face each other this weekend in Potsdam, N.Y.
SCSU's gauntlet continues – No. 9 St. Cloud State travels to No. 2 Union this weekend, two weeks after splitting at home with No. 4 Colgate. No. 2 Minnesota looms in another week, making up the nation's toughest early-season schedule. It's quite an introduction to the starting goaltending job for sophomore Charlie Lindgren (Lakeville, Minn./Sioux Falls-USHL), taking over for Anaheim Ducks signee Ryan Faragher. Lindgren brings impressive credentials to the job – he played in two Minnesota State High School tournaments with Lakeville North and was named USA Hockey's Junior Goaltender of the Year while with Sioux Falls.
Plebes lead Army – Three freshmen are atop the Army scoring leaders as the 2-2-0 Black Knights continue a seven-game season-opening homestand this weekend against Atlantic Hockey favorite Robert Morris. Rookie Tyler Pham (Fort Collins, Colo./Indiana-USHL) leads the way with a point in each game thus far, picking up where he left off in junior hockey last season. Pham finished his three-year USHL career by captaining the Indiana Ice to the Clark Cup championship last May.
SLU has a winner in net – St. Lawrence heads to Miami for two games coming off a 2-0 shutout of Ferris State. Freshman goaltender Kyle Hayton (Denver, Colo./Sioux City-USHL) has played all four games for the 2-2-0 Saints and his save percentage has improved with each start. Hayton has a winning pedigree – in 2011, as a student at Shattuck St. Mary's in Minnesota, he led Shattuck to a USA Hockey national championship and won an inline hockey national championship with the Colorado Kodiaks.
Minnesota's returning firepower – Top ranked Minnesota begins a stretch in which six of its next eight games are against in-state rivals with a home series vs. Bemidji State. The Golden Gophers will raise last season's Big Ten championship banner on Friday and honor first-team All-American Mike Reilly (Chanhassen, Minn./Penticton-BCHL/CBJ) Saturday. Reilly is one of three returning All-Americans for Minnesota, along with Kyle Rau (Eden Prairie, Minn./Sioux Falls-USHL/FLA) and Adam Wilcox (South St. Paul, Minn./Tri-City-USHL/TB), making the Gophers the first team in a decade with three returning All-Americans (since Boston College in 2004-05: Andrew Alberts, Patrick Eaves and Ryan Shannon).
Friday's game is on BTN; Saturday is on FS North+
NHL Note of the Week
The past week has featured three head-to-head matchups of former NCAA goaltenders in the NHL. Those goalies posted a .964 save percentage and 0.98 goals-against average in those games (Jonathan Quick vs. Brian Elliott, Ryan Miller vs. Ben Scrivens, Ben Bishop vs. Scrivens).
Fries at the Bottom of the Bag
Holy Cross took 3 points from AIC last weekend, providing head coach David Berard with his first win at the school and improving to 10-0-2 all-time in Atlantic Hockey openers … Four of the six Ivy League teams begin play with exhibition games this weekend … Ten teams that have played games still have unblemished records; 12 are unbeaten.