Friday, October 3, 2014
THN's Top 50 - Plus 50
Building off Ryan Kennedy's list in The Hockey News, 50 more players to watch in 2014-15.
---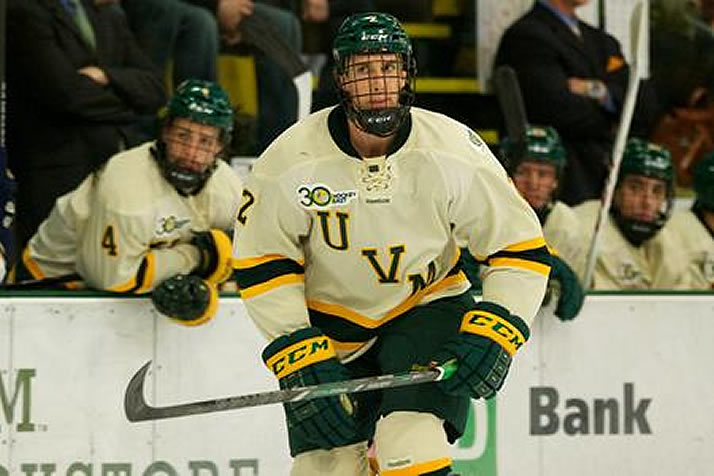 Chicago pick Michael Paliotta is back for his senior season at Vermont.
By Nate Ewell
Ryan Kennedy, who covers NHL prospects for The Hockey News, put together a terrific list of The 50 NCAA players you need to know this season.
It's a great idea and a terrific list, but we couldn't help thinking, "What about that guy?"
Given that, and the need to fill time before the puck finally drops tomorrow night, here are 50 more players to watch in 2014-15. Kennedy confirms that his choices "are largely based on NHL upside, so you won't find a ton of upperclassmen, nor free agents." Ours, by contrast, focus on what you'll see this winter. They aren't necessarily the next 50 best players, but ones you'll want to keep an eye on.
Be sure to check out Kennedy's list and then look at our 50, in alphabetical order:
Sam Anas, Quinnipiac - On a team with the Jones twins, Matthew Peca (see below) and Jordan Samuels-Thomas, it was freshman Anas who led Quinnipiac in scoring last year.
Gavin Bayreuther, St. Lawrence - One of the top offensive defensemen in college hockey last year is back for his sophomore season.
Justin Buzzeo, Ferris State - Buzzeo's development - from 1 point as a freshman to 32 last year as a junior - has been impressive thus far as he enters his senior season.
Daniel Ciampini, Union - The national champs lost a lot of talent but bring back their top goal scorer in Ciampini.
Andrew Copp, Michigan - The junior captain and Ann Arbor native has gotten better and better since arriving on campus.
Austin Czarnik, Miami - The nation's leading active scorer combines with Riley Barber (on Kennedy's list) to form the best 1-2 offensive duo in college hockey.
Tommy Fallen, Yale - Yale's captain, the smooth-skating Fallen will try to lead the 2013 champs back to the NCAA Tournament.
Tanner Fritz, Ohio State - OSU's top two scorers have signed with Ottawa, but Fritz has been nearly a point-per-game player over the last two seasons combined.
Mitch Gillam, Cornell - He doesn't have the best goals per game ratio of all active players, but it's close. Of course, he's a goalie, and scored in one of his two appearances. With Andy Iles gone, Gillam will be counted on to stop the puck, not score.
Alex Globke, Lake Superior State - The Lakers' leading scorer as a freshman heads up a very young roster for first-year head coach Damon Whitten.
Alex Grieve, Bentley - Grieve and Czarnik (above) tied for the most points nationally among returning players last season (47). He'll captain the Falcons as a senior.
Matt Grzelczyk, Boston University - A dynamic offensive defenseman, Grzelczyk missed the last half of BU's disappointing 2013-14 season due to injury.
Cole Gunner, Air Force - The Falcons' top four scorers from last year are all seniors this season, led by Gunner.
Shane Hanna, Michigan Tech - A somewhat surprising NHL Draft omission, Hanna led all WCHA defensemen in conference scoring as a freshman.
Jake Hildebrand, Michigan State - Hildebrand, quite simply, gives the Spartans a chance to win every night.
Ben Hutton, Maine - The Vancouver pick and returning All-American set a school record for goals by a defenseman last year (15).
Mitch Jones, Northern Michigan - A talented athlete, Jones can play forward or defense and hockey or lacrosse (where he's played professionally). He led NMU defensemen in scoring last year.
Zack Kamrass, UMass Lowell - Kamrass will lead a team that defends its Hockey East tournament title minus four of its top six scorers and its top two goaltenders.
Jason Kasdorf, Rensselaer - The reigning ECAC Rookie of the Year, Kasdorf barely played last season due to an early injury, but returns at full strength this winter.
Kalle Kossila, St. Cloud State - Along with Jonny Brodzinski (on Kennedy's list), helps lead an outstanding junior class for the Huskies.
Patrick Koudys, Penn State - The team's top defenseman a year ago, Koudys will captain Penn State in its second Big Ten season.
John-Paul Lafontaine, Minnesota State - A cousin of NHL legend Pat Lafontaine, John-Paul is one of two Mavericks with 100-plus career points (with Matt Leitner, next).
Matt Leitner, Minnesota State - Leitner is one of five first-team all-conference forwards from last season returning for 2014-15.
Anthony Louis, Miami - Stands 5-7, 150 pounds, but has hands and quick feet that make up for any lack of size.
Sean Malone, Harvard - A Buffalo native and Sabres draft pick, Malone had 20 points as a freshman and will look to take the next step as a sophomore.
Ross Mauermann, Providence - Once a walk-on, Mauermann is now a do-it-all leader for the preseason favorites in Hockey East.
Tyler Morley, Alaska - With Cody Kunyk and Colten Beck moving to the pros, Morley assumes offensive leadership for the Nanooks.
Kenney Morrison, Western Michigan - A big defenseman with a booming shot who could follow former teammates Danny DeKeyser and Jordan Oesterle to NHL free agent riches in the future.
Kyle Osterberg, Minnesota Duluth - Osterberg was impressive as a rookie, showing even more offensive touch than he did in junior hockey.
Michael Paliotta, Vermont - A second-round Chicago draft pick, he returns for his senior season before trying to crack that deep lineup.
Zach Palmquist, Minnesota State - The terrific all-around defenseman is on of three players from the WCHA preseason favorites to make this list.
Matthew Peca, Quinnipiac - The dynamic Peca, a Tampa Bay draft pick, had 24 points in the last 16 games last season.
Joel Rumpel, Wisconsin - Rumpel was stellar last season, and may be counted on even more with the Badgers' top five scorers gone to the pros.
Robbie Russo, Notre Dame - The Irish missed an injured Russo down the stretch last season but get the talented offensive defenseman back for his senior season.
Joakim Ryan, Cornell - Ryan was named the Big Red's team MVP last season and was a second-team All-ECAC Hockey selection.
Jimmy Sarjeant, Mercyhurst - Sarjeant stole the Lakers' starting goaltending position last season and produced the nation's fifth-best save percentage (.930).
Tyler Sikura, Dartmouth - Injuries limited his productivity last season, but Sikura should be a key in his second season as Dartmouth's captain.
Tylor and Tyson Spink, Colgate - You can't pick just one of the Spink twins, and Colgate fans are happy they came as a pair. Leaders of an impressive junior class for the Raiders.
Colin Stevens, Union - A bit unheralded behind a defense that included Mat Bodie and Shayne Gostisbehere, Stevens will have a chance to shine with those two signing NHL contracts.
Kelly Summers, Clarkson - Summers had 60 points in 56 games as a defenseman in the CCHL and was selected by his hometown Ottawa Senators.
Mike Szmatula, Northeastern - The best of several impressive Northeastern freshmen a year ago, Szmatula provides offensive support behind Kevin Roy (on Kennedy's list).
Frank Vatrano, Massachusetts - Vatrano had to wait until the postseason to make his UMass debut, and it lasted just one game. He should bring offense to the Minutemen as a sophomore.
Cory Ward, Bemidji State - Ward, a Las Vegas native, fits right in in Northern Minnesota. His 18 goals last year rank second among returning WCHA players.
Steve Weinstein, Bentley - Weinstein leads all active defensemen in career points (81) and quarterbacked the nation's No. 2 power play last year.
Jeff Wight, Connecticut - The youngest player on Hockey East's newest team, Wight arrives with a track record of producing offense in the BCHL.
Max Willman, Brown - Set to attend college and not play hockey, he was persuaded to spend another year at prep school. Now he's an NHL draft pick and a key freshman at Brown.
Clay Witt, Northeastern - Witt faced a lot of shots and stood on his head more often than not in 2013-14. He returns as a fifth-year senior.
Cody Wydo, Robert Morris - Wydo is the nation's top active career goal scorer (65) and it's not even close. He hopes to lead RMU back to the NCAA Tournament.
Matthew Zay, Mercyhurst - The top player in the nation's largest senior class (11 players), Zay shared the team scoring lead last year with Dan O'Donoghue, who earned an NHL deal with Arizona.