Tuesday, November 18, 2014
ASU to Launch Division I Men's Hockey
Sun Devils to become nation's 60th program and the first in the Southwestern U.S.
---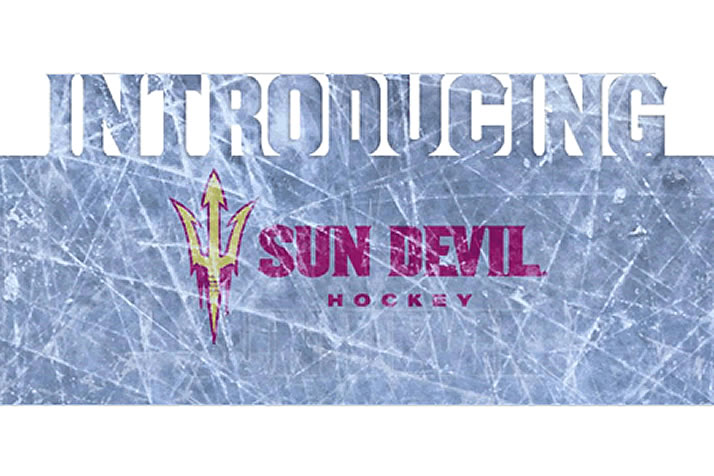 NCAA Division I men's hockey will welcome its 60th program in 2016-17, as Arizona State University announced its plans to elevate its team to varsity status at a press conference today.
Infographic: NCAA Hockey Is ... | ASU Announcement | Mike Snee Q&A
The announcement gives NCAA hockey its first program in the Southwestern United States and its first program at a Pac-12 university. It also continues a trend of the sport's growth in recent years, best seen recently in the elevation of Penn State University's program to varsity status.
Arizona State will begin play in Division I – which produces 31% of all NHL players and leads NCAA men's sports with a 92.1% graduation rate – in 2016-17. For more details on the Sun Devils' plans, visit thesundevils.com.
Penn State Example
Arizona State's announcement comes just two years after Penn State first sponsored varsity men's hockey in 2012-13. The Nittany Lions played as an independent that first season before joining the Big Ten and moving into the Pegula Ice Arena last season.
Penn State hosted crowds that averaged 104% of the near 6,000-seat capacity last season, and excitement only grew entering this year. Student tickets in what is known as the "Roar Zone" sold out in 3 minutes this season and the first six games this season have averaged above capacity crowds.
Growth of College Hockey and USA Hockey
Between Arizona State, Penn State, the University of Connecticut's move to Hockey East and added scholarships at Atlantic Hockey schools, Division I men's hockey will add more than 75 scholarships in a five-year span. Those added opportunities reflect the growth of hockey throughout the United States, particularly in non-traditional areas like the Southwest U.S.
Overall hockey participation has grown by 16.6% in the past 10 years, according to USA Hockey. The number of players in USA Hockey's Pacific and Rocky Mountain Districts, which include Arizona, has increased by 39.5% in that same time.
Arizona State is poised to capitalize on that growth in the Southern and Western states. The Sun Devils will enter Division I as the Southern-most and Western-most program in the Lower 48 (the University of Alaska Anchorage and University of Alaska Fairbanks are both further west).
Big-Time Exposure
The Sun Devils are set to join NCAA Division I hockey as it is enjoying tremendous success by any measure. College hockey produced 305 NHL players last season, comprising 31% of the league; both of those numbers are all-time highs and significant increases from 10 years ago, when just over 20% of the NHL had played college hockey. Forty-nine schools had at least one alumnus in the NHL in 2013-14.
Ten NHL arenas have hosted NCAA games in the past two seasons. On campus, 15 schools played to 90% or more of capacity last year, with the 25 largest universities in the sport averaging 4,811 fans per game. More than 150 games will be televised on national or regional sports networks this year.
The national championship, the NCAA Frozen Four, sells out NHL arenas each year and is televised on ESPN. Half of all teams have reached the 16-team NCAA Tournament in at least one of the past three seasons.
Quotes from the Hockey World
Dave Ogrean, USA Hockey Executive Director
"It's an exciting day for hockey! College hockey is an important part of the landscape of our sport and we congratulate all involved in making today's news at Arizona State a reality. We also hope this serves as a catalyst for others to add the sport at the NCAA Division I level, certainly in the West, but in other parts of the country as well."
Bill Daly, NHL Deputy Commissioner
"This is a game-changing moment for the advancement of college hockey in this country. ASU's recognition and commitment to the game should have a significant positive impact on the continued development of hockey in the Southwestern United States and should lead the way for more schools to add NCAA Division I hockey programs in the future. The growing strength and availability of college hockey for young players obviously benefits the National Hockey League directly but, just as importantly, it benefits the game and everyone who plays and participates in it."
Terry Pegula, Buffalo Bills and Buffalo Sabres Owner
"Of all the projects my family and I have been a part of, elevating the Penn State hockey program to Division I is near the top of the list. The Arizona State community has a lot to look forward to in the coming years, and I hope more universities elevate their hockey programs and enjoy the same experience we have enjoyed at Penn State."
Guy Gadowsky, Penn State Men's Hockey Head Coach
"We are just thrilled to hear the exciting news out of Arizona State. To have another great institution joining college hockey is tremendous for our sport. I know the Pegula Family and many who worked so many long hours at Penn State are very gratified that another high profile university is following the path we so recently embarked on. Arizona State, its students and alumni are in for a memorable ride!"
Mike Snee, College Hockey Inc. Executive Director
"It is always exciting when a school announces it is going to add varsity hockey. But this is different. Arizona State elevating its successful men's ACHA team to NCAA Division I is a defining moment for college hockey. The tremendous growth of hockey participation in the southwestern United States has been well documented and having an NCAA Division I school offering hockey in this part of the country is actually overdue. Hopefully Arizona State will be the first of many schools in new areas to offer the sport."