Tuesday, November 18, 2014
Mike Snee Q&A on ASU
Some of our favorite tweets following Arizona State's Division I men's hockey announcement.
---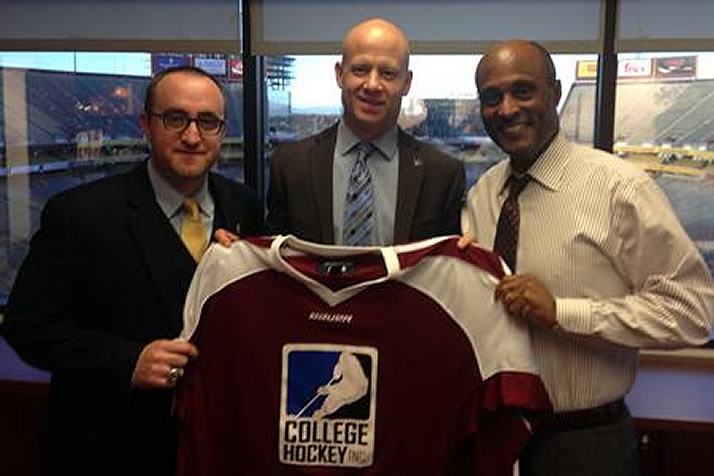 Mike Snee (center) poses with Greg Powers (left) and Ray Anderson following Arizona State's announcement Tuesday in Tempe.
A transcript of the conversation follows:
Question: Mike, you're in Tempe today. From a college hockey standpoint, how exciting is this for the sport?
Mike Snee: This is a first time I guess. It's very exciting because there's really been nothing like this. To have a school in this area, of this size and of this national profile add hockey is groundbreaking. It's a very exciting day and a very new day for college hockey.
Q: What was College Hockey Inc.'s role in something like this coming together?
That's a good question. I don't want to overstate it, but at the same time I don't want to understate it either. In partnership with the National Hockey League and USA Hockey, about a year ago – almost exactly a year ago, in early December – the ownership of the Tampa Bay Lightning caught wind of what we were hopeful of doing and assembled a small group in Tampa. We spent a couple of days together and got back together again in New York City at the NHL offices a few months later. We put together a plan about how we could possibly affect the growth of college hockey. I don't think anything in our strategic plan said that something would happen in 11 months, so it has definitely happened quicker than we thought.
I would say our main role was working with their coach and their administration on the idea that it could happen, and informing and educating them on how good college hockey is – from the profile it has, to the impact it makes on students and alumni, and something that I think is not as well known as it should be, which is how good the student-athletes who play college hockey are. So it was a combination of introducing them to the sport, making sure they knew how good it was, and encouraging them to talk to some donors. They had some early success and here it is – it happened quicker than anyone thought it would.
Q: As they take the next steps toward fielding a varsity program, will College Hockey Inc. continue to be a resource?
Absolutely it is. And with the school being so groundbreaking it does open doors, and they have indicated that they would like to help us open those doors even further. The opportunities that exist as of today didn't really exist yesterday and before that, so it's even more exciting what we can do now. That strategic plan that we put together with USA Hockey and the NHL will really be put to the test.
Q: A lot of people saw college hockey in the Southwest as a pipe dream, something that could never happen. Does an announcement like this allow college hockey fans to dream bigger?
I think so. I think people, when they would say that was dreaming big, they would also include, 'But it should happen.' They would see the numbers of players from this part of the country, not just the whole numbers of players playing the game but the high caliber of players playing the game. The numbers of NCAA Division I players who come from the Southwestern part of the country – in particular from California – has gone from around six 15 or 20 years ago to around 60 year in and year out, and that number will only get bigger. It does allow fans to dream big, it allows people involved in the game from an administrative standpoint to dream big. If it were to happen, the first one had to happen. That would likely be the toughest one. Now we have that one and let's see what it leads to.
Q: What are the next steps then for a group like College Hockey Inc.? How do you leverage this to create further growth?
That's a good question and it's something that hasn't been done before. What our strategic plan directs us to do is to not solely start with the administration. As happened to some degree at Arizona State and what certainly happened at Penn State, it came the other way – the passionate hockey people connected to the school who wanted to see it happen rallied the support, and then the people within that group who had the financial means to either make it happen or make most of it happen identified themselves. You know how passionate people are who are involved in hockey, how much they love the sport and want to see it grow. I think what this will do is cause hockey-loving alumni at other schools we want to approach to say 'Why not us?' If we can tie those groups together and also work with the administration, that's what I believe will lead to success. Again, this has never happened before, so there's no blueprint to follow. It will take the community, the alumni and students to be excited about it, the hockey community to be excited about it, and particularly donors who have the financial means to be excited about it. Then you need an administration that is willing to do some new and bold things. Certainly Arizona State has that.