Wednesday, November 12, 2014
Notes: Winning with Local Flavor
Hometown stars lead Minnesota Duluth, Alabama Huntsville to big wins, plus more.
---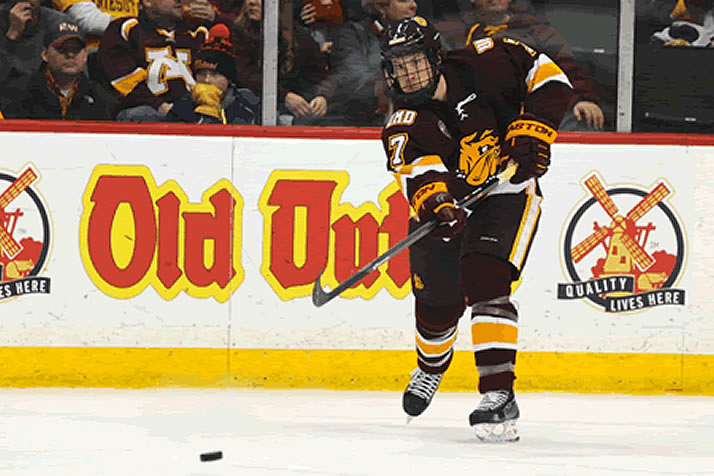 Andy Welinski has points in 7 of 10 games this season, including each of the last 4 (Photo by Matt Christians).
By Nate Ewell
Local powers UMD – It had been nearly 15 years since Minnesota Duluth posted a sweep at St. Cloud State, and while UMD's top defenseman may not have known that history exactly, he's witnessed it first-hand. Junior Andy Welinski (Duluth, Minn./Green Bay-USHL/ANA) grew up in Duluth as the son of two Bulldogs and his father, Mark, is the former UMD women's tennis coach. He helped fuel last weekend's success with a goal Friday night and enters this weekend's home-and-home with No. 1 Minnesota on a four-game point-scoring streak.
Both games will be on FS North+
Must Read/See/Head Material
Michigantechhuskies.com: A Tech hockey Veterans Day salute
Hartford Courant: Hearty meal for hockey starved state
Buffalo News: Sheeran becomes driving force for Canisius
Alaska Dispatch: After dark days of health scare, UAA's Dusyk is on the mend
Grand Forks Herald: Ausmus becomes key part of team's defense
Watertown Daily Times: SLU's Hayton handles everything thrown his way
The Gazette: Stoykewych seems to be right choice for CC captain
St. Cloud Times: Two Beniks are part of SCSU family
The Pipeline Show: MTU's Alex Petan
Five More Storylines No One Should be Without
Happy returns in Huntsville – After three straight road trips, Alabama-Huntsville comes home to the Von Braun Center this weekend coming off a win and a tie at Air Force. Freshman Josh Kestner (Huntsville, Ala./Sarnia-GOJHL) – who scored the game-winner at Air Force to secure the Chargers' first win of the year – knows a bit about triumphant returns. The Huntsville High School graduate spent three years in junior hockey in Michigan and Ontario before coming to UAH this fall. He has three points, all in the last five games.
Kerfoot, Crimson flying – Harvard's hot start (2-0-2) continued Tuesday night with a 6-3 win at Boston College, powered by a five-point night from sophomore Alexander Kerfoot (W. Vancouver, B.C./Coquitlam-BCHL/NJ). It's been a good start to the season for the Crimson and the Kerfoots – Alexander has a point in every game and younger brother Colton recently committed to Harvard for 2016-17. Harvard hosts Brown and Yale this weekend – if it gets through the two games without a loss, it would secure the team's longest unbeaten streak to start a season since the national championship year of 1988-89 (15-0-0 start).
Saturday's game vs. Yale is on NESN
RMU's latest addition – Robert Morris has jumped out to a 7-0-1 start and its lineup has gotten even better in its last two series. Redshirt junior Tyson Wilson (Brockville, Ont./Brockville-CCHL) returned to action Oct. 24 after off-season hip surgery sidelined him for six months. Wilson – who had a medical redshirt season in 2012-13 – led all Colonials defensemen in scoring in each of his two full seasons at RMU.
RMU Sentry: Wilson's return amps up RMU defense
MSU's do-it-all leader – Junior Michael Ferrantino (Plymouth, Mich./Omaha-USHL) has made his mark at Michigan State for his leadership (named captain this year), two-way play (including a 59.8% faceoff success rate this year) and consistency (playing in all 86 career games). His offensive ability was on display this weekend as he scored three goals and helped the Spartans earn a split at New Hampshire. They face their fifth Hockey East foe Friday night – Boston College – before opening Big Ten play next week.
Fresh face scoring at Merrimack – Brett Seney (London, Ont./Kingston-OJHL) was set to join Merrimack in 2015-16, but when his OJHL numbers spiked from 10 points as a rookie to 69 last year, the Warriors welcomed him a year early. The skilled center has fit right in, recording four goals, seven points and at least one shot in eight of nine games this season. He trails only Boston University's Jack Eichel (N. Chelmsford, Mass./U.S. NTDP) in scoring among draft-eligible freshmen.
NHL Note of the Week
Based on the teams' most recent lineups, Wednesday night's NBCSN doubleheader (Boston vs. Toronto and Los Angeles vs. Anaheim) should feature former players from 14 different schools (including multiple former players from Miami, New Hampshire and Wisconsin).
Fries at the Bottom of the Bag
Wednesday marks the start of hockey's early signing period for the National Letter of Intent … Robert Morris – which has an alum, Chris Kushneriuk, who beat cancer and has returned to pro hockey – hosts its third annual Men's Cancer Awareness this weekend … The two longest-tenured coaches at their schools meet this weekend for the first time. AIC's Gary Wright and Michigan's Red Berenson are both in their 31st seasons … Denver's Joey LaLeggia (Burnaby, B.C./Penticton-BCHL/EDM) is three points shy of becoming the only active defenseman with 100 career points.