Monday, November 10, 2014
Stat Pack: Clutch Performers
Top third-period goalies and scorers start our look at telling stats in college hockey.
---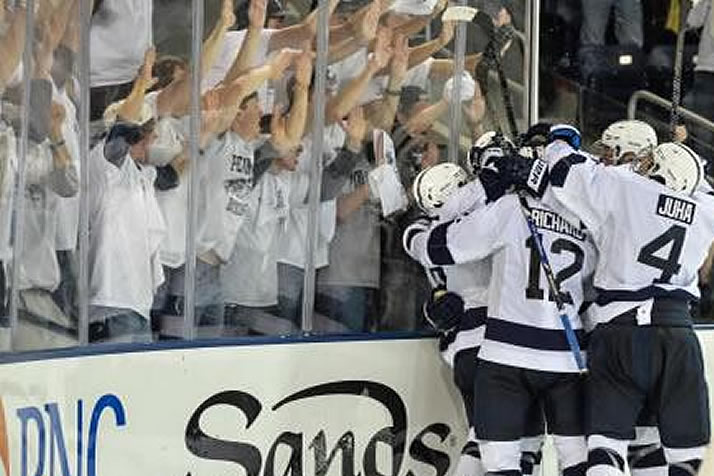 Penn State has outscored opponents by an average of 1.88 goals per game at even strength.
In our Stat Pack feature, College Hockey Inc. highlights five obscure but telling statistics from the world of college hockey. You can find many more in our filtered stats database.
1. These goaltenders have posted the best third-period and overtime save percentages nationally:
Best Save Percentage, Third Period and Overtime
1.000 - Tommy Burke, Bowling Green
1.000 - Alex Lyon, Yale
.979 - Matt O'Connor, Boston University
.977 - Steve Michalek, Harvard (MIN)
.975 - Andrew Walsh, Bemidji State
2. At the other end of the ice, here are the nation's top five scorers in the third period and OT:
Most Points, Third Period and Overtime
10 (5g-5a) - Jack Eichel, Boston University
9 (4-5) - Danny O'Regan, Boston University (SJ)
8 (2-6) - Michael Parks, North Dakota (PHI)
7 (2-5) - Matt Leitner, Minnesota State
7 (1-6) - Spiro Goulakos, Colgate
3. Looking just at even strength play, the top 10 teams in goal margin all rank among the top 18 in winning percentage.
Even Strength Goal Margin per Game
+2.38 - Michigan Tech, Robert Morris
+1.88 - Penn State
+1.86 - Boston University
+1.78 - UMass Lowell
+1.75 - Minnesota, Northern Michigan
+1.70 - St. Lawrence
+1.67 - North Dakota
+1.50 - Vermont
4. Coaches value players who can give their team a spark. Here are the six players who have started their team's scoring most often.
Rate of Scoring a Team's First Goal
66.7% (2g) - Jimmy Vesey, Harvard (NSH)
40.0% (4g) - Kevin Dufour, Bowling Green
37.5% (3g) - Sam Anas, Quinnipiac
37.5% (3g) - Cody Bradley, Colorado College
37.5% (3g) - Blake Coleman, Miami
37.5% (3g) - Dennis Kravchenko, Massachusetts
5. Some teams count on their power play for more offense than others. The two extremes:
Most Pct. of Goals Scored on PP
55.6% - St. Cloud State
45.2% - Bentley
40.9% - Denver
40.0% - Quinnipiac
39.1% - Air Force
Fewest Pct. of Goals Scored on PP
7.7% - Boston University
8.7% - New Hampshire
9.1% - Ferris State
10.5% - Clarkson
12.5% - Notre Dame