Monday, November 17, 2014
Stat Pack: Offensive Defensemen
We look at which blueliners and which freshmen are contributing the most offensively, plus more.
---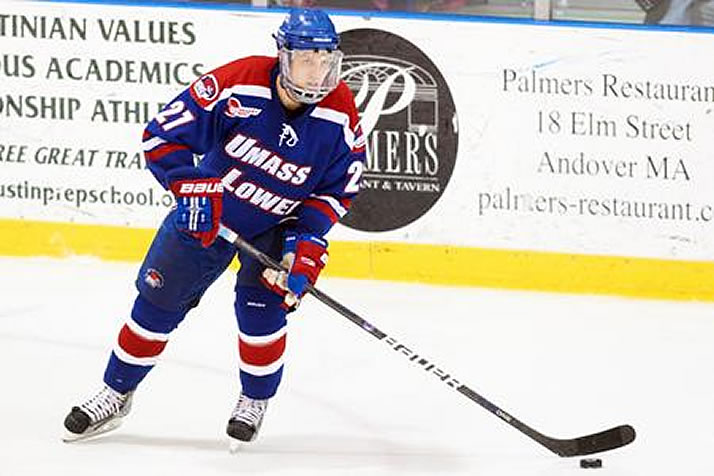 UMass Lowell's Zack Kamrass is part of the top-scoring defense corps in the nation.
In our Stat Pack feature, College Hockey Inc. highlights five obscure but telling statistics from the world of college hockey. You can find many more in our filtered stats database.
1. The highest scoring group of defensemen in the nation reside, not surprisingly, on the nation's top scoring team:
Most Points, Defensemen
38 - UMass Lowell (8g-30a)
32 - North Dakota (9-23)
32 - Bentley (7-25)
30 - Union (8-22)
28 - Minnesota (5-23)
Alaska Anchorage and St. Lawrence share the national lead with 10 goals from defensemen.
2. A quick look at the best-behaved teams to this point:
Fewest PIM per Game
5.00 - Yale
7.20 - AIC
7.33 - Clarkson
8.10 - Penn State
8.17 - Harvard
3. Only four players in the nation have recorded a point in each one of their team's games:
Kyle Criscuolo, Harvard (2-6-8 in 6 GP)
Jack Eichel, Boston University (6-9-15 in 8 GP)
Taylor Holstrom, Penn State (3-13-16 in 9 GP)
Jimmy Vesey, Harvard (5-3-8 in 6 GP) (NSH)
4. With most games falling on Friday or Saturday night, here's a look at the top performing goaltenders on each of those days:
Best Save Percentage, Fridays
.983 - Jamie Phillips, Michigan Tech (WPG)
.979 - C.J. Motte, Ferris State
.965 - Andrew Bodnarchuk, Sacred Heart
.963 - Mitch Gillam, Cornell
.962 - Evan Cowley, Denver (FLA)
Best Save Percentage, Saturdays
.980 - Ryan Massa, Nebraska Omaha
.979 - Mathias Dahlstrom, Northern Michigan
.969 - Kyle Hayton, St. Lawrence
.966 - Rasmus Tirronen, Merrimack
.960 - Eamon McAdam, Penn State (NYI)
5. The following teams have received the biggest offensive contributions from their freshman classes:
Most Points, Freshmen
35 - Bowling Green (14g-21a)
33 - Army (10-23)
30 - Boston University (11-19)
29 - Merrimack (15-14)
29 - Union (10-19)